labor
Who Will Win the Just Born Game of Chicken?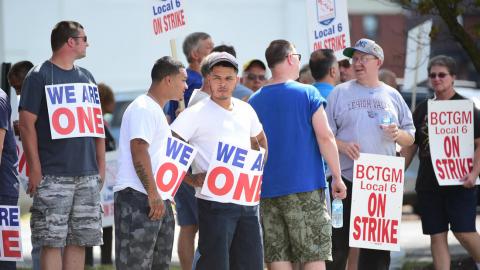 , Amy Herzog
BETHLEHEM — The company that makes marshmallow Peeps is proving it isn't soft when it comes to labor negotiations.
Just Born warned workers in a memo before they walked out on Sept. 7 that they could be "permanently replaced." When the company followed through on the threat, it employed a time-honored management strategy that dates to the 1930s, when workers were first given the right to strike.
"For the last 70 or 80 years, there has been a battle that has gone on when work stoppages occur between the threat of a strike and the threat that if you strike, you will be replaced," said Lee Adler, a labor relations expert at Cornell University's School of Industrial and Labor Relations.

While it might seem harsh, experts, employers and union officials say it's common for a company to replace striking workers. It's a standard part of the labor-management game of chicken. "The hope is [employers] can get a lot of strikers to resign from the union, cross the line and start working," said Harold Maier, assistant regional manager of the National Labor Relations Board office in Philadelphia. "It's an economic lever they can pull to try to keep the company going in spite of the strike. To the extent they are successful in doing that, it can force a union's hand."
While the use of replacement workers is common, if Just Born is serious about making those replacements permanent, it would be unusual, experts said.
"I don't normally see a company that goes to the permanent replacements," said Michele Vincent, senior director of marketing and sales with MADICORP, a Massachusetts company that develops strike contingency plans. "I thought it was interesting that was the route [Just Born] went to right off the bat."
No matter the outcome of the strike, Just Born's hard-line stance could have both short- and long-term consequences for the company, including the need to rebuild shattered trust among employees and the possibility of fending off lawsuits from the workers hired to replace them, experts said.
Temporary or permanent?
Just Born officials have said the company needs to hire replacements to survive in the candy business as the now 3-week-old strike — over pensions, health care costs and wages — plays out.
"All of the actions we are doing is about keeping this place open," Pye said.
Pye said if Just Born can't produce its signature Peeps, Mike and Ike, Teenie Beanies and other candy, the competition will jump in.
"If [retailers] think we can't supply it, they will go somewhere else," Pye said.
When strikes occur, the distinction between temporary and permanent replacements is critical, and as it turns out, a bit of a moving target. While Just Born has been calling the workers it is hiring to keep candy production humming "permanent replacements," it also has been advising them they could be out of a job if the union returns to work.
The company initially insisted replacement workers would remain at Just Born, but Matt Pye, the company's vice president of corporate affairs, changed his stance last week, saying any new employees hired since the strike must sign a letter that advises their jobs "may be terminated" if a settlement is reached in the strike between the company and union, or by order of the NLRB.
Just Born wisely seems to be keeping its options open when it comes to the replacements' status, said attorney George Hlavac, a labor relations expert with the law firm Norris McLaughlin & Marcus in Allentown.
"That, to me, is the smart thing," Hlavac said. "They have the right because this is an economic strike, to permanently replace these striking employees. However, they can always allow them to come back if that is what they feel is in the company's best interests."
If replacement workers are hired during a strike, it's common for unions to require the employer to recall all striking workers as part of the eventual contract settlement, he said. In that case, even if they're called "permanent replacements," the new hires are out of luck.
The letter Just Born is providing new hires seems to suggest the company wants its replacements to know that's a possibility, he said.
"In Pennsylvania, if you are not in a union, you are an at-will employee," Hlavac said.
Another possible scenario: If the union alleges Just Born engaged in unfair labor practices during the bargaining process, and the NLRB agrees, it could also order the company to let the replacements go and to reinstate striking workers, said Cornell's Adler.
Pye has insisted the walkout is an "economic strike" over differences in wages and benefits. In that scenario, employees can be permanently replaced as soon as they go on strike and do not return to work if the strike ends. Instead their names are placed on a list and reinstated only if a job opens up, experts said.
But the ultimate arbiter of whether a strike is economic or related to unfair labor practices is the NLRB.
John J. Price, organizing director with the Bakery, Confectionery, Tobacco Workers and Grain Millers International Union, said the company likely will part ways with the temporary help.
"My experience is they don't stay," Price said. "[Replacement workers] are only used to break the strike."
Damaged morale?
Whatever the outcome, the union's decision to strike and Just Born's decision to hire replacements will have implications for the company going forward, Adler said.
In the short term, Just Born benefits and gains leverage in the dispute by being able to continue making Peeps and other products, but in the long term it will have to rebuild shattered trust among employees that probably felt some affinity for the family-owned firm.
"Once you let people know who work for you that they don't really matter or matter very much, they start to believe that," Adler said. "And when they believe that, what they are going to do for you and for the company, just has to be a bit less because they are human and it hurts to experience that kind of treatment."
The strike at Just Born in Bethlehem is just the latest notable strike at a Lehigh Valley company over the years. Here are some others.
Some of that has been reflected in interviews with striking workers.
On the first day of the strike, workers spoke at times in mostly glowing terms about Just Born, but said they felt they had no choice but to walk out.
A week later, on Sept. 15, as Just Born held a replacement worker job fair at its corporate headquarters and factory at 1300 Stefko Boulevard, many union members derided applicants while spewing venomous comments against the company.
One striker, Debbie Harden, wore a sign around her neck that said "Job Fair" with a crossed line through the words.
"I work freaking 16-hour shifts, weekends, week after week, to get their product out," said Harden, of Pen Argyl. "And this is the [stuff] they do to us."
There are other potential complications, Adler said. If Just Born lets all its replacement workers go, those workers could file lawsuits. The union could sue Just Born over the manner in which it hired the replacement workers.
If it keeps some of the replacement workers, Just Born risks internal morale issues when work resumes.
"Working side-by-side creates often, for quite a period of time, certain kinds of very bad feelings," Adler said. "Because instead of their neighbor or their friend for the last five years being next to them in that machine … they have somebody who took their colleague's job."
When the strike ends
Verizon hired several thousand temporary workers during its strike last spring to augment its existing workforce of nonunion workers.
"But they were not intended to be replacement workers," Verizon spokesman Rich Young said. More than 35,000 Verizon union workers picketed in April throughout the Northeast, including about 500 people in the Lehigh Valley and Berks County. A new labor pact was reached in late May.
Young said the contingency workers knew from the outset that their employment was a finite period.
"It would not have been a healthy environment to keep the temporary workers while the striking workers were back at work," Young said. "That would have caused unnecessary strains not productive for either side."
Union leaders, such as Ed Mooney of the Communications Workers of America – one of two unions to strike Verizon – say companies typically hold the threat of bringing in replacement workers as a strategy to break a union.
"The signal to hire replacement workers, or scabs, is a signal that yeah, they're trying to bust the union," said Rick Bloomingdale, president of the Pennsylvania AFL-CIO. "We think the company is wrong to be hiring scabs, hiring workers to take the food off somebody's else's table."
No one wins when a company brings in outside workers, then ultimately settles a union contract and joins the union workers with replacement employees, according to Bloomingdale.
"It's ugly. It doesn't bode well for labor-management relations," he said. "It would be like working next to somebody who broke into your house and stole your food."
Pye insisted the company is not out to break the local.
"The union walked out on us," he said. "In order for us to keep making candy, to keep our candy on store shelves and ultimately keep our doors open, we have to hire replacement workers."
Company officials, union leadership and Just Born workers have said pensions remain the primary sticking point in the dispute. The workers belong to a multi-employer pension that services more than 100,000 workers and retirees from many companies.
Just Born leaders want to exempt new hires from the pension, replacing it with a 401(k) savings plan. But the union says it is against the rules of the pension agreement.
The union also says Just Born's last wage proposal was "substandard," and the workers would see a hike in health insurance costs. The union also says it proposed modifications to the health insurance plan that would have offered the company substantial savings, but the company refused.
The two sides are expected to resume negotiations Wednesday with federal mediator Kevin Savidge.
asalamone@mcall.com
610-820-6694
STRIKE UPDATE
About 400 union workers at Just Born Quality Confections have been on strike since Sept. 7.
•Key issue: Pensions. The company plans to keep existing workers in the current defined pension plan, which is underfunded. It wants to put new employees in a 401(k) retirement plan. The union has balked at the proposal.
•What's new? Staffing is about 40 percent of normal production and "continues to grow as we hire more replacements and additional [union] workers return to work," said Matt Pye, Just Born's vice president of corporate affairs. Striking workers have started receiving assistance checks via union funds, said John J. Price, of the Bakery, Confectionery, Tobacco Workers and Grain Millers International Union.
•What's next? Both sides have agreed to resume negotiations with a federal mediator beginning Wednesday.