Betsy DeVos: Her Family, Net Worth, Education and Other Facts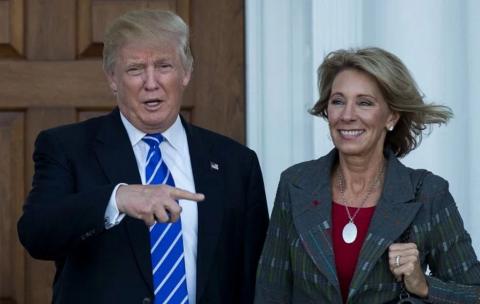 , KDVR.com
President-elect Donald Trump tapped Betsy DeVos, a Republican billionaire and school voucher advocate, as his nominee Wednesday for education secretary. Her nomination suggests Trump is keeping his promise on the campaign trail to establish "school choice," or the expansion of taxpayer-funded charter school and vouchers for private education.
Once the announcement was official, DeVos tweeted she was "honored to work with the president-elect on his vision to make American education great again. The status quo in ed is not acceptable."
The nomination, nevertheless, sparked mixed reactions from across the political spectrum.
"If Trump also wants to make good on his promise to 'drain the swamp' on behalf of Americans who are sick of political cronyism, DeVos is again a horrible pick," the Conservative Review wrote. Teachers unions and other school advocates also deemed DeVos' nomination as "catastrophic for public education."
Meanwhile, former Florida Gov. Jeb Bush — one of Trump's staunchest critics — praised the decision: "She's an outstanding pick for secretary of education," Bush wrote in a Facebook post.
Who is Betsy DeVos? Here are some facts you need to know. 
Origin
Elizabeth "Betsy" Prince, 58, grew up in Holland, Michigan, and graduated from Calvin College in Grand Rapids, Michigan, where she received a bachelor's degree in business administration and political science. Trump may have appointed DeVos to appease the Republican establishment, most particularly those who helped Trump win that critical battleground state on Election Day.
Betsy DeVos is married to Dick DeVos, who was the 2006 GOP nominee for Michigan governor. He also held positions as former presnetident of manufacturer giant Amway and former president of the NBA's Orlando Magic. According to Politico, DeVos is part of a wealthy, influential family of Republican donors. She and her husband founded the Dick and Betsy DeVos Family Foundation, which "focuses on education, community, the arts, justice and leadership." They have four children.
Her brother, Erik, founded Blackwater, the security firm involved in the controversial Nusoor Square shooting in Iraq in 2007. She is the daughter of Elsa Prince Broekhuizen, who donated $450,000 to a 2008 campaign that opposed same-sex marriages in California.
Net worth
Betsy and Dick DeVos come from a family with a $5.1 billion net worth. Dick's father, Richard, is the co-founder of Amway and considered the 88th richest man in the United States by Forbes. In 2014, Mother Jones called the DeVos clan "the new Kochs," as they have sought to "defund the left and bring down labor in Michigan."
Political and philanthropic activities
Betsy DeVos spearheads the American Federation for Children, an organization that promotes charter school education. Previously, she served on the Foundation for Excellence in Education, a group led by Bush. She and her husband have given millions of dollars every year to organizations that promote Christian and conservative values, such as the Focus on the Family and the Washington, D.C.-based think tank American Enterprise Institute.
Although DeVos expressed interest in working with the Trump administration as secretary of education, she was once reluctant to support his GOP primary campaign. In an interview in March with the Washington Examiner, she thought Trump did not represent the Republican Party and declined to support him during the Republican National Convention. Instead, she cast her vote for Ohio Gov. John Kasich.
Robert is a news staff writer based in New York. His writing has appeared in the World Politics Review, Fusion, and the Miami Herald. He's a frequent guest in English- and Spanish-speaking media, including CNN, Univision, Al Jazeera, Public Radio International, and Voice of America. You can reach him at rvalencia@mic.com Follow @rvalentwit