To Defeat Trump, We Need a Vision, a Message and Tactics to Match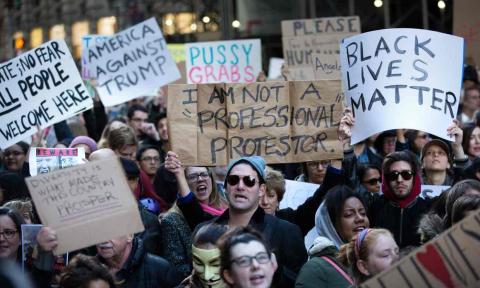 The US is now more politically divided than at anytime since the civil war. And yet, as of next month, America will be much like a one-party state. With a new US supreme court justice, the party will effectively control all three branches of government. Say goodbye to the famous checks and balances of the US political system. Now the balance, and those checks, will have to come from the streets.
The American political system is broken. Trump lost the popular vote by close to 3m ballots. Yet he has shown a readiness to bully political dissenters, and an inability or unwillingness to disentangle his personal financial interests from the business of running the country.
ADVERTISING
He has nominated Wall Street tycoons, generals and political extremists to top positions. True, his nominees may get tough questioning, even from some Republicans. But make no mistake: personal flamboyance aside, the Trump agenda is essentially the Republican agenda.
Trump will enter office as perhaps the most unpopular newly elected president in history. And yet the famous institutions established by the US constitution, meant to prevent the usurpation of power by any one individual or faction, no long appear up to the task. That civic responsibility – of organizing to prevent tyranny – must now fall to everyday Americans. But that social movement will need to have a strategic vision, one that connects with the justifiable anger that drove many voters to Trump.
Such powerful social movements are not unprecedented in US history: the organized resistance to British colonial rule; the underground railroad and the abolition movement; the strikes and labor organizing of the 1930s spurring the New Deal; the civil rights movement and the various movements it inspired. Our country, and our world, would look entirely different today without the hard work and struggle of these activists, organizers and resisters.
Yet any protest movement against the extremes of the Trump administration must be strategic and not merely reactive. That means that the tactics must align with the movement's strategic vision. Simply taking to the streets, blocking traffic or marching on Washington will not be enough. Nor will it suffice to simply revive the Clinton coalition.
The bigotry, sexism and racism of Trump and the extremists he has dredged up must be stopped at all costs. But a successful movement must drive a sharp wedge between Trump and many of the disaffected Americans he drew to his campaign. Single-issue protests must be tied to broader concerns, or they will succumb to Trump's uncanny ability to divide and conquer.
The soft underbelly of the emerging Trump government is the outrageous claim that he and his fellow billionaire appointees have the interests of America's working class at heart. The campaign of Bernie Sanders demonstrated the potential for a politics that, while celebrating diversity, calls for a solidarity of the many against the powerful few who continue to benefit from capitalism run amok. And under Trump run amok it certainly will. While Sanders did not "win" in the formal political sense, he inspired millions, including many young people who have historically been the foot soldiers of social movements.
Social movements don't need a majority to be effective. Research shows that governments around the world have been shaken to their foundations, and often toppled, when a mere 3.5% of their populations are organized in opposition. This is because any government, no matter how much it controls the formal levers of power, must also in the end retain legitimacy.
Questioning the legitimacy of those in power is central because it can lead people to question the nature of power itself: does it lie with the formal power-holders, or with the people themselves? Ultimately, whether a major corporation or a global superpower, any hierarchical organization – much like a human pyramid – relies entirely on the many at the bottom to carry out the orders of those on top.
A couple of recent examples, while seemingly small in themselves, point to the potential for a broader movement of social power. The Fight for 15 campaign has been enormously successful in fighting for a livable minimum wage. And now that Trump has nominated a fast-food mogul for his labor secretary, such campaigns can shine a spotlight on the hypocrisy of the president-elect's promise to provide "good jobs" for Americans.
The decision to halt the Dakota Access pipeline was a huge victory for Native Americans and environmentalists. But a decisive factor in the Department of Army's decision might have been the thousands of veterans who mobilized to block the pipeline. If an anti-Trump movement could draw in veterans, police officers, rank-and-file union members, in whatever number, it could prove unstoppable.
Such a movement also needs a strategic vision, with a message of solidarity and tactics to match. It has been done before. The future of our country, and indeed our planet, is at stake. We must do it again.
An appeal from The Guardian: "The Guardian's independent, investigative journalism takes a lot of time, money and hard work to produce. But we do it because we believe our perspective matters – because it might well be your perspective, too. If everyone who reads our reporting, who likes it, helps to pay for it our future would be much more secure. Become a supporter. Make a contribution."
Stephen Crowley is Professor of Politics at Oberlin College, and a Fellow at the Woodrow Wilson International Center for Scholars. For many years he has taught a course on nonviolent protest movements and revolutions.