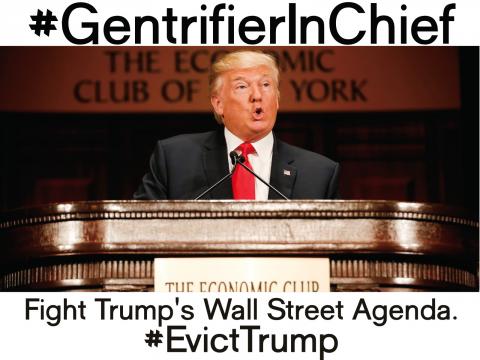 ,
Over the past weeks, Donald Trump announced the nomination of Dr. Ben Carson as the Secretary of Housing and Urban Development (HUD), Steve Mnuchin as Secretary of the Treasury, as well as the appointments of Blackstone Capital CEO Stephen Schwarzman and JP Morgan Chase CEO Jamie Dimon to his Strategic and Policy Forum.
In the face of a national housing crisis, and on the heels of the worst recession our country has seen since the depression, these nominations are a direct threat to our communities, our homes and our families. We must be ready to organize resistance to Trump's agenda.
In Ben Carson, Trump has elected to nominate a person with zero housing policy or government experience.
Let that sink in.
More than 50% of the country is regularly forced to choose between paying for their home, keeping the lights on or putting food on the table, and Trump believes that someone with zero experience in housing advocacy or policy should run HUD. Carson himself has said he is unqualified to serve in the executive branch and doesn't believe that the government should play a role in protecting fair housing.
Trump said he planned to "drain the swamp" of Washington insiders. He called for a government of the people.
Steve Mnuchin, the CEO of OneWest Bank and former executive of Goldman Sachs and Dimon, the CEO of JP Morgan Chase were directly responsible for the nationwide foreclosure crisis that illegally the homes of millions of families. Schwarzman, the CEO of Blackstone Capital, is profiting off of the destruction of the foreclosure crisis by buying up hundreds of thousands of foreclosed homes at discount prices, evicting mass numbers of homeowners and tenants, and turning them into rental properties. Blackstone is now the largest slumlord in the country.
Trump has just brought the monsters of the swamp directly to the highest levels of the federal government. The very same people who caused and profited off of the great recession and housing crash are now in charge of setting U.S. economic & housing policy for the nation.
This is not a government for the people. This is a government that will defund affordable housing and low-income homeownership, dismantle fair housing and prioritize the profits of Wall Street banks and hedge funds at the expense of the people.
These nominations are unacceptable and must elicit our outrage. We call on everyone to stand up to fight back against these nominations and Trump's policy agenda.
Homes For All is a national movement building the power of more than 110 million renters, families without homes and millions of working-class homeowners. We are committed to organizing to fight back against Trump's pro-Wall Street agenda of gentrification and displacement. We are committed to fighting for an economy that puts people before wall street profit and a government that is accountable to families not Wall Street executives.
Join us to fight back against the #GentrifierInChief. Join Homes For All to #EvictTrump and his Wall Street Banksters by signing the pledge at www.HomesForAll.org/pledge
RTTC is a response to neoliberal urban development, asserting the rights of working class & communities of color to Remain in, Reclaim & Rebuild our cities.