Trump's First 24 Hours Bring Global Protests, a Dark Speech and Uncertainty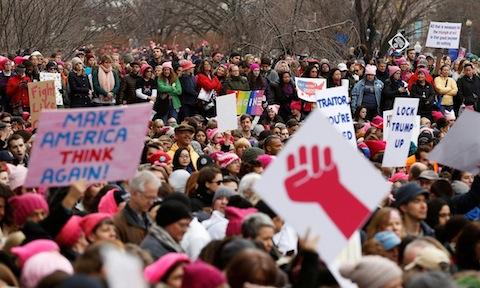 Demonstrators take part in the Women's March to protest Donald Trump's inauguration as the 45th president of the United States in Washington Saturday., Lucas Jackson/Reuters
Hundreds of thousands of women turned Washington's National Mall into a sea of pink on Saturday, sending the first concerted message of grassroots opposition to Donald Trump since he moved into the White House.
"Minority president", "Women roar" and "I'm afraid" were among the signs waved by a crowd, made up mostly of women but also comprising some men, that far exceeded turnout for Friday's inauguration. Many wore pink handknit "pussy hats" – a rebuke to the billionaire businessman once caught on tape boasting: "Grab them by the pussy."
The noise of popular protest contrasted sharply with the solemn mood at the Washington National Cathedral, where Trump, first lady Melania and other family members attended a multi-faith prayer service.
It capped 24 hours that began with Trump's angry call to arms in a blistering inaugural address, an executive order on healthcare and a much mocked dance with his wife to Frank Sinatra's My Way at an inaugural ball.
Later on Saturday, Trump was due to visit the CIA. He has previously been critical of America's intelligence agencies. His press secretary Sean Spicer tweeted: "Event is over capacity at 300+. Excited to thank the men and women of the intelligence community."
As the Obama era receded, Washington remained gripped by uncertainty. Trump's first week in office could lay siege to Barack Obama's legacy on numerous fronts and set alarm bells ringing in foreign capitals. The 70-year-old is a fiery populist known for unpredictable statements on Twitter and elsewhere, has rattled allies by threatening to shake up the global order.
He took office with a record low approval rating for an incoming US president. More than 600 "sister marches" were planned across the country and around the world, including in the UK. They were intended to a signal to a man notorious for his thin skin and prone to boasting about the size of his crowds.
Organisers of the flagship event in Washington estimated turnout at half a million, double the number that marched on the city for civil rights in 1963 and were addressed by Martin Luther King. Past marches for women's rights and those of African Americans and gay people drew even bigger crowds to the capital.
Thousands came by bus, train and plane, cramming Washington's underground Metro trains to capacity. Trump's defeated election opponent, Hillary Clinton, was not present but tweeted:
Hillary Clinton (@HillaryClinton)

Thanks for standing, speaking & marching for our values @womensmarch. Important as ever. I truly believe we're always Stronger Together.
Ahead of an afternoon march, America Ferrera, an actor and activist, told a morning rally about her background as a child of immigrants and argued that Trump was elected on a platform of hate.
"We are gathered here and across the country and around the world today to say, Mr Trump, we refuse," she said. "We reject the demonisation of our Muslim brothers and sisters. We condemn the systemic murder and incarceration of our black brothers and sisters. We will not ask our LGBT families to go backwards. We will not go from being a nation of immigrants to a nation of ignorance. We won't build walls and we won't see the worst in each other."
Senator Elizabeth Warren of Massachusetts told the crowd they had gathered to make sure that "as we enter a new political era, the voices of the people will be heard".
Feminist Gloria Steinem also addressed the crowd. She said: "This is an outpouring of energy and true democracy that I have never seen in my very long life. It is wide in age, it is deep in diversity and remember the constitution does not begin with 'I the president' it begins with 'we the people'."
Referring to a proposal floated by the new president on the campaign trail, she said: "If you force Muslims to register, we will all register as Muslims."
Film-maker Michael Moore told the crowd: "We're in day two now of the Trump tragedy. Who wants to be in my next movie?"
He added: "We are here to vow to end the Trump carnage. I want you to call Congress every single day. Every single day."
Among the marchers was Kathleen Prugsawan, 52, from Washington. She said: "This is the most peaceful gathering of people unhappy with the current administration. The message that I hope he gets: you better fucking pay attention to us now."
Trump ran an incendiary campaign that insulted Mexicans and Muslims, and stood in sharp contrast to the tone of Obama. It appeared to have been thrown off course by a 2005 tape recording of him bragging to TV host Billy Bush about groping women, which prompted a dozen women to come with allegations of sexual abuse and harassment; four of Trump's accusers said they would be marching on Saturday.
But the controversy was not enough to deny him victory in the electoral college over Clinton, who was aiming to become America's first female president.
Women and other groups were demonstrating all over the world. Organisers in London said 80,000 people had taken part in an event there. In Prague, in the Czech Republic, hundreds gathered in Wenceslas Square, waving portraits of Trump and Russian president Vladimir Putin and holding banners that read "This is just the beginning," "Kindness" and "Love".
But Trump's stunning ascent, a repudiation of Democrats and many Republicans, have given succour to rightwing populists abroad. French far-right presidential hopeful Marine Le Pen joined fellow nationalists on Saturday at a conference in Germany, declaring that 2017 will be the "year of the awakening of the people of continental Europe".
Meanwhile the Department of Justice announced that federal anti-nepotism laws do not prevent Trump from appointing his son-in-law to his administration. It released a memo to the White House counsel on Friday concluding that the president's "special hiring authority" allowed him to make the appointment, clearing the way for Jared Kushner, who is married to Trump's daughter Ivanka, to take a post as a senior adviser. Kushner became one of Trump's closest aides during the election campaign and has been an influential figure in the transition.
On Friday, Trump was sworn in and delivered a dark speech that differed little from his campaign rhetoric, vowing to stop "American carnage", which was widely condemned as divisive and failing to build bridges with those who voted against him. The former TV celebrity eviscerated members of the political establishment gathered around him on the steps of the US Capitol.
"From this day forward, a new vision will govern our land," he said. "From this moment on, it's going to be only America first."
There was an instant overhaul of the White House website, with Obama administration priorities such as climate change and LGBT rights abruptly disappearing.
About an hour later, protesters set fires and hurled bricks in a series of clashes that led to more than 200 arrests. Police used pepper spray and stun grenades to prevent the chaos from spilling into Trump's formal procession and evening balls.
Police gave chase to a group of about 100 protesters who smashed the windows of downtown businesses, including a McDonalds and Starbucks, as they denounced capitalism and Trump. Police said six officers suffered minor injuries.
After an inaugural parade where he faced boos and heckling from protesters, Trump settled into the Oval Office at the White House. He sat at its famous desk as he signed the order that chief of staff Reince Priebus said was aimed at "minimising the economic burden" of the Obamacare law. The order notes that Trump intends to seek the "prompt repeal" of the law.
Already the Oval Office had been fitted gold curtains and reinstalled a bust of Winston Churchill, seen as a hint that America's "special relationship" with Britain is high on his foreign policy agenda.
Moments later, vice-president Mike Pence administered the oath of office to defense secretary James Mattis and homeland security secretary John Kelly, the first members of Trump's Cabinet to clear Senate confirmation.
Trump and Melania, wearing an ivory off-the-shoulder column gown, danced at three inaugural balls. At the first they danced to My Way along with Pence and his wife, Susan, and Trump family members.
Trump told guests: "People that weren't so nice to me were saying that we did a really good job today. It's like God was looking down on us."
At the second ball, Trump asked guests whether he should "keep the Twitter going?" The crowd roared in apparent approval. Trump said his regular tweeting to more than 20 million followers is "a way of bypassing dishonest media".
At the third ball Trump and Melania danced to I Will Always Love You with members of the armed services.
The president tweeted early on Saturday:
Donald J. Trump (@realDonaldTrump)

A fantastic day and evening in Washington D.C.Thank you to @FoxNews and so many other news outlets for the GREAT reviews of the speech!
Some in the congregation of the National Cathedral, which is located in a Democratc stronghold, objected to hosting the service. Bishop Mariann Budde of the Episcopal Diocese of Washington wrote in a blogpost that she shared "a sense of outrage at some of the president-elect's words and actions" but also she felt an obligation to welcome all people without qualification, especially those who disagree and need to find a way to work together.
After a hectic first evening, Trump's plans for his first full day in office remain unclear. "The time for empty talk is over," he said in his inaugural address. "Now arrives the hour of action."
Obama, who flew out of Washington shortly after the inauguration ceremony, bound for Palm Springs, California, posted on Twitter:
Read more comment and opinion from The Guardian, the world's leading liberal voice