Neil Gorsuch Helped Defend Bush Torture Policies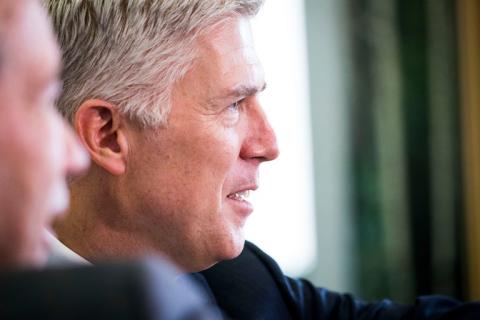 Doug Mills / The New York Times
Judge Neil M. Gorsuch spent 14 months as a key Justice Department official during the Bush administration, and dealt with matters related to the war on terror. Credit Doug Mills/The New York Times
The email from Judge Gorsuch, nominated by President Trump to fill the vacancy on the Supreme Court caused by the death of Justice Antonin Scalia, linked to articles about a less-noticed provision in the act that undercut the rights of Guantánamo Bay detainees by barring courts from hearing their habeas corpus lawsuits.
"The administration's victory is not well known but its significance shouldn't be understated," wrote Judge Gorsuch, who had helped coordinate the Justice Department's work with Congress on the bill.
Judge Gorsuch's time in the executive branch was brief. He joined the Justice Department in June 2005 as the principal deputy associate attorney general, meaning he was the top aide to the No. 3 official in the department. He left in August 2006, when Mr. Bush appointed him as a federal appeals court judge in Denver.
But those 14 months were tumultuous ones for the Bush administration amid controversies over detainee abuses, military commissions, warrantless surveillance and its broad claims of executive power. Judge Gorsuch's job put him at the center of both litigation and negotiations with Congress over legislation about such topics.
References to those efforts may offer clues to Judge Gorsuch's approach to the sort of national-security and executive power issues that rarely come before his appeals court but can be crucial at the Supreme Court.
"I was extraordinarily impressed," Judge Gorsuch wrote. "You and your colleagues have developed standards and imposed a degree of professionalism that the nation can be proud of, and being able to see first hand all that you have managed to accomplish with such a difficult and sensitive mission makes my job of helping explain and defend it before the courts all the easier."
The change, "in response to our concerns," Judge Gorsuch wrote, "reduces significantly the potential for judicial creativity."
"Your department did a great job with" the C.I.A. case "in protecting the ability of the institution of the presidency to protect the American people under the Constitution in the war on terror," Mr. Addington wrote. "Well done."
But while Judge Gorsuch spent those 14 months immersed in executive power and national security disputes from the Bush administration's perspective, his own comments in the documents rarely sounded overtly ideological notes like Mr. Addington's.
"The emails just reflect the fact that he was gratified when the department would win and disappointed when it would lose, which is not surprising because these were cases he was working on as an attorney for the government and advancing its positions," Mr. Keisler said.
"Please provide to the committee any materials related to any involvement you had in the issue of torture (including so-called 'enhanced interrogation techniques'), including this proposal," she wrote.