Gorsuch's First Vote Hastens an Arkansas Execution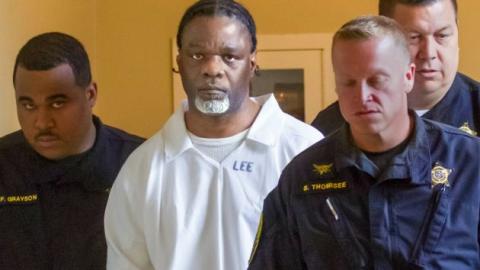 Benjamin Krain/The Arkansas Democrat-Gazette via AP
After a protracted legal battle, Arkansas carried out its first execution since 2005 using the controversial drug midazolam. Ledell Lee, who was convicted of murder in 1995, died on Thursday night at 11:56 p.m., 12 minutes after receiving the lethal drug cocktail.
"Tonight the lawful sentence of a jury which has been upheld by the courts through decades of challenges has been carried out," Arkansas Attorney General Leslie Rutledge said in a statement. "I pray this lawful execution helps bring closure for the Reese family."
Lee's execution was part of Arkansas' plan to put eight men to death in the span of 11 days. The rushed schedule was prompted by concerns that the state's supply of Midazolam was going to expire at the end of the month. But the plan was criticized from a number of different quarters, including by anti-death penalty advocates and even former executioners.

Arkansas also suffered a series of legal setbacks. On April 6, one of the inmates received an emergency stay after the Arkansas Parole Board recommended clemency. One week later, Pulaski County Circuit Court Judge Wendell Griffen issued a temporary restraining order that blocked six of the executions, and the Arkansas Supreme Court issued an emergency stay blocking the seventh. A few days later on April 17, the state's Supreme Court halted the executions scheduled for that day, but the 8th Circuit Court of Appeals overturned a lower-court ruling allowing Arkansas to move forward with the other executions. On Wednesday, the Arkansas Supreme Court halted the execution of the Stacey Johnson, who was scheduled to be put to death on the same day as Lee.
According to the Fair Punishment Project, Ledell Lee received "inadequate representation at every stage of his case." His lawyers did not produce mitigating evidence, such as the extreme abuse he experienced as a child. Nor did they interview all of his siblings or ask his mother to testify at the trial. His post-conviction attorney suffered from substance abuse problems and would ramble incoherently during hearings. Lee's lawyers and anti-capital punishment activists also raised questions about the conflicts of officials involved in his trial.

Throughout the process, Lee has maintained his innocence, arguing the eyewitness testimony was flawed. One of his lawyers has criticized the state for rushing through the execution before DNA testing that might have exonerated Lee could be done.
The hours before Lee's execution were filled with appeals, even reaching the US Supreme Court, which issued a temporary stay as they reviewed his legal arguments on Thursday evening before voting 5 to 4 in favor of moving forward with the execution. In his first vote on the nation's highest court, newly appointed Justice Neil Gorsuch cast the deciding vote in favor of putting Lee to death.
Nathalie Baptiste is an editorial fellow in Washington, D.C. Follow Nathalie Baptiste. Get the scoop, straight from Mother Jones.