labor
Food Workers Take On Fowl Play at Tyson—And Win Better Conditions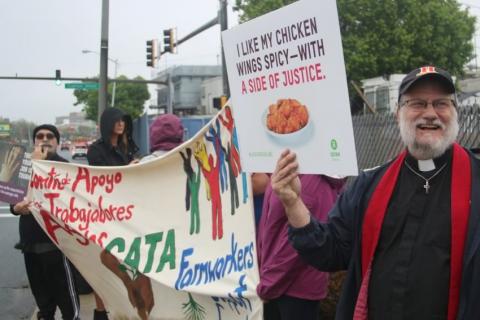 The campaign, led by the famed hunger-fighting group Oxfam America, is challenging Tyson and three other large chicken producers to improve on their collective record of chronic worker safety problems, poverty-level wages and anti-union attitudes. ,Oxfam
A consumer pressure campaign against labor abuses in the chicken-processing industry has produced some initial results, with a detailed pledge this week from Tyson Foods to build a better workplace for its 95,000 employees.
The campaign, led by the famed hunger-fighting group Oxfam America, is challenging Tyson and three other large chicken producers to improve on their collective record of chronic worker safety problems, poverty-level wages and anti-union attitudes. It was launched in late 2015 with the help of a coalition of like-minded groups, including the United Food and Commercial Workers (UFCW) union. Tyson's pledge is the campaign's first visible success.
An announcement from Tyson executive Noel White carefully avoided the language of labor rights and emphasized, instead, "investing in sustainability ... to create a beneficial cycle of contributing to the future." Nevertheless, the pledge promises some real improvements in the lives of workers on the shop floor, including:
Improving workplace health and safety with a commitment to achieving a 15 percent year-over-year reduction in worker injuries and illnesses;
Committing to a goal of zero turnover, striving for a 10 percent year-over-year improvement company-wide in worker retention;
Hiring 25 or more poultry plant safety trainers, adding to about 300 trainers and training coordinators the company has hired since 2015;
Broadening a pilot compensation program at two poultry plants aimed at increasing base wages and shortening the time it takes new workers to move to higher wage rates;
Making public the results of third-party social compliance audits of Tyson plants;
Improving and expanding other existing company-wide programs for worker health and well-being.
"Tyson Foods' commitment to worker safety and worker rights should not just be applauded—it should serve as a model for the rest of the industry," said Marc Perrone, president of UFCW. "Through our ongoing partnership with Tyson Foods, we have already made valuable progress. We look forward to these new and expanded initiatives."
Oxfam campaign chief Minor Sinclair echoed Perrone's call that other chicken producers adopt Tyson's approach. The three other companies targeted by Oxfam—Pilgrim's Pride, Perdue and Sanderson Farms—have thus far refused to engage with the Oxfam-led coalition, Sinclair tells In These Times. The three are now "lagging behind" in their treatment of workers and their sensitivity to the concerns of consumers, he says.
Sinclair credited other organizations in the "Big Chicken" coalition for the initial breakthrough with Tyson. In addition to UFCW, other prominent members include the National Association for the Advancement of Colored People (NAACP), the Southern Poverty Law Center and the Northwest Arkansas Workers' Justice Center. Even the U.S. Department of Labor has supported the safety goals of the coalition, he says.
Tyson itself has only recently had a change of heart about the Oxfam campaign, Sinclair continues. For the first year or so, Tyson typically ignored Oxfam and its allies. "For many months we felt stonewalled." But a change came in late 2016, he says, at about the same time Tyson named Tom Hayes as the new chief executive.
"I can't really say the exact reason that Tyson changed its attitude, but I don't think it is a coincidence," Sinclair said about the change in leadership.
UFCW is the largest union at Tyson, representing about 24,000 of its hourly workers, says company spokesman Gary Mickelson. There is some unionization at 30 of the company's 100 U.S. food-product plants, he says, with a handful of other unions representing an additional 5,000 employees.
One of the other union is the UFCW-affiliated Retail, Wholesale and Department Store Union (RWDSU). Randy Hadley, a RWDSU organizer, tells In These Times he hopes to see results from Tyson's pledges soon. A cavalier approach to worker safety has characterized the meat industry for decades, he says, and improvements are long overdue.
"I hope this isn't just a bunch of PR nonsense," he says.
RWDSU, which represents Tyson workers in one of the Alabama chicken plants, has seen an increased emphasis on safety recently, according to Hadley.
"We have seen an increase in the number of safety meetings and safety training sessions," he says, "so I'll give them credit for that."
Language barriers are the biggest obstacle to effective safety training, Hadley adds, because Tyson recruits a lot of new immigrants, including political refugees from the Middle East and other hot spots, to work in the chicken plants.
"We have another plant that we represent in Tennessee. When we print out our union literature, we do it in 17 different languages. And some of these folks can barely read, even in their own home language," Hadley says.
As part of the new commitments announced this week by Tyson, the company pledged to expand its in-house program called "Upward Academy," which offers courses in English as a Second Language (ESL) and other services aimed specifically at new immigrants.
This week's announcement follows the company's 2015 move to raise wages at most of its plants. At that time, Tyson said it would establish a new minimum of at least $10 an hour, up from $8 to $9 an hour. Top labor rates for certain skilled maintenance jobs were to be raised to as high as $26 an hour at the same time. 
BRUCE VAIL
Bruce Vail is a Baltimore-based freelance writer with decades of experience covering labor and business stories for newspapers, magazines and new media. He was a reporter for Bloomberg BNA's Daily Labor Report, covering collective bargaining issues in a wide range of industries, and a maritime industry reporter and editor for the Journal of Commerce, serving both in the newspaper's New York City headquarters and in the Washington, D.C. bureau.