Victory for Palestinian Prisoners as 80% of Strike Demands Met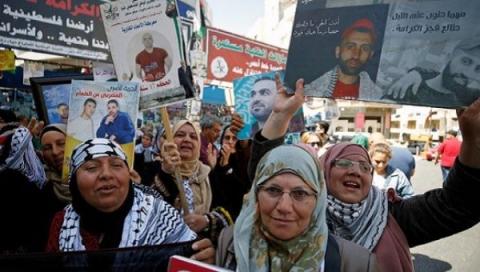 Palestinians celebrate after Palestinian prisoners ended a hunger strike over their conditions in Israeli jails, in the West Bank city of Ramallah, May 27, 2017, Reuters
"We know that there is a long struggle to come, for liberation for the prisoners and liberation for Palestine," stated a solidarity network.
After more than 1,500 Palestinian prisoners staged a a mass, historic hunger strike for 40 days, the Palestinian Committee of Prisoners' officials confirmed Sunday that nearly 80 percent of the prisoners' demands were met as the strike ended Saturday.
Issa Qaraqe, director of the Palestinian Prisoners Affairs Commission, spoke at a press conference Sunday, declaring the victory "an important achievement to build on in the future on the basis of the protection of the prisoners' rights and dignity."
Among the many conditions prisoners wanted to be improved that the Israeli Prisons Service agreed to include expanding access to telephones; lifting the security ban on hundreds of family members of Palestinian prisoners, including the 140 children who were denied visits from parents; allowing distant family members to visit their imprisoned relatives; and improving the conditions of both women and children prisoners.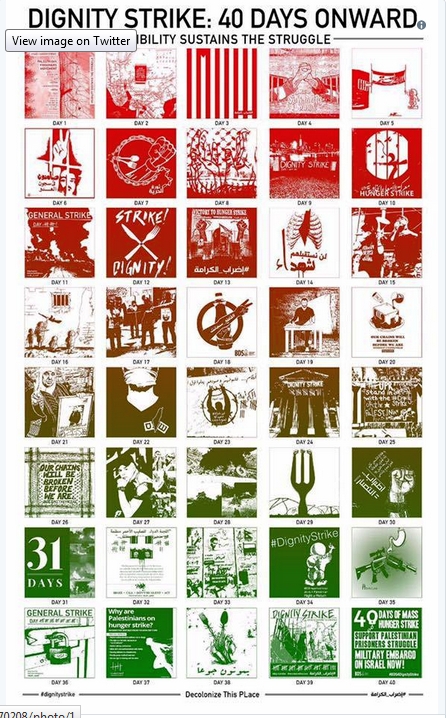 Other met demands include establishing in every prison department a separate kitchen area for the preparation of food; allowing photographs with parents once annually, or with a prisoner's spouse; stocking prison stores with higher-quality goods, including fruits and vegetables; introducing modern recreational equipment in the recreation yards; and transferring prisoners to prisons closer to their families' places of residence.
The end of the strike will also see the return of prisoners who were transferred to their original locations and the lifting of sanctions imposed on hunger-striking prisoners. Additional negotiations will be held around the prisoners' other demands.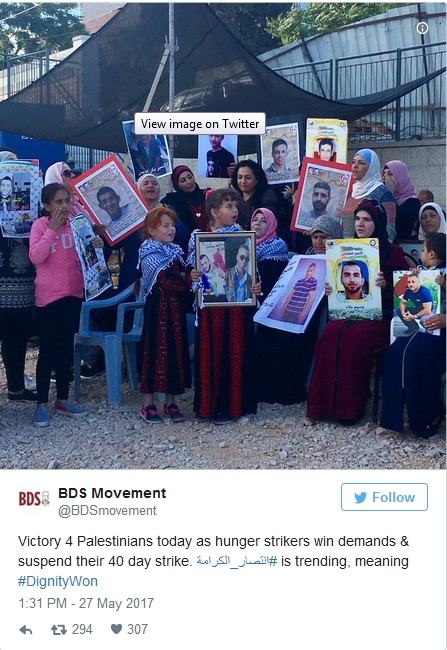 "On this occasion of the prisoners' victory, we know that there is a long struggle to come, for liberation for the prisoners and liberation for Palestine. We urge all of the Palestinian communities, supporters of Palestine and social justice organizers who took to the streets, drank salt water, engaged in hunger strikes, expressed their solidarity and organized across borders and walls to celebrate the victory of the prisoners with events and actions on 4-6 June, in Celebrations of Dignity and Victory," said the Samidoun Palestinian Prisoner Solidarity Network in a statement Sunday.
"In these celebrations, we will recognize the power of the Palestinian people to defeat the occupier and the colonizer, honor the prisoners and their steadfastness, and emphasize the ongoing struggle," the group added.
After 40 days, the health of many prisoners was deteriorating rapidly, with 182 striking political prisoners having been hospitalized.
The strike was met with solidarity demonstrations throughout occupied Palestine, and around the world, with near-daily demonstration, rallies, protests and strikes.