labor
Unions React to the MAX Killings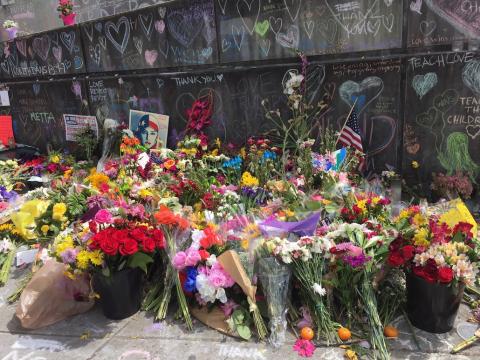 At the Hollywood Transit Center, an impromptu memorial to the victims of the May 26 attack on the MAX light rail.,
PORTLAND — The May 26 attacks on the MAX light rail train hit close to home for many local union members.
Jeremy Christian, an ex-con and self-described political nihilist, got on a westbound train at Lloyd Center at about 4:30 Friday and immediately targeted two African-American girls, one of them wearing a hijab, with a loud and frightening racist rant. Three men stepped forward to defend the girls and were stabbed in the neck by Christian. Micah David-Cole Fletcher survived. Taliesin Myrddin Namkai-Meche and Rick Best died of their wounds.
Best was a well-liked member of the COPPEA chapter of Professional & Technical Employees (PTE) Local 17 at the City of Portland. An army veteran and a father of four, he had been a technician at the city's Bureau of Development Services since 2015.

Local 17 posted a tribute to Rick on its website, and asked members to contribute to a GoFundMe page to fund scholarships for Best's children: Erik, Isaac, David, and Tramanh. The union also wrote a check to cover COBRA payments for June so Best's family can maintain health insurance it was getting through the City. Portland City Council is working on ordinance to pay the COBRA payments for three years after that. The PTE 17 board will also consider other ways to honor Rick's sacrifice and bravery at its June 15 meeting in Seattle, including the possibility of contributing to the Rick Best Memorial Scholarship Fund, since that is where his family would like donations to go.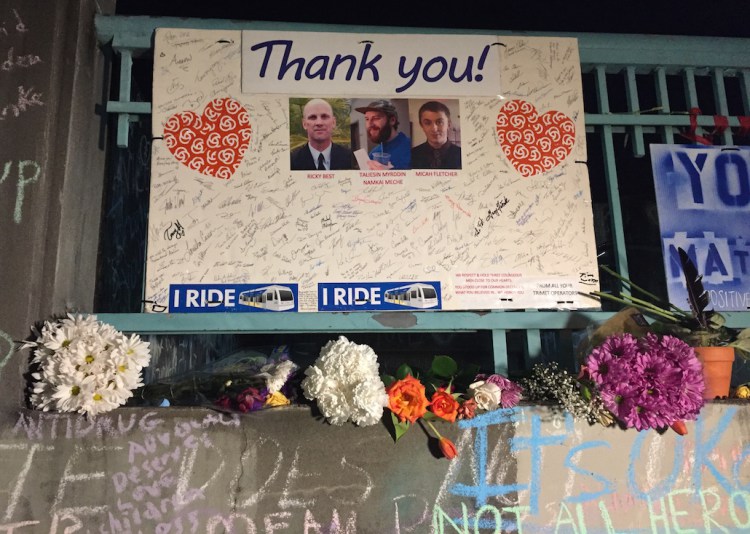 A thank you to the Good Samaritans, signed by TriMet operators
Other union members dealt with the aftermath of the attacks in the course of doing their jobs, including members of the Portland Police Association, Teamster-represented paramedics who staff American Medical Response, and TriMet police officers and the TriMet light rail operator who halted the train after the attacks occurred. TriMet employees are represented by Amalgamated Transit Union Local 757, which has been raising concerns about security on board buses and light rail trains for several years.
Oregon AFL-CIO president Tom Chamberlain also issued a statement May 31 in response to the attacks: "The unions of the Oregon AFL-CIO offer our sincere condolences to the families and friends of Taliesin Namkai-Meche and Ricky John Best, and we hope Micah David-Cole Fletcher has a complete recovery," Chamberlain said. "The actions these three took demonstrates a unique combination of bravery and compassion. We hope the two young women who endured a hate-fueled verbal assault can process and ultimately heal from what I can only imagine to be a deeply devastating experience."But in a May 31 statement about the attacks, ATU Local 757 president Shirley Block expressed opposition to a proposal to increase the presence of armed police officers aboard buses and trains. "Armed police officers aboard transit vehicles intimidate the public, reduce ridership, and provide little more than expensive security theatre," Block wrote. Instead, Block said, the union is calling for a return to well-trained fare inspectors "who can de-escalate and/or assess the proper response to dangerous situations," as well as a reinstatement of TriMet's "Rider Advocate" program, which "recruited and paid individuals from low-income communities and communities of color to ride our buses and trains as liaisons between operators, fare inspectors, riders, and even police." See the full statement here.
"Incidents of hate and hate crimes have been on the rise in our country, and Friday's violence remind Oregonians that we all must stand together in opposition to those who seek to divide us through fear and violence. Oregonians are sickened and disturbed by Friday's events, and I encourage all of us to stand together and continue to take positive actions to protect the rights of us all. It's through unity and solidarity that we will heal from this tragic incident. It's through standing together against hatred that we can stop events like this from happening again."