labor
AT&T Workers Reject Proposed Contract Deal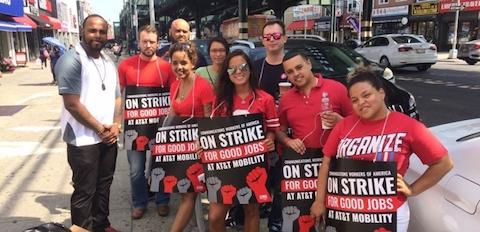 Dan DiMaggio Labor Notes
Some 17,000 AT&T workers in California and Nevada have rejected a proposed contract deal reached by the company and its largest union, the Communications Workers of America.
After over a year of negotiations, AT&T and the CWA thought they had a deal covering the unionized employees who work in the carrier's traditional wired telephone and Internet business and its DirecTV unit. But in a narrow and contentious vote, 53% of the workers said no to the proposed four-year contract, which would have imposed greater healthcare costs on employees.
The workers had already shown they were taking an aggressive stand in the negotiations when they walked out in May on a weekend labor strike, the first at AT&T since 2012. And tough talks are ongoing with a second group of about 21,000 AT&T wireless workers in 36 states and Washington, D.C. who also went out in the strike.

Until the recent strike, AT&T had concluded a long string of successful deals with the CWA. And the rejection could still lead to an approved contract in the next few weeks. Last year, a group of more than 40,000 unionized workers in AT&T's wireless business rejected a proposed benefits contract, only to adopt a revised deal weeks later.
But since last year's seven-week strike at Verizon led to workers there getting a better contract offer, labor tensions have been rising across the telecommunications industry. Increasing healthcare costs and job security against outsourcing have been among the most difficult issues. Workers at AT&T have been ramping up protest and picketing activity around the country, and in a nod to the Verizon workers' successful tactics, visited call center workers in the Dominican Republic hired by AT&T for taking calls from U.S. customers.
Healthcare Issues
The now-rejected proposed contract deal included wage hike totaling 11% over four years and some job security promises, but also increased employees' healthcare contributions to cover insurance premiums to 29% by 2020.
AT&T said it is in discussion with the union over next steps. "It's unfortunate that union members failed to ratify this very fair agreement, which included terms that would make our employees in the contract better off financially," the company said in a statement. "As we have throughout the process, we remain committed to working with the union to reach a fair agreement that will allow us to continue to provide solid union careers with wages and benefits that are among the best in the country, and we stand ready to return to the bargaining table to get that done as soon as possible."
The union also said it was considering what to do next. "CWA has notified the company of the results and is working on next steps," the union said in a statement.
The May strike by a total of nearly 40,000 workers forced AT&T to close hundreds of stores from Alaska to Michigan to Rhode Island. The wired unit employees who rejected the proposal had been working without a contract for over a year, while the wireless employees who are still negotiating have been working without a contract since February. AT&T is under pressure from Wall Street to cut costs as revenue has been shrinking lately on both sides of its phone business.
Still, AT&T has had generally peaceful relations with its unionized workers, in contrast to Verizon  which suffered through the long strike last year and has seen workers repeatedly walk out on prior contracts, as well.