Who is Left on Trump's Manufacturing Council?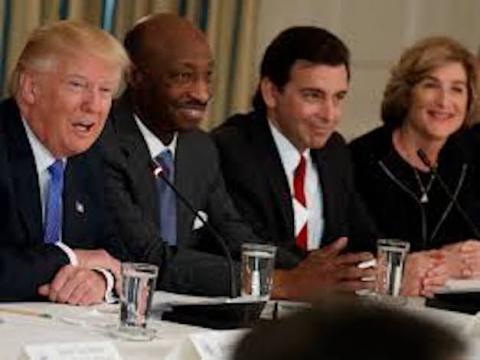 Manufacturing Council - Trump Frazier Merck, Business Insider
Who is Left on Trump's Manufacturing Council?
Yet another business leader has dropped out of Donald Trump's manufacturing jobs initiative amid concerns about how the president responded to the violent protests in Charlottesville, Virginia, over the weekend.
Scott Paul, the president of the Alliance for American Manufacturing, resigned just before noon on Tuesday, tweeting that "it's the right thing for me to do." He joined Ken Frazier, the CEO of Merck; Kevin Plank, the CEO of Under Armour; and Brian Krzanich, the CEO of Intel; all of whom left the team Monday after Trump initially failed to condemn white nationalists' involvement in the Virginia demonstrations that left three dead and dozens injured.
"America's leaders must honor our fundamental values by clearly rejecting expressions of hatred, bigotry and group supremacy, which run counter to the American ideal that all people are created equal," Frazier said in a statement. "I feel a responsibility to take a stand against intolerance and extremism."
The resignations followed a June decision by Tesla co-founder Elon Musk to withdraw from the council over Trump's intent to leave the Paris climate agreement. In nonpolitical departures, Mario Longhi, Mark Fields and Klaus Kleinfeld left as well, because they stepped down from their positions, Axios reported. Thea Lee did the same, according to Politico.
After Charlottesville, Trump fought back against the most recent exits, tweeting Tuesday that "for every CEO that drops out ... I have many to take their place." But it's clear his council has taken a hit.
Here's who's left on the team comprised of people the White House once described as "some of the world's most successful and creative business leaders:"
Andrew Liveris, The Dow Chemical Company
Bill Brown, Harris Corporation
Michael Dell, Dell Technologies
John Ferriola, Nucor Corporation
Jeff Fettig, Whirlpool Corporation
Alex Gorsky, Johnson & Johnson
Greg Hayes, United Technologies Corp.
Marilynn Hewson, Lockheed Martin Corporation
Jeff Immelt, General Electric
Jim Kamsickas, Dana Inc.
Rich Kyle, The Timken Company
Denise Morrison, Campbell Soup Company
Dennis Muilenburg, Boeing
Doug Oberhelman, Caterpillar
Michael Polk, Newell Brands
Mark Sutton, International Paper
Inge Thulin, 3M
Richard Tumka, AFL-CIO
Wendell Weeks, Corning
=====
Trumka Quits White House Manufacturing Initiative
by Ian Kullgren, Politico
AFL-CIO President Richard Trumka resigned from President Donald Trump's manufacturing council Tuesday, citing as the "last straw" the president's backpedaling from Monday's blanket condemnation of Saturday's white supremacist demonstration in Charlottesville, Virginia.
"President Trump's remarks today repudiate his forced remarks yesterday on the KKK and neo-Nazis," Trumka said in a statement on Twitter. "We must resign on behalf of America's working people, who reject all notions of legitimacy of these bigoted groups. It's clear that President Trump's Manufacturing Council was never a means for delivering real policy that lifts working families and his remarks today were the last straw."
In his remarks Tuesday about Saturday's march and counterdemonstration, Trump said "there's blame on both sides" and that there were "fine people" who attended the rally who were there only to protest the removal of a statue of Gen. Robert E. Lee. The demonstration was preceded the night before by a well-publicized torchlight march in which participants chanted, among other things, "Jews will not replace us." At Saturday's rally, a car allegedly driven by a white supremacist rammed into a crowd and killed a counterprotester.
Trumka's resignation follows those of chief executives for the pharmaceutical giant Merck, the men's sportswear manufacturer Under Armour and Intel, as well as the president of the Alliance for American Manufacturing. Trumka signaled Monday that he might leave the council, noting that it "has yet to hold any real meeting" and saying there were "real questions" about its effectiveness.