Media Bits and Bytes – Zero Hour Edition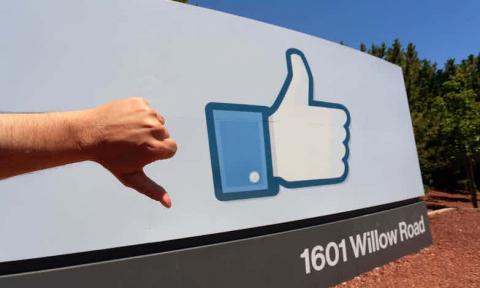 'Facebook's dominance means that even if you're frustrated by its advertising and tracking of your data, it's still likely to be your first choice.', Alamy, Guardian
The Net Neutrality Comment Period Was a Complete Mess – Jacob Kastrenakes (The Verge)
The Voices for Internet Freedom Coalition Urges the Trump FCC to Keep the Net Neutrality Rules – Joseph Torres (Voices for Internet Freedom)
What a Hurricane Tells Us About Local News – Anne Applebaum (Washington Post)
A Serf on Google's Farm – Josh Marshall (Talking Points Memo)
What the Media Got Wrong About Last Weekend's Protests in Berkeley – Shane Bauer (Mother Jones)
We Need to Nationalise Google, Facebook and Amazon. Here's Why – Nick Srnicek (Guardian)

The Net Neutrality Comment Period Was a Complete Mess
By Jacob Kastrenakes
August 31, 2017
The Verge
After months of debate, protests, and disruptions, the FCC's comment period on its proposal to kill net neutrality is now over. How much is 22 million comments worth?

The Voices for Internet Freedom Coalition Urges the Trump FCC to Keep the Net Neutrality Rules
By Joseph Torres
August 31, 2017
Voices for Internet Freedom
What a Hurricane Tells Us About Local News
By Anne Applebaum
August 31, 2017
Washington Post
The weakness of local news means that important decisions, whether on zoning or school boards, are made in a vacuum. The absence of local debate is, in turn, one of the factors that contribute to Americans' sense of disconnection from politics, for their mistrust of one another, even for their alarming, well-documented declining faith in democracy.

By Josh Marshall
September 1, 2017
Talking Points Memo
An unintended effect of Google's heavy-handed attempt to silence Barry Lynn and his Open Markets program at New America has been to shine a really bright light both on Google's monopoly power and the unrestrained and unlovely ways it use it.

What the Media Got Wrong About Last Weekend's Protests in Berkeley
By Shane Bauer
August 29, 2017
Mother Jones
By focusing on scattered violence, reporters glossed over the bigger story: The Bay Area has become the latest target of fascist and other far-right groups promoting disruptive rallies across America, often in cities where they know they are not welcome.
 
We Need to Nationalise Google, Facebook and Amazon. Here's Why
By Nick Srnicek
August 30, 2017
Guardian
A crisis is looming. These monopoly platforms hoovering up our data have no competition: they're too big to serve the public interest.