Land Grabbing Responsible for Persecution and Refugee Crisis, in Myanmar and Central America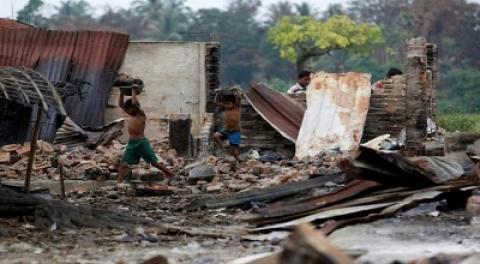 The deployment of extra troops last month to Myanmar's troubled Rakhine state is to further the "Rohingya genocide".,Caravan Daily
Is Rohingya Persecution Caused by Business Interests Rather than Religion?
Both Buddhist and Muslim smallholders have been victims of corporate land grabs in Myanmar. Is the focus on religion just a distraction?

By Saskia Sassen
January 4, 2017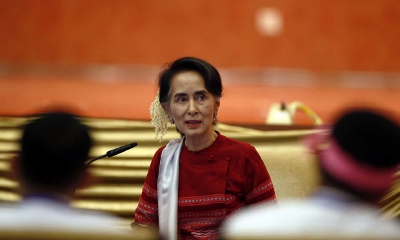 In the last four years Myanmar's Rohingya, a centuries-old Muslim minority group, have been subjected to sharply escalating persecution by the Myanmar army, and by a particular sector of extreme nationalist Buddhist monks.
The treatment of the Rohingya is sometimes described as a crime against humanity. But we need to interrogate its sources. If we bring in some of the larger trends affecting modest rural communities, two major facts stand out. One is the far larger numbers of Buddhist smallholders who have also been expelled from their land in the last few years. And the other is the fact that large-scale timber extraction, mining, and water projects are replacing the expelled.
But the land grabs have been silently ignored. In fact, the military were already taking land from Buddhist smallholders and other groups in the 1990s. But in 2012 a change in the law escalated matters and (formally) opened the country to foreign investors. On 30 March 2012, the joint lower and upper houses of parliament approved the revision of two land laws: the Farmland Law and the Vacant Land Law. This amounted to a new Foreign Investment Law that allowed 100% foreign capital, and lease periods of up to 70 years. Compared to mining, the agriculture sector still has some restrictions on foreign investment in that the government promotes joint ventures with local entrepreneurs. However, foreign firms often use local companies as proxies (pdf) for investments.
The 1963 Peasant Law was also annulled in 2012, this piece of statute, which protected smallholders and the "tiller's rights to the land", had been in place since the country's socialist era.
Many, perhaps most, of the contracts signed for major land deals have their own conditions and effects. For instance, regional military commanders and non-state armed groups have de facto control over most land development in northern Myanmar.
Since the first set of foreign investors entered the country, demand for land has become a major factor in conflict
Myanmar has become a last Asian frontier for our current modes of development – plantation agriculture, mining, and water extraction. Its location makes it even more strategic. Besides being the largest country of south-east Asia, Myanmar is between the two most populous countries in the world, China and India, both hungry for natural resources.
Since that first set of major foreign investors entered the country under the new legal regime, demand for land has become a major factor in conflict. Foreign firms have moved in, land grabs have risen, smallholders keep losing ground. Farmers have become poorer or lost their land. But the land market is booming.
Seen from this angle, persecution of the Rohingya has at least two functions, even if unplanned. Expelling them from their land is a way of freeing up land and water. Burning their homes makes this irreversible: the Rohingya are forced to flee and leave their lands behind. Secondly, a focus on religious difference mobilises passions around religion, rather than aiming, let's say, at creating pressure on the government to stop evictions of all smallholders, no matter their religion.
Against the background of millions of expelled smallholders, it is remarkable how much religion has captured the attention of observers and commentators. In the meantime, a third of Myanmar's vast forests are gone, and the government has allocated million of hectares, including a significant allotment in Rakhine state, for further development.
By Saskia Sassen
January 16, 2017
What's behind this ongoing surge in gang and drug trafficking violence? The answer is multi-faceted but a key element has been overlooked again and again: Local elites and foreign corporations gained control over much of the land that could grow crops, forcing smallholder farmers off their land. 
After a land grab, large cities are often the only places farmers and others from rural parts of the country can go. But the cities offer few economic options for the migrants, and in response, they too often are targeted by gangs that make up a murderous urban sub-culture. Thus, many Central American refugees showing up at America's door are both refugees of urban violence and, before that, of land grabs. 
Many Central American refugees showing up at America's door are both refugees of urban violence and, before that, of land grabs.
Much of what gets registered as 'modernization and development' looks very different to local peasants.
Little will be learned from all this as long as the explanation from entities, such as the World Bank, and other experts is focused on gang violence in poor areas of cities. La Violencia is out of control. But these cities were not always this way. Violence does not fall from the sky. It is made. In this case, it is made partly by large modern corporations that expel small farmers.