Stop the Deportations from Gary Airport!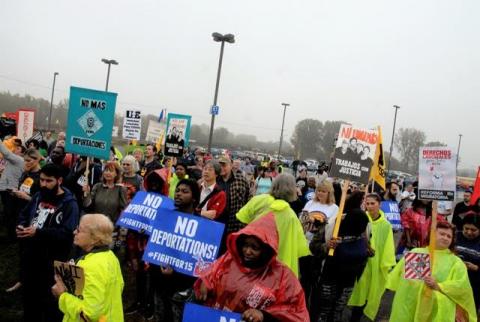 ,
Every Friday morning, buses from Illinois roll into the Gary-Chicago International Airport to load immigrants onto a plane that will take them to Brownsville, Texas where they will be pushed over the border. According to ICE, by April 2017, 19,501 immigrants were deported out of the Gary Airport.
It is a bone-chilling site to see the all white buses, including windows blocked out by white covers, approach the airport. The immigrants are shackled and hurried up the steps of the World Atlantic plane that will make a stop in Kansas City to pick up more immigrants. In addition to buses, ICE has added additional vehicles, that look like moving "isolation chambers." (see photos)
Sister of Mercy JoAnne Persch along with Sister Pat have met with the immigrants on the bus, prayed with them and found out who they are for the past 10 years. Not one has been charged with a violent crime. Most are there because they chose to stay with or rejoin their families. A few had been arrested for minor traffic violations, shop-lifting, or just reporting to ICE for their annual check-in, an act of cooperation they were promised would protect t them from detainment and deportation. "These are our neighbors," explained Sister JoAnne. "They are not criminals, and their families are suffering."

Since May 2017, the NWI Resistance, a coalition of organizations and individuals who stand against bans, walls and deportations have sought ways to publicize and condemn these evil deportations. It's not easy to get folks out in the red-state of Indiana on a workday morning, but through perseverance NWI Resist finally broke into the Chicago area and media, attracting support from at least a dozen activist groups. On the morning of October 6, 2017 hundreds of protestors arrived by car and bus to the Gary Airport to defend DACA and protest the deportations.
Despite rain, road construction and –for Gary—a very large and unfriendly police presence, Chicago and NW Indiana activists and media lined up to listen to rank and file workers, immigrants and activists connect their struggles and stand together united. Holding high an incredible array of banners and signs, which read "Defend DACA," "No Mas Deportaciones," "No Bans," "No Walls," protestors provided camera crews and cellphones with inspiring images, making sure the message would be multiplied across various media platforms. Many of the signs were produced in a community "art build," held the previous Sunday in Michigan City.
Police forced the protestors behind fences and away from the area where the buses unload, even pulling trucks and tractors out to block the view for participants and TV crew cameras. When protest organizer Ruth Needleman pulled in early to unload signs, a SWAT Team officer told her if she did not get back in her car at once and move, she was under arrest. So much for de-escalation training! But no one was deterred from protesting!
For the first time unions participated in the protest, including Seiu Local 1, Seiu Healthcare, ATU 308, UAW 551, UE Western Region, UniteHere Local 1, and a whole crew of workers in Chicago for a National Solidarity Conference held at UAW Local 551 hall. Chicago Jobs with Justice brought down a bus, paid for by SEIU; it carried a whole contingent of Fight for 15 activists, immigration activists, and community organizers. Sponsors from NW Indiana included: NWI Interfaith Federation, Indiana LULAC, Hoosiers for Progress, Unite the Region for Justice, NWI Green Party, 219Might, Veterans for Justice, Temple Israel's Social Action, Progressive Coffee Caucus, Our Revolution NWI, Indiana 350, First Unitarian Church of Hobart, PNW Social Justice Club, IUN Alma, USW local 1010 and SOAR, the USW retirees' group.
Gary State Senator Eddie Melton supported the action, although he could not attend.  "Keep fighting the good fight, " his statement read, "I promise I will as well, and let's be a voice for the people that this administration seeks to silence." He noted that "Indiana is only one of three states that has a law specifically prohibiting [immigrant]students from receiving in-state tuition rates. . . We must stand up for them in these troubling times, because if we don't, we all have something to lose."
Immigrant rights groups and Workers' Centers in Chicago also joined in the protest, including Illinois Coalition for Immigrant and Refugee Rights, Chicago Latino Union, Comunidades en Resistencia, and more.
This is our biggest protest so far," co-organizer of the protest L. E. Whitman announced, " but this won't be the last!" This was the third Friday morning protest. "We need to get bigger and branch out! Make sure ICE CANNOT ignore us anymore or put us in a cage. This is a global fight and we will not stand for deportations anywhere not just in Gary.  We know racism comes in many forms, environmental, deportations, mass incarceration, wage theft. We are fighting all of them."
McHenry County, IL sheriffs, who transport the immigrants to the Gary Airport, are being sued by ACLU for violating state and federal immigration laws. As Needleman explained to the Real News, "the sheriffs just last week arrested an immigrant on a charge of scratching someone. When the family attempted to bail him out, the McHenry County sheriff's office refused. Following protests, they accepted payment of a $500 bail bond from the family but then turned the man over to ICE anyway."
The deportation flights out of Gary head to Kansas City to pick up more immigrants. For our next protest, we hope to meet that Kansas City flight with a protest there as well.  To avoid ICE just moving deportations around, we need a map of all airports carrying out these local deportations. Only with national coordination can we have an impact on ICE. Please send information on local airports to rneedle@iun.edu or post on Facebook, NWI Resistance.
"International struggles have no borders," Herbert Claros, a labor leader from Brazil, told the crowd. Herbert had come in for the National Workers' Solidarity conference. "The immigrants face a crisis all over Latin America, Europe and the World." Reyna Rundberg, from SEIU, asked, "Why does Gary have to do it? These deportations are wrong." Teresa Cervantes from Fight for 15 explained she was here "because we have to support immigrants and all young people's right to a future."
The Gary Airport has been a target of demonstrations for years. A multimillion dollar expansion of the runway was completed with almost no local hiring, a problem that extends to every building project in Gary. For years the NW Indiana Interfaith Federation has picketed the airport and other locations demanding a Community Benefits Agreement.
Then in the fall of 2015, the City announced that GEO, the second largest private prison corporation, was coming to Gary to build an immigrant prison next to the airport. GEO had previously tried to build one in Joliet, IL and Hobart IN, but public protest stopped them. In Gary GEO was driven out of town only to reappear the following year, 2016, with the same proposal. Despite much money changing hands, false promises of jobs and investment, the people of Gary rallied against GEO and forced a unanimous vote by the Gary Common Council against the prison.
The coalition built to defeat GEO has been revived and expanded in the struggle against the deportations at the airport.  More recently, the coalition forced the Gary Council to adopt a "Welcoming City Ordinance," designed to protest residents from police and immigration abuse.
Immigrants rounded up all over the Chicago area, into Wisconsin including Milwaukee, are brought to Indiana to be deported. The Gary Airport does not sponsor the flights, rather one of its subcontractors, the Gary Jet Center, holds the contract with World Atlantic Air that in turn contracts with ICE. Since May, the Trump administration has not even acknowledged receipt of FOIA requests.
It is called the Gary-Chicago International Airport based on a Compact signed between the cities of Chicago and Gary that specifies that the Gary Airport can only serve as a "reliever airport for Midway and O'Hare." Chicago has used this compact to block passenger service at the Gary Airport and to ensure that the dirty work of deportation is done by its economic colony, Gary.
Two Spanish language networks, along with the Real News, NBC, ABC, FOX and local Indiana newspapers covered the protest, helping to spread the word. Vince Emanuele, a host on the Progressive Radio Network, observed: "I have never seen this level of mobilization in the Region. It's very encouraging."
Follow up meeting have already been set for NW Indiana and Chicago. All the organizations involved have pledged to return with more supporters.
Ruth Needleman and L.E. Whitman, NWI Resistance