Palestine Updates: Israel Turns Bus into Torture Chamber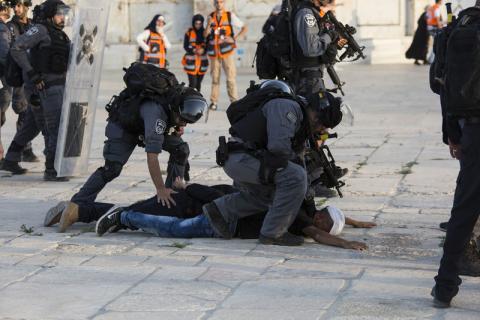 Israeli occupation forces arrest a Palestinian worshipper at al-Aqsa mosque on 27 July., ActiveStills
Israel Turns Bus into Torture Chamber
The Electronic Intifada, October 10, 2017
Shahrazad Odeh
https://electronicintifada.net/content/israel-turns-bus-torture-chamber…
Jerusalem's al-Asqa mosque – one of Islam's holiest sites – received much attention during the summer when Israel blocked Palestinian worshippers from entering it.
Some incidents of Israeli brutality around that period nonetheless went unreported by international media.
Through my work as a lawyer with the Public Committee Against Torture in Israel, I gathered testimony from victims of one such incident.
On 27 July, Israeli police raided the al-Aqsa compound at around 10pm. That was shortly after Israeli authorities had removed the metal detectors and cameras they had placed at the entrance to the compound.
The raid, not the first at al-Aqsa that day, was perceived as police exacting revenge on Palestinians who had successfully resisted the restrictions on access to the mosque with two weeks of civil disobedience.
Moments after calling on everyone to evacuate the mosque, police officers fired rubber bullets at the unarmed worshippers, injuring several. About 120 Palestinians were rounded up, none of whom resisted arrest.
A Palestinian medical team had been providing aid to a worshipper in the mosque before the raid occurred. Members of the team found themselves helping the raid's victims, including a man who was injured by a sponge-tipped bullet.
One of the medical team testified that a senior Israeli police officer known as Shlomi "walked towards us and told his troops: 'They're not paramedics, they are all liars, take their vests and fuck them up.'"
The police stripped the medical staff of their uniforms, clumped them together with the worshippers and forced them into a corner with their hands raised in the air.
The police then forced all the detainees to the ground. Many were beaten by police wearing padded gloves and wielding batons.
Shackled
The detainees had their hands tied behind their backs with plastic cables. Shackled and helpless, the detainees were forced to sit on their knees, with some being ordered to bow their heads between their legs.
"They pointed at me, I walked over towards them, a police woman grabbed me by my hands, while another police officer kicked me from behind, and I fell to the ground," one detainee said.
"They held my hands behind my back and one of them jumped above me, stepped on my hip, pulled my hands further back, and handcuffed me. I told him, 'It's very tight, I'm only a human.' The officer said, 'Is this tight?' and tightened the plastic cuffs until I bled."
The detainees were split into two groups and forced to walk barefoot out of the mosque to the Moroccan Gate – an entrance to Jerusalem's Old City.
Some were forced to walk with their heads facing down; others were forced to bow at a 90 degree angle while walking. At the gate, some were forced onto their knees again while others were given a full body search.
All this took place as Israeli onlookers mocked, filmed and photographed the detainees.
The first group of detainees was transferred onto police vehicles. The second group, about 100 detainees, was forced onto a low floor bus run by the Israeli public transport firm Egged.
Once they were loaded onto the bus, the detainees were forced to sit with their hands behind their backs. One young man said that there was an initial sense of relief "that I was finally seated on a chair, because my feet were killing me from the beating, being stepped on by police officers, and walking barefoot during the arrest. I wasn't able to move, my feet were swollen."
The young man quickly added that he was "wrong to feel at ease." He was promptly told to bow his head between his knees.
"My back was cracking"
While in that position, police officers threw another detainee on his back and those of the three detainees placed beside him. Another three detainees were then piled on top of them, forming a kind of human pyramid.
"They threw a heavy person on the four of us," the man said. "I felt my back was cracking."
Other detainees were made to open their legs so that two detainees could be placed on each leg. In some cases, a further detainee was placed lying the floor between fellow detainees' legs and facing their genitals.
The remainder of the detainees was forced to sit on the floor of the bus' corridor.
The level of police aggression was such that detainees feared for their lives.
"I saw death in their [the police's] eyes," said one young man.
"I don't get scared easily," said another man, aged 22. "But that night, I was sure they came to kill us, all of us. I was so afraid that I almost urinated in my pants."
Testimonies of these young men and some others formed the basis of a complaint made by the Public Committee Against Torture in Israel on behalf of 10 Palestinians placed on that bus. The complaint was filed with Israel's police investigation unit in late August.
The bus carrying the detainees was brought to the Russian Compound, an interrogation center synonymous with torture.
Assault
Some detainees alleged further police violence against them at the center. A teenage boy, who was visibly in pain, was among those assaulted there.
Most of the detainees were released from the Russian Compound after an hour or so. Others, though, were not released until the following day.
Each member of the group held until the next day was shackled to another man throughout his detention. They had to accompany each other even when using the toilets.
The men who were shackled together had to sleep on the floor.
One of the detainees was struck in the head by police during the raid. Even though he was visibly bleeding, he was not provided with any medical attention until after his detention – when he was brought away in an ambulance.
The detainees with whom I spoke all reported of swelling in the wrists and of bleeding as a result of the tight restraints placed on them.
This incident was not the first time that Israel has commandeered public transport vehicles for military or policing operations.
In 1992, Israel used Egged buses to deport more than 400 Palestinians – blindfolded – from the occupied West Bank and Gaza to southern Lebanon.
The misuse of buses by Israel's forces of occupation is symptomatic of a bigger issue. Since its establishment, Israel has deliberately seized public or civilian property and transformed it into closed military zones. Designating large tracts of the West Bank in that way has allowed Israel to expand its settlements.
Israel refuses to separate military and civilian life. The Israeli army runs bases and offices in universities; soldiers carry weapons on public transport.
By penetrating into almost every aspect of Palestinian life, Israel has been able to raid places of worship with impunity. Buses have been turned into prison cells.
Sharazad Odeh is a Palestinian human rights lawyer and a researcher on law and gender. She works as a staff attorney with Kayan Feminist Organization and holds various research roles at Hebrew University of Jerusalem. The opinions expressed in this article are her own.
Colonialism links catastrophes in Puerto Rico and Gaza
The Electronic Intifada, October 17, 2017
https://electronicintifada.net/blogs/tamara-nassar/colonialism-links-ca…
A Zionist satirical website, Mideast Beast, published an article during the 2016 US presidential election campaign caricaturing what the "Trump Solution" for the Palestine conflict would look like: move all Palestinians to Puerto Rico if they "surrender to Israel."
With undisguised racist and Islamophobic contempt, the website demeans Palestinians and Puerto Ricans, treating them as throwaway people for colonial powers.
Now, weeks after two successive hurricanes hit Puerto Rico, the island looks a lot like the Gaza Strip has for the past decade.
"I know what it's like to struggle with shortages of vital supplies such as electricity, gas, cash and safe water," Tarneem Hammad, a young woman in Gaza, wrote in an open letter this month. "I know what it's like to lose everything and have no place to go. I know what it feels like to hope that help will come – and it doesn't."
"It breaks my heart to know that the same crises that make life so difficult every day in Gaza (although here, they are all very much man-made) now are hurting you in Puerto Rico," Hammad added. "As a Gazan, I have experienced the same pain and I wish that on no one."
Approximately 84 percent of Puerto Rico lacks electricity, and almost 40 percent of people have no drinking water.
President Donald Trump has refused to extend a brief waiver lifting restrictions on foreign ships bringing food, fuel and medicine to Puerto Rico. The infrastructure has been devastated and the death toll from the hurricane has reached at least 45.
"While you are amusing yourself throwing paper towels at us, your compatriots and the world are sending love and help our way," Carmen Cruz, the mayor of Puerto Rico's capital San Juan, wrote in a searing message addressed to Trump.
She accused the president of "Condemn[ing] us to a slow death of non-drinkable water, lack of food, lack of medicine while you keep others eager to help from reaching us."
Some of the headlines coming out of Puerto Rico could just as well be coming from Gaza:
Uninhabitable
Gaza is rapidly becoming "unlivable," according to a recent UN report.
An 11-year-old in Gaza does not know a world where electricity is available for more than a few hours a day. More than 96 percent of Gaza's water is unsafe for drinking. With waste treatment out of commission in Gaza, raw sewage is being dumped into the Mediterranean.
That's also catastrophic for Gaza's fishermen, whom the Israeli military restrict to an area within six nautical miles from the shore.
Over the last decade, Israel has also systematically restricted shipments of food, fuel, medicine and building supplies into Gaza, at one point even counting the minimum calories that each person could consume without starving, and severely hampering reconstruction after multiple Israeli invasions that leveled entire neighborhoods and killed thousands of Palestinians.
A US colony
Despite federal government aid, Puerto Rico will have to adjust to a new way of life without electricity for a long period of time.
Ricardo Ramos, CEO of the Puerto Rico Electric Power Authority, described the damage to the electrical grid as "catastrophic."
"It's a good time for dads to buy a ball and a glove and change the way that you entertain your children – the way you're going to go to school, the way that you're going to cook, with gas stoves rather than electric," Ramos added.
Even before the catastrophic hurricanes, the island was already struggling under a massive debt crisis.
Trump did not lie when he said that Puerto Rico's infrastructure was already devastated before the hurricane.
According to journalist Juan González, the burden of unpayable debt has its roots in US colonial policies towards the island, and is thus also a human-made crisis.
Puerto Rico's people are at the mercy of decisions from Washington in which they have no say or control. Although much media coverage has emphasized that Puerto Ricans are US citizens, unlike other Americans, they have no voting members in Congress and they do not vote in presidential elections.
"It may be easy to try to disregard us," San Juan mayor Cruz said. "It may be easy because we're a US territory and a colony of the United States."
"Slow death"
The crisis in Gaza is also human-made: the result of a decade-long Israeli siege backed by the US and the rest of the so-called international community.
Cruz calling Puerto Rico's fate a "slow death" echoes the language often used to describe life in Gaza under Israel's blockade.
For years, Gaza has suffered amid international near-silence, except when the catastrophe becomes difficult to hide, such as during Israel's 2014 summer assault that killed more than 2,200 Palestinians.
But since then, the situation in Gaza has been obscured as an abstract political conflict, making it easier to ignore.
Inadequate though it may be, there has been an intense focus on Puerto Rico because of the hurricanes. But Puerto Rico was already struggling long before the current crisis, and that will continue after it fades from the headlines. And so we must do our best to ensure that the spotlight remains on both situations.
What connects the crises in Gaza and Puerto Rico is not just the enormous human suffering, but their causes: while one is presented as a "natural" disaster, and the other "political," both are rooted in the injustice that the basic rights of millions of people are ignored or denied by the unaccountable colonial powers that control their fates.
Tamara Nassar is an assistant editor at The Electronic Intifada.
Inspiring BDS News from the Americas, Arab World, Europe & Asia
The Palestinian BDS National Committee, October 25, 2017
This month, a World Without Walls delegation with grassroots leaders from Mexico and the United States met with us in Palestine. This group of Latinx and indigenous activists from communities hurt by the US/Mexico border joined Palestinians to build connections and a joint resistance. A resistance committed to strengthening the BDS movement and to challenging both the Israeli Apartheid Wall and the Wall of Shame that President Trump wants to expand.
We at the Palestinian BDS National Committee (BNC) are proud to have co-organized this delegation, and are now building on it towards a November 9 Global Day of Action for A World Without Walls with groups from over 30 countries.
 
In other good news, the United Nations is producing a list of companies involved in Israel's occupation — taking its first concrete step to hold Israel accountable for violating Palestinian human rights. And the premiere civil liberties organization in the United States, the American Civil Liberties Union (ACLU), has for the first time filed a lawsuit challenging anti-BDS legislation. The ACLU makes clear that the right to boycott Israel for its violations of Palestinian human rights is a constitutionally protected right, and that political boycotts to advance progressive causes have a long and admirable history.
Both these significant developments indicate the growing impact of the BDS movement.
More inspiring, recent BDS news: 
1. Denmark's third largest pension fund, Sampension, excludes four companies from its portfolio, citing their investments in illegal Israeli settlements. The four companies are all companies targeted by the BDS movement.
 
2. UN Women becomes the fifth UN agency in Jordan to drop its contracts with G4S following a campaign by BDS activists. This comes on the heels of 7 public and private companies in Jordan also discontinuing their contracts with G4S. G4S is the world's largest security company and is complicit in Israeli violations of Palestinian human rights.
 
3. A 16-million strong organization in India declares support for the BDS movement. The group is the largest organization representing peasants in India. It has vowed to resist the corporate takeover of Indian agriculture by Israeli companies and to stop Israel from reaping profits in India that finance Israeli military occupation and apartheid.
 
4. Medical students at Chile's largest university overwhelmingly vote for BDS to advance Palestinian human rights.
 
5. BDS activists successfully convince Australian RFDS, one of the largest aeromedical organizations in the world, to refuse services from the Israeli military and tech company Elbit Systems. Elbit Systems is responsible for building Israel's apartheid wall and for producing killer drones used by the Israeli military in its multiple attacks on Palestinian civilians in Gaza . This victory follows an 18-month campaign supported by the Australian public alongside public officials and doctors.
 
6. Renowned Portuguese photographers pledge to respect the Palestinian call for BDS by engaging in the cultural boycott of Israel, and call for other Portuguese photographers to join them. 
 
7. Award-winning British filmmaker Ken Loach donates proceeds from screenings of his latest film to the BDS movement, as a gesture of his support.
 
8. An upscale Tokyo department store withdraws products made in illegal Israeli settlements built on stolen Palestinian land.
 
9. The Municipality of Cádiz, Spain cancels an Israeli film series sponsored by the Israeli government, respecting the Palestinian call to boycott Israeli apartheid. The series was in conflict with the City Council's official commitment to respect the human rights principles set by the BDS movement.
 
Thank you, as always, for standing with us and being part of this movement in pursuit of freedom, justice and equality.
Solidarity,
The Palestinian BDS National Committee (BNC)
The Palestinian BDS National Committee (BNC) is the largest coalition in Palestinian civil society. It leads and supports the global Boycott, Divestment and Sanctions movement.