labor
He Fought for Farm Workers for Decades. Now He's a MacArthur 'Genius Grant' Winner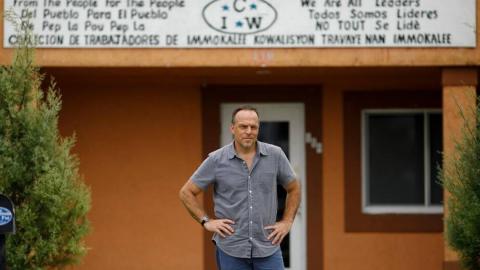 Greg Asbed, 2017 MacArthur Fellow, is pictured at the Coalition of Immokalee Workers, which he co-founded. , John D. and Catherine T. MacArthur Foundation
Greg Asbed developed a model for improving conditions for low-wage workers in the tomato fields, and now the model is being replicated around the world in other industries. On Wednesday, the human rights strategist from Florida was honored as a 2017 John D. and Catherine T. MacArthur Foundation Fellow.
The foundation's prestigious "genius grants" were awarded to 24 people around the country, including a painter, a playwright, a mathematician, a social justice organizer, an immunologist and an urban planner. Recipients of the $625,000 awards, which come with no strings attached, are selected based on "exceptional creativity" and the promise and potential for important advances in subsequent work. Since the grant program started in 1981, 965 people have been named MacArthur Fellows.
"From transforming conditions for low-wage workers to identifying internet security vulnerabilities, from celebrating the African American string band tradition to designing resilient urban habitats, these new MacArthur Fellows bring their exceptional creativity to diverse people, places and social challenges. Their work gives us reason for optimism and inspires us all," said Cecilia Conrad, managing director of the MacArthur Fellows Program, in a statement.
Asbed co-founded the Coalition of Immokalee Workers in 1993 to combat injustices in the tomato-growing industry and in 2011 launched the coalition's Fair Food Program, which uses the purchasing power of brands to compel growers to improve farm workers' working conditions. The Florida Tomato Growers Exchange and over a dozen purchasers, including Walmart and major fast-food chains (except Wendy's), have signed on to the Fair Food Program, which is monitored by the independent Fair Foods Standards Council.
The coalition's work has been recognized for putting an end to forced labor and sexual violence against women in the fields, said Asbed, 54, in a phone interview.
Today, the garment industry in Bangladesh and the dairy industry in Vermont are adopting his Worker-driven Social Responsibility model, or WSR, a bottom-up approach in which workers play a key role in establishing work condition standards. Asbed is working with growers in Texas, he said, and the WSR model could also address such issues as child labor in Africa.
"The grant is going to help us expand the Fair Food Program and it will also help us expand the awareness of the WSR model. We will be able to touch hundreds of thousands of more workers and they can be covered with the protections that come with the program," Asbed said. "This incredible new paradigm has been proven to protect worker rights better than anything else that has come before. This is going to change people's lives immeasurably."
The John D. and Catherine T. MacArthur Foundation, one of the nation's largest, is based in Chicago. Read more about all the fellows at macfound.org/fellows.