Flynn's Guilty Plea: Just How Bad for Trump?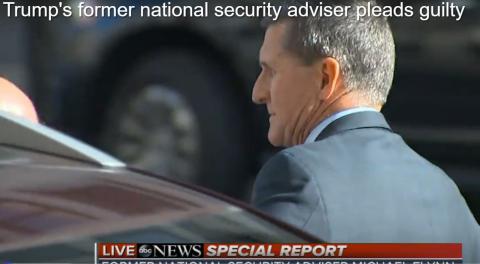 ,
Former White House national security adviser Michael Flynn confirmed Friday that he is cooperating with special counsel Robert Mueller's Russia investigation, after pleading guilty to lying to the FBI about two conversations he had with the Russian ambassador in the weeks before President Trump took office.
Flynn's guilty plea and his decision to cooperate is the most ominous development yet in an investigation that the president has repeatedly sought to shut down and which continues to cast a cloud over his administration.
In addition, the details of Flynn's guilty plea raise new questions about how much others in the White House — including possibly President Trump himself — knew about the retired general's conversations with Sergey Kislyak, then Russia's ambassador to the United States, during the presidential transition.
In a statement read in federal court, Brandon L. Van Grack, an assistant prosecutor on Mueller's staff, said that in the case of the two conversations at issue, Flynn spoke to Kislyak only after receiving specific instructions from, in one instance, a "senior official" of Trump's transition team and, in another instance, a "very senior member" of the transition team. Neither official was named. But it has been publicly reported that Jared Kushner, the president's son-in-law and a key adviser, was recently questioned by Mueller's prosecutors and CNN reported Friday that he was the "very senior" transition official in question.
From left, Michael Flynn, national security adviser, and Jared Kushner, senior adviser to President Trump, listen to President Trump at a session in the White House with cybersecurity experts on Tuesday, Jan. 31, 2017. (Photo: Jabin Botsford/The Washington Post via Getty Images)
The two conversations detailed in court today may not be the only contact with Kislyak that Flynn might be prepared to divulge to Mueller. "He talked to Kislyak a lot," said a friend of Flynn's who was in frequent contact with him during the presidential transition. "He would tell me, 'We're going to have to work with the Russians,'" principally about attempting to forge a united front with Vladimir Putin's government against the Islamic State. (ABC News quoted a Flynn confidant as saying Flynn is prepared to testify that Trump directed him to make contact with the Russians to cooperate on fighting the Islamic State in Syria.)
Flynn's lawyers released a statement by him after his court appearance. "After over 33 years of military service to our country, including nearly five years in combat away from my family, and then my decision to continue to serve the United States, it has been extraordinarily painful to endure these many months of false accusations of 'treason' and other outrageous acts," it said. "Such false accusations are contrary to everything I have ever done and stood for. But I recognize that the actions I acknowledged in court today were wrong, and, through my faith in God, I am working to set things right. My guilty plea and agreement to cooperate with the Special Counsel's Office reflect a decision I made in the best interests of my family and of our country. I accept full responsibility for my actions."
Flynn is by far the most significant player yet to be charged during Mueller's investigation and the one closest to Trump himself. He played a major role in Trump's campaign, advising him on foreign policy matters and appearing as a marquee speaker at the Republican National Convention in July 2016, where he led the crowd in chants of "Lock her up!" in reference to Hillary Clinton.
Michael Flynn addresses the Republican National Convention in Cleveland, Ohio, on July 18, 2016. (Photo: David Paul Morris/Bloomberg via Getty Images)
But the outspoken retired Army lieutenant general, a former director of the Defense Intelligence Agency, is now facing a potential prison sentence of up to five years. He appeared chastened during his court appearance Friday morning, replying with a soft-spoken "Yes, sir" to a series of questions by U.S. judge Rudolph Contreras about whether he understood the charges against him.
"How do you plead?" Contreras finally asked.
"Guilty, your honor," Flynn replied.
The specific charges against Flynn involve lying to the FBI during an interview on Jan. 24, 2017, four days after President Trump was sworn in and while Flynn was serving as the top White House national security official. The interview, according to court papers, was part of the FBI's investigation into Russia's efforts to interfere with the 2016 election and the nature of "any links between individuals associated with the campaign and the government of Russia," including "whether there was any coordination between the campaign and Russia's efforts."
During that interview, Flynn was asked about two conversations he had with Kislyak during the transition, one on Dec. 22, 2016, over Israel, and another a week later, about the Obama administration's imposition of sanctions on Russia in retaliation for interfering in the election.
The subject of the first conversation was a pending United Nations Security Council resolution to condemn Israel's West Bank settlements. The Obama administration, in a sharp break from past United States practice of vetoing such measures, had decided to abstain. Trump's team, apparently seeking to undercut Obama's policy, had sent word that it would take a different, more pro-Israeli stance. That day, the "very senior member" of the transition team directed Flynn to contact officials from foreign governments, including Russia, a permanent member of the Security Council, "to influence those governments to delay the vote or defeat the resolution."
Sergey Kislyak, Russia's envoy to the United States, leaves the Mayflower Hotel in Washington, D.C., after a foreign policy speech by GOP presidential candidate Donald Trump on April 27, 2016. (Photo: Brendan Smialowski /AFP/Getty Images)
In a phone call to Kislyak later that day, Flynn informed the Russian ambassador about the incoming administration's "opposition to the resolution" and requested that Russia vote against or delay the resolution. (Kislyak told Flynn the next day that if it came to a vote, Russia would not vote against the resolution.)
The second conversation took place on Dec. 29, 2016, the day after President Obama signed an executive order imposing sanctions on Russia over its election meddling. Before making the call, Flynn called a "senior official" with the transition, who was with other transition officials at the president's Mar-a-Lago resort in Palm Beach, Fla., and discussed the "potential impact of those sanctions" on the incoming administration's foreign policy. The Trump team hoped to persuade Russia not to escalate tension over the situation.
Immediately after this phone call, Flynn called Kislyak and asked Russia to "only respond to the U.S. sanctions in a reciprocal manner," rather than take stronger measures in retaliation. That message was apparently received. The next day, Putin surprised many in the diplomatic community when he released a statement saying that Russia would not take retaliatory measures in response to the American sanctions.
Flynn's conversations with Kislyak, according to multiple media reports, were picked up by the National Security Agency, which routinely monitors the phone calls of the Russian ambassador, sparking concerns within the Justice Department that Flynn was seeking to undercut U.S. foreign policy. That could represent a potential violation of the Logan Act, an 18th-century law that forbids private American citizens — which Flynn still was at the time — from interfering in U.S. foreign policy. It has only been invoked twice, last in 1852, and no one has ever been convicted under it.
Michael Flynn leaves U.S. District Court in Washington on Dec. 1 after pleading guilty to lying to the FBI about his contacts with Russia's envoy to the United States. (Photo: Jonathan Ernst/Reuters)
That concern led the FBI to interview Flynn on Jan. 24. It was during that session that, according to Flynn's guilty plea, he lied to the agents. He denied he had asked Kislyak in the Dec. 22 conversation to delay or defeat the vote on the Security Council resolution. He also denied that he asked Kislyak in the Dec. 29 conversation to refrain from escalating the situation in response to sanctions.
"Flynn's false statements and omissions impeded and otherwise had a material impact on the FBI's ongoing investigation into the existence of any links or coordination between individuals associated with the campaign and Russia's efforts to interfere with the 2016 presidential election," according to a court filing by Mueller's team.
Although it was not formally part of Mueller's criminal charge, the court filing by the special counsel also asserted that Flynn made "materially false statements" to the Justice Department regarding his lobbying work for the government of Turkey. In the paperwork he filed under the Foreign Agents Registration Act, Flynn said he was working to improve U.S. relations with Turkey on behalf of a Turkish businessman. In fact, Mueller's prosecutors asserted, Turkish government officials "provided supervision and direction" for the lobbying project.
Michael Isikoff is Chief Investigative Correspondent for Yahoo News.