labor
Trump Lamented Loss of Oreo Jobs to Mexico. His Tax Bill Could Make More Jobs Go South.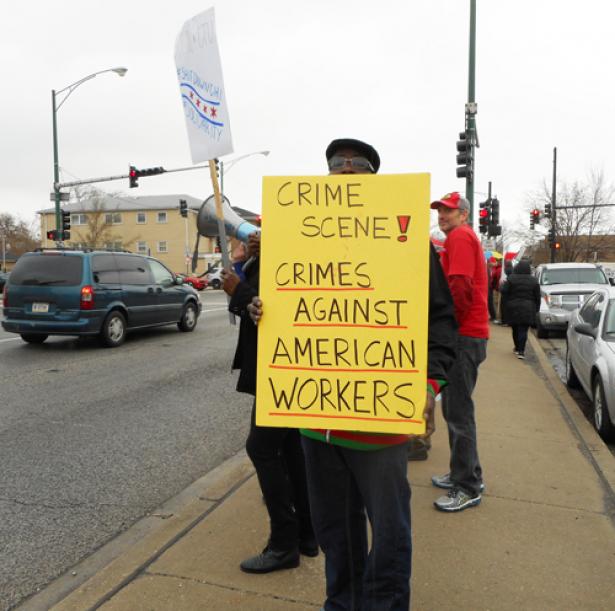 The historic ten-story Nabisco plant in Southwest Chicago had long been a point of pride—and a source of good-paying union jobs—in the Windy City, thanks to its production of one of America's favorite cookies: Oreos. The good feelings went both ways. In 1993, Nabisco received $90 million in tax subsidies from Chicago and Illinois to invest in upgrading and expanding its production capabilities for snacks like Oreos, Ritz crackers, and Fig Newtons.
More than 20 years later, in the spring of 2015, rumors were circulating at the 1,200-employee plant that Nabisco's parent company, Mondélez International, might once again invest more than $100 million to modernize the Chicago plant and add new production lines. That July, however, management announced that the company would instead be investing that money to expand operations at a new $500 million plant it had opened Salinas, Mexico—a move that the company said would save it about $46 million a year. Nabisco would end the production of Oreo cookies at its Chicago plant, where they had been made for decades. That meant pink slips for about 600 employees.
Managers had demanded that the unionized workers would need to swallow $46 million in cuts to their annual pay and benefits for the company even to consider keeping Oreo production in Chicago. The offer, Anthony Jackson, one of the Chicago bakers who lost his job, says in a new report on Mondelez's outsourcing, "was so egregious the company knew it could never be accepted. After they had invested $500 million in a new facility, they had no intention of letting it go unused."

"I'll never eat another Oreo again. Ever. Ever!" Trump declared in October 2016.
With the crisis of offshoring playing a central part of the 2016 presidential campaign, the Oreo layoffs in Chicago became a flashpoint, as Hillary Clinton, Bernie Sanders, and Donald Trump all denounced Nabisco for shipping good American jobs abroad. Trump in particular relentlessly railed against Nabisco. In several of his stump speeches, he pledged that he'd never eat the cookies again—and that he'd get tough with American companies that ship jobs abroad. "I'll never eat another Oreo again. Ever. Ever!" Trump declared in October 2016. "So I'm going to talk to them. I don't want their cookies made and sold there. I just don't want it. It's unfair to us."
In recent months, a coalition of faith and labor leaders traveled around the country to cities with Mondélez-Nabisco plants—Chicago; Fair Lawn, New Jersey; Richmond, Virginia; Portland, Oregon—talking with current workers and those who were laid off. Activists also traveled to Monterrey, Mexico, in late November to learn about the working conditions at a Mondélez plant there. The Bakery, Confectionery, Tobacco Workers, and Grain Millers' International Union, which represents Nabisco workers around the country, and Interfaith Worker Justice, a faith-based labor group, has now released a report, "Breaking Faith: Outsourcing and the Damage Done to our Communities" detailing the impact of Mondélez-Nabisco's outsourcing on workers on both sides of the U.S.–Mexico border.
"Mondélez-Nabisco has come to treat its workers just the same way they would the other commodities that go into Oreos, such as cocoa, sugar, flour, and so on," Laura Barrett, executive director of Interfaith Worker Justice, says in the report. Shifting production of Oreos from Chicago to Mexico reflects "a trend of exporting from the United States production lines that baked and packed Nabisco's so-called Power Brands – those with greater, steady sales, such as Oreo, Chips Ahoy, Honey Grahams, and Ritz Crackers," the report states.
The company has said that it hopes to produce all its Power Brands in Mexico by 2018, which could mean hundreds of more jobs moved out of the U.S.
The threat of future layoffs and plant shutdowns looms large for Nabisco's U.S. workforce, creating a constant sense of insecurity. "The fear is always there," Lamar Kennedy, a baker in Portland, says in the report. "There's always the possibility that everything will go to Mexico. So every day you go into work, you think that today could be the last."
Another worker explains: "Supervisors were telling people, 'you need to work harder because we've got to keep this place open.' So it's like a veiled threat. I think the workforce thinks that a shutdown is not a matter of if it will happen, but when it will happen."
Compounding such problems, Trump, once in office, has fallen short on his campaign promises to crack down on companies that ship jobs abroad. Both Carrier and Rexnord, both companies based in Indiana, have continued to ship jobs to Mexico despite weeks of media attention after Trump promised to protect their American workers' jobs. Trump's shaming of Carrier appeared to cement Trump's campaign image  as "a blue-collar billionaire who would stand with workers, not CEOs," Chuck Jones, the former president of the United Steelworkers local representing Carrier workers in Indianapolis, recently wrote. But Trump's initial action, Jones continued, has been followed by a year of inaction. "A year later, we feel betrayed. ... Beyond Indiana, workers across the country feel like they too are victims of a false Trumpian bargain, in which they were invited to trade their votes to keep their jobs."
The administration has started talks with Canada and Mexico to renegotiate the North American Free Trade Agreement (NAFTA), and labor advocates are holding out hope that a new deal will stop the outflow of American jobs to Mexico. But those following the negotiations remain skeptical that the Trump administration is willing to loosen the stranglehold that corporations have on U.S. trade policy.
Meanwhile, the Republican tax plan that Trump has sold as a tremendous deal for the middle class might actually encourage companies to move their domestic operations—and jobs—abroad. One provision in the tax plan would establish a "territorial" system for taxing foreign profits, which would make it much easier for corporations to avoid international taxation and could actually spur companies to move operations abroad.
Kimberly Clausing, an economics professor at Reed College, writes: "Unlike the present system, which taxes companies on their foreign income once it is repatriated to the United States, a territorial tax system exempts foreign income from U.S. taxation. This tilts the playing field even further toward doing business abroad rather than at home, since there will always be countries with lower rates. A territorial system makes explicit, and permanent, the preference for foreign income over domestic income. It also accelerates the profit shifting behind our corporate tax base erosion problem. That is hardly an 'America first' policy."
Detroit-based auto giant Ford announced just last week that it will build its new electric car in Mexico, reneging on its promise in January to launch production in Michigan—which it called at the time a "vote of confidence" for President Trump. That's no coincidence, says Leo Gerard, president of the United Steelworkers union. "Ford and other giant corporations got what they wanted out of Republicans on taxes, dramatically lower levies on domestic profits and total elimination on foreign profits," Gerard recently wrote. "That makes Mexico an even more attractive manufacturing site for them than NAFTA did."
In the meantime, Mondelez has left thousands of frightened or abandoned workers in its wake. "We don't expect to live in the same world, because this world does change," says Stan Milewski, who has worked as a Nabisco baker in Fair Lawn for 38 years. "But ever since Mondélez took over [in 2012], they are fast-tracking these changes. They just don't have the interest of the workers at heart. The executives just want to line their pockets."
Indeed, Mondélez-Nabisco CEO Irene Rosenfeld was rewarded handsomely for trimming labor costs, pulling in more than $185 million in pay over the last nine years. When she recently left her post (to take over as board chair), she took with her a $35 million personal pension, $50 million in severance, and more than $70 in stock options, the report says. The company's new CEO, Dirk Van de Put, could make more than $55 million in his first year.
And it remains to be seen whether Trump fulfills either campaign promise: to crack down on companies that offshore jobs, or never to eat an Oreo cookie again.
As The Washington Post reported in its preview of the book Let Trump Be Trump, by former Trump campaign officials Corey Lewandowski and David Bossie, the cupboards of Trump's plane during the campaign "were stacked with Vienna Fingers, potato chips, pretzels and many packages of Oreos because Trump, a renowned germaphobe, would not eat from a previously opened package."
The White House did not respond to requests for comment on whether the president has eaten an Oreo cookie since first pledging to boycott them, or to charges that his vaunted tax plan could spark even more Oreo-esque layoffs.