Media Bits and Bytes – SNAFU Edition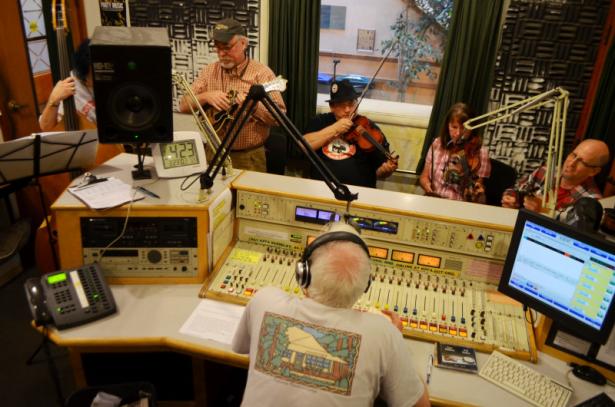 KPFA radio host Ray Edlund hosts Bay Area-based old time band Pig's Foot String Band on his Sunday afternoon show "Pig In A Pen.", Lisa M. Krieger

'Every Era Gets the Boswell It Deserves'
By Nausicaa Renner and Pete Vernon
January 5, 2018
Columbia Journalism Review
Michael Wolff's brand of journalism might be ugly—prioritizing access over accountability—but it's the perfect match for the Trump era.
Big Tech: The New Predatory Capitalism
By David Dayen
December 26, 2017
American Prospect
The tech giants are menacing democracy, privacy, and competition. Can they be housebroken?

What Will Happen Now That Net Neutrality is Gone? We Asked the Experts
By Michael J. Coren
December 21, 2017
Quartz
The Federal Communications Commission (FCC) voted to repeal net neutrality rules. What comes next is either faster, expanded internet access, or a dystopian internet ruled by quasi-monopolists.
The Biggest Secret: My Life as a New York Times Reporter in the Shadow of the War on Terror
By James Risen January 3, 2018
The Intercept
My case was part of a broader crackdown on reporters and whistleblowers that had begun during the presidency of George W. Bush and continued far more aggressively under the Obama administration.

Chrome is Turning Into the New Internet Explorer 6
By Tom Warren
January 4, 2018
The Verge
Google has been at the center of a lot of "works best with Chrome" messages we're starting to see appear on the web. Google Meet, Allo, YouTube TV, Google Earth, and YouTube Studio Beta all block Windows 10's default browser, Microsoft Edge, from accessing them and they all point users to download Chrome instead.

Berkeley-Based Pacifica Radio Faces Financial Crisis
By Lisa M. Krieger
January 4, 2018
San Jose Mercury News
It is $8 million in debt — more than double its assets. And now one of its creditors — the New York City-based Empire State Realty Trust, which is owed $1.8 million in back rent on the antenna and transmitter atop the Empire State Building used by New York station WBAI — is demanding to be paid.  It has filed paperwork in California that would allow it to seize Pacifica's assets, including KPFA.