Rev. William Barber: Trump Is a Symptom of a Deeper Moral Malady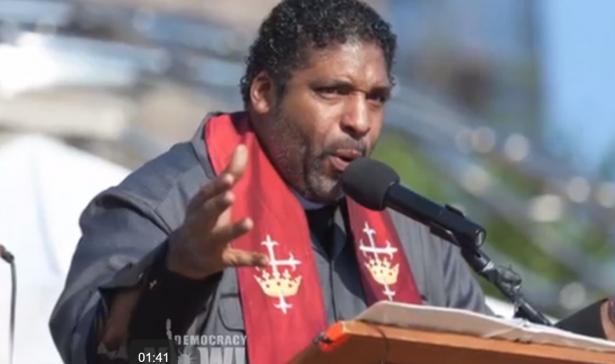 This is a rush transcript. Copy may not be in its final form.
AMY GOODMAN: This is Democracy Now! I'm Amy Goodman. As the nation prepares to honor Martin Luther King on Dr. Martin Luther King Day, on Monday, modern day civil rights leaders have launched a new Poor People's Campaign, inspired by King's historic 1968 action, led by King and the Southern Christian Leadership Conference. We're speaking to the Reverend Dr. William Barber of Repairers of the Breach and evangelical minister Jonathan Wilson-Hartgrove, who once was a page for Strom Thurmond. Now, the man who replaced Senator Strom Thurmond from South Carolina is Republican Senator Lindsey Graham. This is what Lindsey Graham had to say when he appeared on ABC's The View on Monday.
SEN. LINDSEY GRAHAM: He beat me like a drum. He ran against 17 Republicans and crushed us all. He ran against the Clinton machine and won.
JOY BEHAR: Yeah.
SEN. LINDSEY GRAHAM: So, all I can say is, you can say anything you want to say about the guy. I said he was a xenophobic, race-baiting, religious bigot. I ran out of things to say. He won. Guess what. He's our president.
JOY BEHAR: You're calling him xenophobic, religious bigot?
MEGHAN McCAIN: He did.
SEN. LINDSEY GRAHAM: I did that during the campaign.
JOY BEHAR: Yeah, you did.
ANA NAVARRO: Has he done anything to change?
MEGHAN McCAIN: By the way, I think—
SEN. LINDSEY GRAHAM: Yeah.
ANA NAVARRO: Is he still all those things?
SEN. LINDSEY GRAHAM: In my view, he is my president, and he's doing a really good job.
AMY GOODMAN: Ah, very interesting, what Senator Lindsey Graham had to say. We're joined again by Dr. William Barber and minister Jonathan Wilson-Hartgrove. Your thoughts?

BISHOP WILLIAM BARBER II: Yeah. And I'm sitting here thinking—I want to just mention first, Reverend Dr. Liz Theoharis, who's the co-chair of the Poor People's Campaign, she's probably looking at that and, like me, saying, "What in the world?" So, you say that's during the campaign, and you laugh about it. And now the person is in office, and you say they're doing a good job. And they've neither repented in word or in deed. And, in fact, their policies are fine, and you're supporting the policies.
So here's the question: If you're supporting the policies of a racist xenophobe, what does that make you? And that's why we have to have a policy focus. Remember, it was Lindsey Graham, I believe, and others who came out quickly—Tim Scott—against what happened in Charlottesville. And most politicians will be shrewd enough to do that. That doesn't mean they aren't white supremacists and white nationalists. The question is: Mr. Graham, Mr. Scott, who is black—because you can be black and be a white supremacist. At least you can be one who encourages it. And I think you can be, in politics. Where do you stand on restoring the Voting Rights Act? You've had four years to do that. You do know that undermining the Voting Rights Act is white nationalism, white supremacy. Where do you stand on healthcare? Because you do know that when you cut healthcare, you hurt a large percentage of African Americans, particularly in your state. Where do you stand on living wages, since 52 percent of African Americans make less than a living wage, and there's 64 million people that make less than a living wage in this country, less than $15 an hour? Where do you stand on immigration reform? Because, you know, Richard Spencer declares that immigration is the first battle of white supremacists and white nationalists in the modern era. That's what he has actually said.
So, the question becomes not are you loud like Trump, and are you—do you carry on the antics of Trump. It's the policies. It's the policies of white nationalism and white supremacy. And with Mr. Graham, where do you stand on appointing Jeff Sessions, who has a history of standing against voting rights and trying to prosecute people fighting for voting rights? Where do you stand? Your committee, Mr. Graham, the committee you're on, allowed Thomas Farr to come through, out of North Carolina, to be—to almost make it to the federal bench, who is a known Nazi sympathizer and also a white supremacist, who carried the work of Jesse Helms and who has been behind every voter suppression act in North Carolina.
AMY GOODMAN: So, talk about Thomas Alvin Farr.
BISHOP WILLIAM BARBER II: Yeah, well, sure.
AMY GOODMAN: You also wrote about him in your New York Times op-ed piece, one of Trump's, what you called, worrisome nominees to the judiciary.
BISHOP WILLIAM BARBER II: Well, and I want to step back from Trump, because I'm trying to work on that—I think we're too Trumpy. So, yes, in the article, I did say Trump, but I also pointed out—and some people missed this—Thomas Farr would have never gotten to the judiciary if it wasn't for Senator Richard Burr and Senator Tillis from our state—by the way, Senator Tillis was the architect of the voter suppression when he was speaker of the House—who denied two black women, a former Supreme Court justice in North Carolina and a federal prosecutor in North Carolina—they denied them even getting a hearing. They didn't even allow them to get a hearing. And then, once Trump gets in, they push forward Farr's name.
So we can't just lay this reality of what we're seeing at the feet of Trump. Trump is a symptom of a deeper moral malady. And if he was gone tomorrow or impeached tomorrow, the senators and the House of Representatives and Ryan and McConnell and Graham and all them would still be there. And what we have found, Amy, when we look at them, no matter how crazy they call him or names they call him or anger they get with him, it's all a front, because at the end of the day, they might disagree with his antics, but they support his agenda.
AMY GOODMAN: I wanted to turn to something that happened that might have surprised a number of people last week, and that was President Trump abruptly shutting down the Advisory Commission on Election Integrity, after it failed to prove any—after it failed to provide any evidence of voter fraud. The commission's chair, Kris Kobach, blamed a, quote, "barrage of meritless lawsuits" for the investigation's closure, after most U.S. states and the District of Columbia refused to share data with the commission. Can you talk about the—I mean, is this a victory?
BISHOP WILLIAM BARBER II: No, no. Well, no. It is, and it isn't. And it shouldn't—the claim of fraud is fraudulent in itself. I mean, the first thing that the Trump administration did, with Jeff Sessions, is pull out supporting a case out of North Carolina that the Supreme Court unanimously said was surgical racism. Now think about that. The first thing his AG appointee does is say, "I'm no longer going to protect voting rights." So he's turned the attorney general's office away from protecting voting rights. Then we have this fraudulent—
AMY GOODMAN: We have 60 seconds.
BISHOP WILLIAM BARBER II: OK. We have this fraudulent committee, and they now shut it down, but it's done its job. They are playing to a certain base. They have sown the theory of voter fraud, and now they're saying they couldn't prove it because the lawsuits blocked them. It's all a game, and we have to unpack it. And we need a movement to do that.
AMY GOODMAN: And so, how are you moving that movement forward, Minister Hartgrove?
JONATHAN WILSON-HARTGROVE: I think what's really important with this Poor People's Campaign is that it's local groups all over the country who are coming together, people who are impacted by these issues realizing that the folks in Washington are not serving them. And so, what we can learn from Dr. King and from that whole movement 50 years ago is that a diverse fusion coalition of people coming together and insisting on changing the priorities is what changes the country. We can't look for moral leadership from Washington. We've got to get it from the ground.
AMY GOODMAN: And the first action? Ten seconds.
BISHOP WILLIAM BARBER II: First action will be on the Monday after Mother's Day. We're going after 25,000 people engaging in civil disobedience over six weeks, to launch a movement. I want to say that: to launch the movement, not end the movement. We'll come back and talk more about it in days to come.
AMY GOODMAN: Reverend Dr. William Barber of Repairers of the Breach and evangelical minister Jonathan Wilson-Hartgrove, School for Conversion in North Carolina, organizing a new Poor People's campaign.
And that does it for our show. Democracy Now! welcomes back Mike Burke from paternity leave. Thank you so much to Renée Feltz, who filled in so well.
The original content of this program is licensed under a Creative Commons Attribution-Noncommercial-No Derivative Works 3.0 United States License. Please attribute legal copies of this work to democracynow.org. Some of the work(s) that this program incorporates, however, may be separately licensed. For further information or additional permissions, contact us.
Rev. Dr. William Barber is president and senior lecturer of Repairers of the Breach. He's the leader of Moral Mondays and the author of Third Reconstruction: Moral Mondays, Fusion Politics, and the Rise of a New Justice Movement. His upcoming book with Jonathan Wilson-Hartgrove is titled Reconstructing the Gospel: Finding Freedom from Slaveholder Religion.
Jonathan Wilson-Hartgrove is minister and director of the School for Conversion in Durham, North Carolina. He is co-author with Rev. William Barber of the upcoming book, Reconstructing the Gospel: Finding Freedom from Slaveholder Religion. His first book co-authored with Rev. Barber is The Third Reconstruction: The Story of Moral Mondays and the Fight to Fulfill Our Nation's Promise.