Nuclear Abolition: A Model for International Youth Activism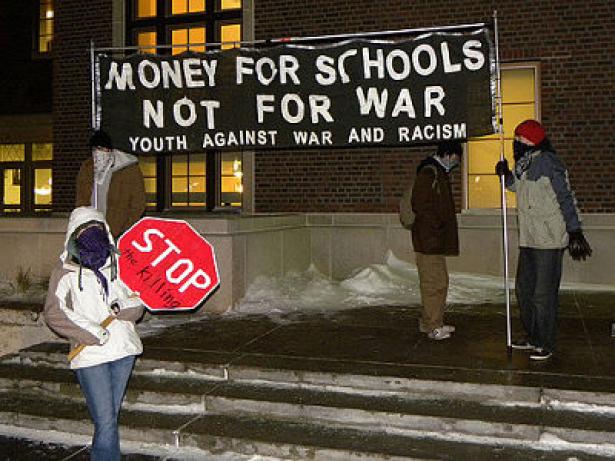 Fibonacci Blue/Flickr
The International Campaign to Abolish Nuclear Weapons (ICAN) won this year's prize for raising global awareness on the catastrophic humanitarian consequences of using nuclear weapons. In 2017, ICAN's coalition of civil society organizations across 100 countries successfully pressured governments to adopt the first-ever UN treaty that categorically bans nuclear weapons. International treaties to reduce nuclear arsenals have been in existence for decades, so why did the Nobel Prize Committee choose to honor ICAN? The organization's efforts are unique because the campaign reframes nuclear disarmament as a humanitarian issue. Seeing how these outdated, dangerous weapons impact people and the environment underlines the imperative to abolish them entirely, so that regional conflicts can no longer threaten the survival of the entire species. This global movement is largely driven by ordinary citizens who care about health, human rights and the environment. Many in this international movement are members of the "millennial" generation, who traveled to Oslo from multiple continents across the globe.
Meeting these young people who care so deeply about the issue of nuclear disarmament was truly a life-changing experience for us. Not just in a millennials-in-Europe-taking-selfies kind of way, but more of a staying-up-to-4-am-with-your-college-roommate-discussing-epic-questions kind of way. To our delight, we learned how progressive millennials throughout the globe are taking the lead on this issue. We met a student in Poland who simulated a "duck and cover" bomb drill at their campus. We met a student in Kenya who led a grassroots campaign against their government's expansion of nuclear power on environmental grounds. We met a student from Nepal who was using Facebook to create a network of peace advocates throughout Asia.
We also got a glimpse of the power that could be tapped in a global youth movement for broader progressive change. We are the largest, most interconnected generation the human species has ever known -- people under 30 currently make up over half of the global population. We are also uniquely vulnerable to the consequences of climate change, nuclear weapons, environmental degradation and wealth inequality because we will be the ones to watch our children suffer if we fail to act. We have shared values, experiences and vulnerabilities that unite us, and for the first time in human history, the internet has made it possible for an entire generation to realize this and take action.

Abolishing nuclear weapons and eliminating the possibility that humanity will destroy itself in a nuclear holocaust is part of our generation's progressive struggle. Unlike the nuclear-armed countries that view nuclear weapons as tools to maintain their geopolitical power, we see our campaign for abolition as being enmeshed in a larger international movement for racial, economic and social justice. Nuclear weapons are a women's rights issue because radiation exposure severely harms women's reproductive health. Nuclear weapons are a racial justice issue because Indigenous communities are disproportionately affected by the mining of uranium and the radiological consequences of nuclear testing. Nuclear weapons are a global health issue because even a regional nuclear war would loft enough soot into the atmosphere to cause abrupt climate change and place 2 billion people at risk of famine from decreased crop production. Nuclear weapons are an environmental issue because millions of gallons of radioactive sludge from Cold War-era weapons production still seeps into our soil and drinking water. Nuclear weapons are a socioeconomic issue because spending trillions of taxpayer dollars to maintain and upgrade our nuclear arsenal diverts resources away from health, education and infrastructure programs. As stated by Pope Frances, nuclear weapons are also a moral issue because peaceful coexistence can only be sustained by an ethics of solidarity, not an ethics of fear.
After Oslo, it's time for millennial-powered advocacy for nuclear abolition to take root in the United States. The US government and the other eight nuclear-armed countries boycotted the treaty negotiations for ICAN's nuclear ban treaty. After the treaty was adopted, the US, Britain and France swiftly declared they will never support such an effort. This is an outrageous statement from democratic nations. It's not up to them to decide -- it's up to us.
Nuclear abolition is part of our generation's progressive movement for an equitable, livable future. Americans can stand alongside ICAN campaigners from around the world by working at the grassroots level to pressure government representatives to support nuclear abolition. ICAN campaigners have already pressured more than 500 parliamentarians to pledge their support for the treaty. While our work is cut out for us here in the United States, the nuclear ban treaty and ICAN's Nobel Peace Prize have already inspired a wave of local resolutions and divestment campaigns calling for the United States to pursue nuclear abolition.
Nuclear weapons are an issue that young US progressives cannot ignore. Get involved with a local resolution or divestment effort in your community, or jumpstart your own campaign. We can overcome these threats, united, in an international youth movement for sustainable human progress. Let's get to work.
James Baier, Michael Musharbash and Autumn Vogel are members of student chapters of Physicians for Social Responsibility (PSR). Musharbash and Vogel represented PSR in Oslo, Norway, at the Nobel Peace Prize awards ceremony for the International Campaign to Abolish Nuclear Weapons, of which PSR is a partner organization. They are second-year medical students at the University of Pennsylvania, Northwestern University and Pennsylvania State University.
Help us bring you the perspectives and insight that you won't find in the mainstream media. Click here to support BuzzFlash and Truthout with a tax-deductible donation.