5 Latin American Land Defenders Putting Their Lives on the Line For Their Communities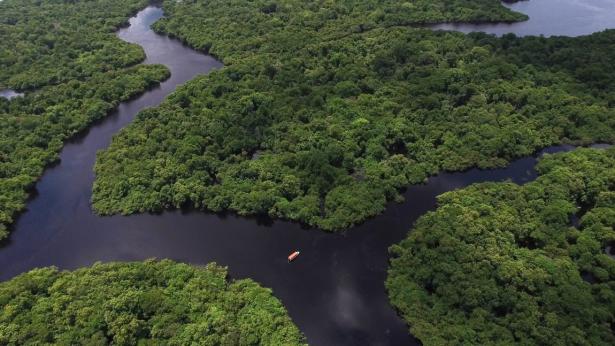 gustavofrazao/iStock/Getty Images Plus
This, unfortunately, isn't surprising news. Global Witness' On Dangerous Ground has previously found that Latin America is the deadliest place to be a land defender, reporting that "2016 saw a record 200 killings of people defending their land, forests, and rivers against destructive industries."
As the demand for natural resources steadily increases, indigenous groups and other land defenders are at the forefront, taking on goliath corporations that seemingly have endless money and power at their disposal. With these companies backed by corrupt governments (both inside and outside of Latin America) that paint defenders as villains who are anti-development, their lives face many threats.
In honor of the important work they do, we are highlighting five land defenders who have put their lives on the line for the sake of their communities. Learn about them below.

Several death threats have changed the life of
Jakeline Romero
– a Wayúu indigenous and women's rights activist. "Because of the threats I've received, I've had to change things in my everyday life," she told
El Diario
. "I can't just walk the streets freely or visit all the communities, but also, the threats have made me stronger and made me understand that we can't be quiet. We must denounce them, we must tell the world of all the realities that our people suffer."
Romero has spoken out against paramilitares and powerful corporations in La Guajira that are a menace to the Wayúu's existence. The Cerrejón coal mine, which is Latin America's largest open-pit mine, is financially backed by international entities. As Cerrejón has expanded over the years, it's not only made it depleted natural resources, including their water supply, it's displaced several indigenous and Afro-Colombian communities. With the Wayúu stating that the mine was imposed on them without their consent, Jakeline has protested – actions that have put her and her family's life in danger.
Francisca Ramírez
, a Nicaraguan mother of five, has fought against the construction of a canal that will split the Central American country into two. More importantly, this project – financed by the Hong Kong Canal Development Group (HKND) – will force as many as 120,000 indigenous peoples to lose their homes. The community that stands to lose the most has already paid for it with their bodies, with one member of Francisca's community losing an eye and another being shot in the stomach.
Nicaragua granted HKND the right to build a canal – three times bigger than the Panama Canal – to connect the Atlantic and Pacific Oceans together in 2013. The decision was made without input of the indigenous communities that call the area near the proposed canal home. When Francisca first learned about HKND's plans, she realized the government violated international law. She and a grassroots organization called on the government to stop the project and to respect indigenous communities' land.
As more people have become opposed to the canal, Francisca's family has faced threats. Ramírez says her children live in constant fear.
Honduras-born
Miriam Miranda
has dedicated her life to fighting for marginalized groups. She spent her childhood in Santa Fe, Colón and at different banana plantations in the Central American country. As a young adult, she moved to Tegucigalpa to attend university, and in Honduras' capital city, she learned of the injustices that many women faced. "That's where my feminist consciousness was born," Miranda said, according to
Global Fund for Women
. "When I got to the capital and started visiting the women in the barrios and saw how they had to spend hours just to get water, I knew something wasn't right. It changed my way of seeing things."
Miranda is also an influential Garifuna activist, working to gain equality and cultural freedom for her community. As a leader for the Black Federal Organization of Honduras (OFRANEH) – founded in 1978 to protect the rights of the various Garifuna communities living along the Caribbean coast of Honduras – Miranda has resisted the palm oil industry, hydroelectric projects, and the development plans that threaten the Garifunas' way of life. She's become a highly visible land defender in a country where it's extremely dangerous to be so. As a result, she's been the target of violence and a victim of kidnapping. But the work she does is necessary for both the current and future generations of Garifuna.
"We live almost on the sea, right on the beach," she said. "It's a blessing but recently it's also become a curse, because of course all those with power want to have a place on the beach. The displacement of communities and the loss of cultures that come with the development of tourism is growing… but the Garifuna women, many of them elders, have incredible strength. They participate in meetings, in actions, tearing down walls that are built on the beach. They're sustaining the Garifuna youth so that they know who they are, without shame."
Brazil is the most dangerous place for land defenders. According to The Washington Post, about 448 environmentalists were killed in the South American nation between 2002 and 2013, which accounts for about half of the deaths of land defenders in that time. Alexandre Anderson de Souza, the head of Associação dos Homens do Mar (AHOMAR) have fought for the rights of those who rely on fishing in Rio de Janeiro and those who  would likely be affected by the construction of a Petrobas gas pipeline.
Every year, the Goldman Environmental Prize honors those working to protect the earth on a grassroots level. In 2016, Peruvian
Máxima Acuña
received that prestigious award for her years-long fight against a mining company.
As Peru's mining industry grows, it's the campesinos who suffer. As these companies become richer, they remain poor. And their right to clean water is compromised as it becomes polluted with mining waste. When Newmont – a Colorado-based company that owns and operates the very profitable Yanacocha Mine – looked to expand in 2010, it planned to drain lakes for its new Conga Mine.
Since then, Acuña and her family have fought to keep the company off of their property. In 2011, the company tried to evict Maxima and her family. She and her daughter unfortunately paid for their bravery. Guards knocked them unconscious. Eventually, the company sued Maxima in a provincial court.
Despite teaming up with GRUFIDES – an environmental NGO that helped her appeal the case – and her community, her fight is far from over. In September, hired hitmen targeted Maxima and her husband, according to teleSur. "People hired by mining firm Yanacocha illegally broke into the property and started damaging the lot with various tools," Ysidora Chaupe, Maxima's daughter, said. "When Maxima and Jaime approached them and demanded they stop invading the property, the mining firm's security staff violently attacked Maxima and Jaime, hitting Maxima in the head and body with a weapon, leaving her seriously hurt."
Latin America is the deadliest place to be an environmental activist. Global Witness' report, On Dangerous Ground, found that Latin America accounted for most of the murders of land defenders in any region in 2015. Out of 185 documented killings, 100 – 54 percent – happened in Latin America. Due to the constant stress for natural resources, it looks like 2016 will be on par with last year when it comes to the murders of environmentalists. We can only hope that the global attention to the Standing Rock struggle will raise more awareness of similar land struggles happening in indigenous communities around the world, as they face off against the major development projects that seek to displace them or damage their lands.
Remezcla started as a grassroots project among writers and creatives. We shared one common point of view: there were so many great stories about new Latin music, culture, and events that no one was covering. Traditional Latin media was not for us. We were called "alternative," but to us, what we were covering was our new mainstream. Along the way we met so many like-minded friends in other cities and countries that it sparked a movement. Answering "What is Remezcla?" is difficult because what started in living rooms and coffee shops among friends has grown to be so much more; today we reach millions of readers and have built a brand that goes beyond our publication. Though the vision has evolved, we are still very grounded in our mission to be the most progressive media brand that puts emerging Latin culture on the map. The right way.