They're Walking Five Days Straight to Honor Harriet Tubman—and Black Women Everywhere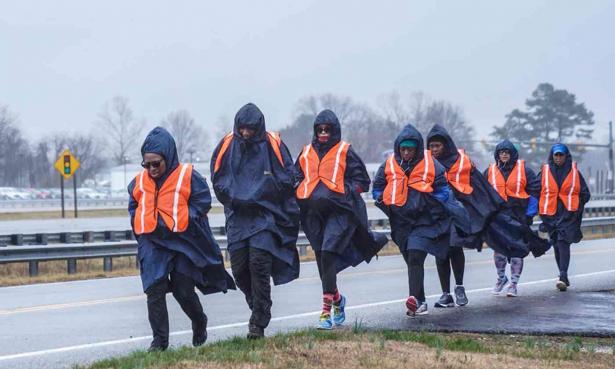 Harriet's Great Escape: Through rain, sleet, and snow, they continue to walk, with a massive storm brewing on the east coast. ,GirlTrek
Have you ever considered the journey endured by historical freedom fighters, those in the abolitionist movement who led thousands of enslaved Africans to freedom mile by mile on foot?
One group of women has. And this week they are walking 100 miles, from sunup to sundown, in the footsteps of Harriet Tubman on the Underground Railroad from the eastern shore of Maryland crossing the Mason–Dixon Line into Delaware and ending at the Tubman Garrett Riverfront Park.
In honor of Tubman, the 10 women walking Harriet's Great Escape started their five-day journey on March 6 and will finish on March 10, Harriet Tubman Day.

"A lot of people don't realize that [day] was designated by Congress," says Vanessa Garrison, one of the 10 women walking.
Garrison is the co-founder of GirlTrek, a national nonprofit that focuses on walking and has grown into a massive public health movement for Black women and girls. In five years, she and co-founder Morgan Dixon, with their leadership team, have motivated more than 100,000 Black women to put self-care first through walking campaigns for both their health and well-being and social justice.
Data have consistently shown that Black Americans, particularly Black women, have higher rates of illness compared to their White counterparts. Black women have the highest risk of Alzheimer's disease. They have significant rates of mental health issues with some of the lowest levels of treatment. Forty-eight percent of Black women over age 20 have hypertension, and 57 percent of Black women are considered obese. Sexual assault and domestic violence are also high among Black women.
The GirlTrek leaders say Black women who fought for liberation—historical figures like Tubman, who was herself once enslaved and led thousands to freedom, Fannie Lou Hamer, and Ella Baker, civil rights leaders—have been their inspiration to inspire other Black women and girls.
Daina Ramey Berry, historian and author of The Price for Their Pound of Flesh: The Value of the Enslaved, from Womb to Grave, in the Building of a Nation, says stories like Tubman's are particularly important in our current socio-political climate.
"Harriet Tubman's legacy of liberation embodies the American promise of freedom and justice," Berry says. "Young Black girls and women benefit from [her] legacy because they see someone who looks like them represented and celebrated."
For example, she says, it's a big deal that Tubman is the first African American woman who was a former enslaved person to appear on federally sanctioned currency.
In April 2016, then-Treasury Secretary Jack Lew announced that Tubman would replace Andrew Jackson on the $20 bill when the bill is redesigned in the late 2020s. However, the current secretary under the Trump administration has hedged on that, simply saying, "Ultimately we will be looking at this issue."
But Berry, Garrison, Dixon, and many others believe Tubman should be celebrated. There are numerous social justice organizations across the country named after Tubman. And there's the Harriet Tubman Byway in Maryland, where visitors can drive the historic Underground Railroad route.
The GirlTrek organization has been celebrating Tubman since 2013, the centennial of her death. Their first #WeAreHarriet celebration had more than 20,000 women participate nationwide in the largest mobile tribute in the country. Through the years, the #WeAreHarriet campaign has evolved into a larger celebration filled with walks, house parties, and health-related gatherings across the country.
The women say they are leading by example, as Tubman did: Free yourself first, then the masses, or at least all those who are willing to come along.
"We will show and prove that 2018 is about radical courage and unshakeable sisterhood," Dixon said. "To reach 1 million Black women by 2020, we knew we needed to be even bolder and hold this unprecedented trek. Harriet Tubman saved her own life first and then went back time after time to save the lives of others giving us the blueprint for the work GirlTrek does today. This is radical self-care at its core."