labor
Human Bus Drivers Will Always Be Better Than Robot Bus Drivers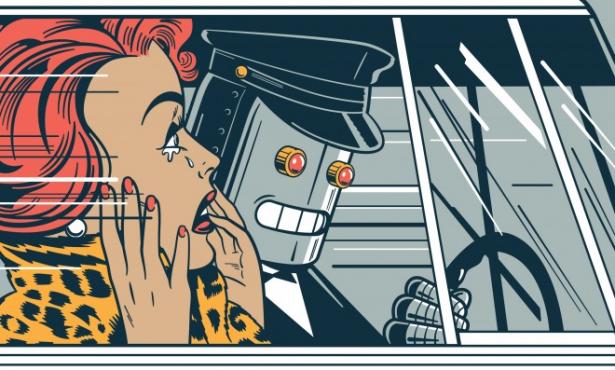 Machines can make decisions. That doesn't mean they're right., Kronk, Wired
"I could write a book," the NYC city bus driver told me on the phone. Bus operators deal with the very best and worst of humanity on a daily basis, and for that they—or, at least most of them—are saints.
Right now, however, bus drivers are feeling like an endangered species. Though the technology is far from perfect, the looming threat of driverless buses is palpable for many workers—even if it's unlikely to impact this generation of drivers. The human-centric parts of the job are extremely difficult to fully automate. Bus drivers are often therapists to front-seat talkers, helpers to elderly and disabled people, compasses to lost children and tourists, and guardians of both the passengers in the bus and the world outside.
In Columbus, Ohio—which won a $40-million grant from the US Department of Transportation (USDOT) in 2016 to develop a smart city that includes autonomous vehicles—drivers are preemptively organizing to protect their jobs, even though the city says it's not currently looking to replace them.

"It's very important that the individuals that are behind the technology know that we're not against it, but we do more than just open the door and close the door," said Andrew Jordan, a bus driver of 15 years and the president of the Local 208 branch of the Transport Workers Union (TWU) in Columbus. Local 208 is planning a lobby day later this month, and hopes to get a resolution passed at the May council meeting that promises not to phase out drivers in favour of robots.
Robin Davis, the director of media relations for the City of Columbus, said in an interview that the city has no current driverless-bus ambitions. In its original USDOT grant application, Columbus envisioned testing six self-driving shuttles, but Davis explained in an email to Motherboard that autonomous vehicle technology isn't advancing fast enough to accomplish that. She also said "we strongly believe that a human operator would still be required to serve as a resource to users and to monitor the technology."
Still, it'd be naive to think the primary appeal of driverless buses isn't to cut wages. There are more than 28,000 city bus drivers in the US earning a decent middle-class salary. Transit also has a high union density, John Samuelsen, the president of the TWU International, told me on the phone. Autonomization, he said, is "a not-so-thinly-veiled attack on the trade union movement."
Though the fear of robot replacement is pressing in drivers' minds, it may not be as imminent of a threat to their jobs as it seems. Ryan Popple—the CEO of Proterra, a popular maker of electric buses that is also exploring autonomous buses—explained in a phone call that it's unlikely city bus fleets will ever be entirely autonomous.
According to him, first responders, FEMA, police, or the military need to be able to commandeer buses in emergencies, for example. The transit system is also a primary go-to for runaways and youth in crisis, and Safe Place, a national youth outreach and prevention program, works to train drivers how to assist them. There's also autonomous buses' susceptibility to crime, he said; a person could potentially use an obstacle to block a bus and rob everyone on board while the bus patiently waits.
Meanwhile, an extensive 2016 report about transportation and the Americans With Disabilities Act (ADA) by the US Transportation Research Board concluded that people with disabilities use regular public transit far more frequently than paratransit, partly because of greater frequency and reliability of service. It would be very difficult to make autonomous buses comply with ADA rules, said Popple.
"Silicon Valley isn't great about thinking about these issues," Popple said.
Of course, his company and many others are looking introduce some autonomous features to buses. Advanced driver assistance systems use sensors and other technology to keep the driver updated on blind spots, lane departure, lane keep, and so on. Proterra also uses Level 1 autonomy to help align its electric buses with rooftop fast chargers at stops. Samuelsen of TWU International said drivers have no qualms with that usage of technology.
In our phone calls, bus drivers Abed and Jordan recounted a number of instances where human intervention made a difference. "We had a bus operator call in a fire and put himself in harm's way to wake the family up to get them out of the home," said Jordan. In another instance, a bus driver pulled over to help a toddler who was wandering around alone.
"We have regular emergencies on the buses," said Samuelsen, an NYC track worker of 26 years who has been on loan to TWU since 2009. "Folks have heart attacks on buses, children get lost on buses. Every aspect of life in America, the bus and subway are microcosms of it. A robot's not going to help, a robot's not going to care."