Code Red: Organizing the Tech Sector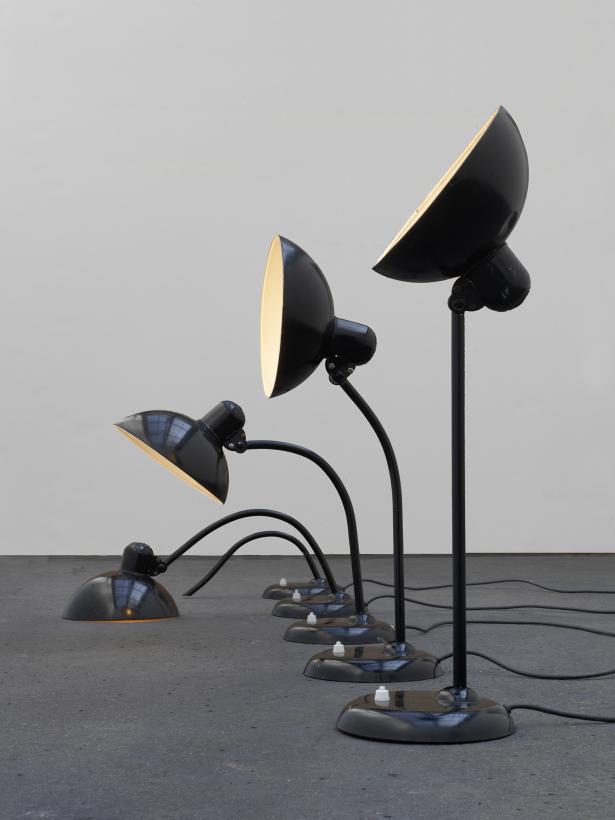 Alicja Kwade, Truster (2). 2013, five Kaiser-Idell lamps. 29 × 26 × 98". Courtesy of the artist and 303 Gallery, New York, KÖNIG Galerie, Berlin / London, & kamel mennour, Paris / London., Roman März
CASES OF MODELO sit on a rickety wooden table near the elevator, two laptops open to a Google sign-in sheet beside them. A few people mill around the table, welcoming newcomers. I enter my contact information on one of the laptops, take a half-sheet printout of the meeting's agenda, and find a seat.
We're in a start-up office in an unexceptional high rise in Manhattan. There is little furniture to speak of: dozens of black rolling chairs assembled in a haphazard circle, whose occupants scoot to make space for the people trickling in.
There are fifty-two people here, more than the organizers expected. Latecomers stand outside the circle, leaning against the bare columns scattered throughout the room. It is mid-July of 2017, and this is the first official meeting of Tech Action, a working group of the New York City local of the Democratic Socialists of America (DSA).1
"Raise your hand if this is your first DSA meeting," says Fred,2 a mild-mannered, thirtysomething software engineer in financial technologies, or "fintech," and one of the men (it's mostly men) leading the meeting. Five hands go up.
"Raise your hand if you work in the tech industry," Fred continues. Almost every hand in the room goes up.
A few years ago, a room full of techies — ​shorthand for white-collar tech employees, usually software engineers or computer programmers — gathered to organize their industry was unthinkable. Press coverage of the industry was boosterish and sedulously uninvestigative, as journalists tended to embrace Google's old "Don't be evil" motto as a factual description of its aims. After all, tech was our path to utopia — it would "connect" us, reduce our environmental footprint by eliminating all paper and books, and free us from the tyranny of work by replacing us with robots.
But the gap between tech theory and tech practice has grown increasingly difficult to ignore. Even the tech press — Wired and its ilk — has lost faith. Many now know the tech elite as a hive of misogynists and sociopaths, and their companies to be indiscriminate vacuums of sensitive personal data that they package and sell to the nation's intelligence agencies (and the Trump campaign). According to polls, the majority of the public still maintains a positive view of the industry's biggest companies. But the scales have fallen from the eyes of many of its workers.
After Fred introduces himself to the meeting's attendees, members of Tech Solidarity and the Tech Workers Coalition (TWC), two leading grassroots tech organizations, give reports on their recent activity. Tech Solidarity was created by Maciej Cegłowski, the founder of Pinboard, a social-bookmarking website. Following Donald Trump's election, Cegłowski and Heather Gold, a Bay Area comedian, put out a call for techies to meet up in San Francisco. They wanted to talk with other people about how to act on their discontent. More than a hundred people attended the first meeting. Soon Cegłowski was flying to other US cities to host Tech Solidarity gatherings.
Compared with Tech Solidarity, TWC may be, as Moira Weigel calls them in a recent piece for the Guardian, "the most radical Tech Left group." Created by Matt Schaefer, an engineer, and Rachel Melendes, a cafeteria worker and organizer, the group began meeting in 2014 and saw an explosion of interest after Trump's election. Focused on building a coalition of blue-collar and white-collar tech workers, TWC devotes the bulk of its efforts to supporting union campaigns among the low-wage workers who are increasingly employed through third-party contractors, a practice that allows tech companies to avoid directly employing the legions of custodians, cafeteria workers, and security guards that sustain their sprawling campuses. TWC's coalition work has the potential to reshape the tech industry from the inside out: not just how people work in it, but what it creates and does.
---
HOSTILITY TO UNIONS has been foundational to the tech industry. In its idealized self-image, tech is a meritocracy governed by speed, efficiency, and competition, in which companies can acquire and shed workers as needed. Insecurity is a value. There is freedom in hopping from job to job, and the idea that someone might want to remain anywhere for long is unthinkable. By making it difficult to fire employees and limiting other arbitrary company decisions, unions (supposedly) make labor markets less fluid. They are dinosaurs, and the tech industry is an asteroid.
In the 1960s, an increasing number of low-slung boxy offices replaced the oaks and orange groves of the southern San Francisco Bay Area, making what would become Silicon Valley. Around this time, Robert Noyce, the cofounder of Intel, asserted that "remaining non-union is essential for survival for most of our companies. If we had the work rules that unionized companies have, we'd all go out of business." Emphasizing the industry's need to retain "flexibility," Noyce's ethos held even as Intel and the industry at large expanded beyond the production of microchips.
Escaping East Coast unions had been a major reason behind tech companies' settling in California to begin with. As AnnaLee Saxenian writes in her book Regional Advantage, Silicon Valley overtook Route 128, the tech corridor just outside of Boston, as the industry's main hub in part because it could take advantage of looser labor markets. In a 1983 profile of Noyce, Tom Wolfe wrote, "Noyce disliked many things 'back east'":
Labor-management battles were part of the ancient terrain of the East . If Intel were divided into workers and bosses, with the implication that each side had to squeeze its money out of the hides of the other, the enterprise would be finished. Motivation would no longer be internal; it would be objectified in the deadly form of work rules and grievance procedures.
Nonetheless, tech employees have tried to unionize since the industry's earliest years. Wolfe mentions several attempts to organize Intel in the late '60s and early '70s — campaigns Noyce viewed as a "death threat" to the company. The lead author of a 1976 article in Science for the Peopletitled "Rumblings of Organizing in Silicon Valley" writes of his experience in a "unionization drive among the chemists, physicists, engineers, and technicians" of the Smith-Corona Marchant (S.C.M.) Corporation, once famous for its typewriters. As the author recounts, intense workplace pressure jump-started the campaign:
The company maintained an artificial crisis atmosphere by claiming severe urgency for almost every project . By implying a loss of job or status, the management was able to get large amounts of free overtime ("remember, you are a professional"), and justify almost constant harassment . Two fatal heart attacks of workers in their early forties occurred within one year in this small facility alone, and there were several other nonfatal attacks as well.
Though the company defeated the campaign, similar organizing drives popped up less than a decade later, as employees at Atari fought wage cuts and layoffs in the early 1980s. After all, despite tech executives' insistence that their industry is incompatible with unions, labor organizing among scientists is common enough. Take the Society of Professional Engineering Employees in Aerospace, a union that represents more than 22,650 professionals, or the faculty and graduate-student unions that represent many white-collar professionals, many of whom go on to work in tech. Add the Alliance@IBM, a union of dues-paying IBM employees that existed from 1999 to 2016; WashTech, formed by contract workers at Microsoft; the union-like Institute of Electrical and Electronics Engineers, which boasts a worldwide membership of more than 423,000, mostly made up of electrical engineers; and the Programmer's Guild, which "advances the interests of technical and professional workers" in IT. Taken together, these organizations make the anti-union fortress of tech begin to look less impregnable.
---
UNION CAMPAIGNS IN TECH COMPANIES have scored some notable victories in recent months. In January 2017, three thousand security guards on Silicon Valley campuses like Cisco, Facebook, and Genentech won union recognition. Last summer, cafeteria workers on Facebook's campus — assisted in small part by TWC, which includes Facebook engineers — voted to unionize with UNITE HERE, following Facebook's shuttle drivers who voted to join the Teamsters in 2015. The cafeteria workers are employed by Flagship Facility Services, a contractor, but they used their proximity to the image-conscious Facebook to pressure Flagship not to fight the union. Eric Murphy, a security guard employed by Allied Universal on Facebook's campus, told me that while some techies expressed support for the campaign, the physical segregation of techies and contractors hindered solidarity. The UNITE HERE local that Flagship's workers joined now represents cafeteria workers at Agilent, Cisco, Intel, and Nvidia, all Bay Area tech companies. There are now approximately five thousand unionized workers on Silicon Valley campuses.
Tech Solidarity and TWC fall somewhere between workers' centers and community organizations. Tech Solidarity asks techies to bring in their contracts, so labor lawyers can analyze industry standards and assist in workplace organizing campaigns. Cegłowski himself has come to focus on electoral politics, particularly the 2018 midterms and fundraising for progressive candidates.
TWC is less interested in electoral politics, focusing instead on the working environment of blue-collar workers on tech campuses. When security guards at Facebook began to unionize, the group was well positioned to help. As Kristen Sheets, a Bay Area–based technical analyst and TWC steering committee member told me, Facebook employees who were members of TWC distributed information to security guards about the campaign when union organizers were not allowed on campus. TWC also helped organize protests outside Palantir after Trump's election to pressure the data-mining company not to build the administration's planned Muslim registry.
Neither TWC nor Tech Solidarity is a union. The potential power of a true tech union would be enormous. Techies may not sweat it out in a warehouse, haul cargo at a port, or fix cars on an assembly line, but they occupy a critical point in their company's operations. Cary, a web developer at a marketing firm, explained to me how techies can create strategic interruptions in the system. Because "management often doesn't have specific programming knowledge," he said, "it's possible to monkey-wrench and slow things down in more complicated pieces of code."
Jason, a software engineer in a Boston-based company, told me that "because tech products have been cobbled together over the course of years, the learning curve to run a specific one is incredibly steep, unless someone can teach you about the quirks." And while a digital picket line wouldn't be centralized in any physical sense, the symbolic barrier could be made visible to the product's users. "If the developers from Slack decided to strike," Jason offered, "they could without too much difficulty push out a change that made it so that any message that got sent would push a message about the purpose of the strike [to the user]."
Techies operate in a tight labor market, one with more job openings than it can fill. Many tech jobs require highly skilled workers and months of on-the-job training. The extent to which tech CEOs worry about the power workers hold in this arrangement was revealed in 2013. A class-action lawsuit was filed on behalf of more than one hundred thousand tech employees against Adobe, Apple, Google, and Intel for conspiring to suppress wages by creating "no-poach" lists, an agreement among the companies not to recruit each other's engineers. The lawsuit, based on a Department of Justice antitrust investigation launched in 2010, resulted in a $415 million settlement. "It's not hard to find a coder," Fred told me. "There's a shitload of coders. But when you're at an elite tech firm, they have an understanding of what an elite, skilled worker is — some of which is not legitimate, some of which is — [and] the engineers are understood to be very highly skilled and not easy to replace. Which gives [workers] a lot of power, and a lot of cover if we're doing anything political."
---
WHY WOULD TECH WORKERS ORGANIZE? They're not poor. They have a relative amount of power in their industry. But even the most well-paid tech job can have grueling hours, which is why tech workers are lauded for spending nights at their desks and punished for having children. Tech is also not known as especially welcoming to people of color. Michelle Miller, cofounder of Coworker.org, a platform that helps workers organize, explained that it's no longer so unusual to find a room full of techies who want to organize at work. "We've had people from every major tech company you can think of contact us in the past year saying, 'I want to organize a union.'"
Miller and her cofounder, Jess Kutch, were working for Service Employees International Union when they decided to create a digital platform to help workers organize in 2013. "There wasn't a bridge between what was happening in so many people's nonunionized workplaces and what was happening in the labor movement," said Miller. She and Kutch wanted to share their organizing knowledge, but unions, hobbled by waves of anti-union legislation and strapped for funds as their dues-paying bases diminished, couldn't provide the means.
Coworker.org has since been used to create in-app tips for Uber drivers, increase staffing at Starbucks, and fight sexual harassment at Comcast. But Miller says that until last year, the idea of organizing tech workers was not on their radar. Tech is filled with well-meaning people, but it took Trump's election for many of them to realize that even if they identify as liberal or left (tech companies were four of the top five employers of Sanders campaign donors), their companies do not.
Tech companies often tout their internal feedback systems as more effective and flexible than union grievance procedures. Once she began to work with techies, Miller said, employees who'd previously told her they didn't need tools like Coworker.org returned with stories of frustration. "They've discovered that when you push your company on things that impact their bottom line or the power they have in the economy, or impact their monopoly over data, they stop listening to you," said Miller. "Their gentle, friendly systems for employees' voices stop working."
But trust really began to erode over more ideological issues. For many of the tech giants, internal feedback systems center on weekly all-hands meetings in which employees use Reddit-like platforms to up-vote or down-vote topics submitted before the meetings, which are then addressed by high-ranking executives. These systems are limited, especially when it comes to matters of politics. Miller explained that the James Damore memo revealed to some techies that "the alt-right contingents inside these companies have been organizing to game those systems, to 'thumbs down' important issues that people wanted to talk about." To them, Damore's memo revealed an organized effort by right-wing employees to suppress open discussions of misogyny in tech.
Google's response to the Damore memo infuriated more than a few employees. Googlers — as the company's white-collar employees are called — say the company "was on fire for a week before the memo broke publicly," with conversation about the "women-are-dumber-than-men memo" (as one female engineer put it) pervading the company's otherwise apolitical offices. Google scheduled a company-wide town hall devoted to the topic within days of the memo's publication, but canceled it for reasons having to do with "the safety of employees." Their stated cause for concern came from Googlers leaking the names and writings of colleagues upset by the memo "directly to the alt-right." Far-right blogs still display these leaks. Aside from a statement from the company's VP of diversity, "there hasn't been an official communication about the memo since that town hall was canceled," said Jake, a software engineer at Google, which suggests that the company remains ill-equipped to handle difficult workplace issues.
Faced with the Damores of the business and their alt-right allies, the left-leaning techies recognized their relative weakness. As they saw "how their internal platforms were being used against them, and were neither perfect nor optimized for good," said Miller, they began to suspect that if their executives couldn't address problems of racism or misogyny within the workplace, they were unlikely to do so in public, "where there are profits at risk."
Similarly, Miller described a group of workers at a social platform who "had been raising issues about the use of the platform to disseminate hate and [to] attack people for months and months and months, but all the processes that had been set up [to address them] . . . deliberately led to dead ends" or made the problem "impossible to solve." The workers were frustrated, Miller said, and "it eroded their trust in the company, making them feel that they were part of the problem and couldn't do anything about it."
Alex, another techie, knows the feeling. Before he became a systems operator at an ad-tech firm, he worked for Securus, which describes itself as a provider of "leading edge civil and criminal justice technology solutions"; Alex described it as "Skype for prisoners." He has worked in the tech sector for twelve years and only lasted a few months at Securus. He recounted his time there:
There were discussions about how US policy on prison reform was going to affect our bottom line. Meetings were held as company-wide conference calls: the CFO would say, "Excellent news, we can raise the rates on our product without Justice Department interference." They would have projections on the recidivism rate and that if it'll remain high, we'll expect a great year. The thinking within the company about prisoners was, "You fucked up . If you didn't want to be exploited by our company, you shouldn't have gone to jail; we have no moral qualms about mining you for whatever you're worth." I couldn't sleep, so I had to leave.
Alex isn't the only techie struggling with the glaring contradictions of an industry that claims to make the world a better place. "At my last company, we did email marketing," Markus, a systems administrator at a social media management company, told me. While performing routine maintenance, he discovered that some of the company's customers were "not just conservatives, but Breitbartesque, right-wing propagandists." After talking to colleagues about his discovery, he asked the CEO to cancel the contract. "The CEO said we can't discriminate based on ideological beliefs." But Markus and his colleagues organized an after-work meeting to discuss next steps to pressure the company. "We met at a bar, fifteen to thirty of us in a company of one hundred employees, and decided to raise this through our company's internal feedback channel. We didn't expect the CEO to agree since it would hurt his bottom line, so we planned to form an organization to push this issue." But much to Markus's and his colleagues' surprise, the CEO caved when they raised the issue as a group.
His current company, however, isn't giving in to pressure so easily. "The Trump campaign was one of our customers," he explained. While his current CEO likewise insists that the company can't discriminate based on a customer's political beliefs, Markus isn't easily discouraged. "We're waiting until the next election cycle to raise the issue. It'll be a perfect time for us to say, 'We won't allow you to support Trump's campaign with the tools we created.'"
---
ROOTED IN THE traditional organizations of the labor movement (in the Bay Area, the group meets in a UNITE HERE building), TWC is leading the way in broadening the definition of "tech worker" to include blue- and white-collar workers alike. Divisions between classes of workers are often more visible in tech than in other industries, as low-wage workers are employed by third-party contractors and white-collar workers are themselves stratified, with badge colors signifying where they can go, what facilities they can use, and in some cases, who they can talk to.
At Intel, "they fired every cafeteria worker the day before Thanksgiving and told the new [non-union] company not to rehire them," said Murphy, the security guard on Facebook's main campus. Before he worked at Facebook, he worked at Intel, and before Intel, Apple. As Murphy pointed out, the subcontracting model allows tech giants to access the services their operations require without having to bear the responsibilities or costs of direct employment. "The point of subcontracting is to make the labor force unstable," added Murphy. "It's why we pushed for the worker retention ordinance in the city of Santa Clara, where Intel is based — to mandate that when a company switches any of its subcontractors, the workers have the right to keep their jobs at the same rate of pay."
Recounting his conversations with techies during the Intel union campaign, Murphy said, "The techie mind-set is that they want to help and feel good about what they're doing. That's the cliché of Silicon Valley, 'making the world a better place.' So they want to feel like they're doing that. At Intel, if I had a personal relationship with someone, they'd say 'I want to support you.'"
Murphy believes the best thing techies can do to support service workers is to advocate for an end to subcontracting. "My coworkers and I dream about going direct with Facebook: that's where the money is, that's where the power is, and this artifice of subcontracting is just a scheme to hold down our wages and prevent us from getting a whack at the Facebook piñata." Fred, the techie who led the DSA Tech Action meeting I attended, shares this goal, saying that while he sees the same female janitor in his office every evening, he avoids asking her how she is, whether she gets maternity leave, or anything else about her working conditions because he doesn't want to put her job in jeopardy: "I don't know what policies she's governed under and whether I'd endanger her position by asking her about it." If tech did away with subcontractors, he explained, "I'd know that anyone I see in the workplace is a coworker, and that we have the same hierarchy above us."
While none of the TWC organizers I interviewed named the end of subcontracting as a goal, their actions suggest they'd be amenable to the approach. In addition to organizing Facebook subcontractors, TWC members joined delegations of blue-collar workers in delivering petitions to tech CEOs demanding that striking immigrant workers not be fired for their participation in 2017 May Day events. Says Sheets, "We were successful in getting Facebook and Google to agree to non-retaliation agreements for workers who decided to strike on that day." Similarly, Tech Solidarity in Seattle used Coworker.org to organize a petition for techies to sign in support of security officers unionizing at Amazon. It attracted 1,300 signatures. As Jeffrey Atkinson, a TWC-affiliated product manager in Seattle, told me, "We'd go out on lunch breaks and during evenings and talk to people on the street about what they thought about workers' rights. Between the street canvassing and online petition, we got those signatures, and delivered them with a sit-in action at an Amazon office on August 18, 2017."
The end of subcontracting may seem distant, but things are beginning to change. A few months ago, a union organizer showed up to a Tech Action meeting seeking contacts with Googlers. Fred connected him with Jake, the Google software engineer. Before long, collaboration between blue- and white-collar employees at the New York Google offices was under way.
The tech workers I spoke with disagreed about what shape tech unions would take, if successful. When asked whether the old union mold would fit, Miller said, "We need something that acknowledges that it's not just managers and factory workers on a contained shop floor." Tech's dispersed workforce presents a challenge for the traditional union structure. As an industry strewn with independent contractors and subcontractors (far-flung "little fiefdoms" as Markus put it), tech may well call for a reconfiguring of union structures originally created to represent geographically centralized workplaces.
The dispersed workforce also presents a challenge for the traditional union process. While Markus says union organizers were "verbally supportive" of his efforts to organize tech workplaces in Chicago, he believes they're not interested in extending resources for a fight they don't think they can win, which would involve remote, contract, and other loosely connected workers: "They aren't ready to deploy organizers." Others spoke of reaching out to unions and never hearing back, or having union organizers lose touch with them over time. Concerned with retaining their membership amid an anti-union climate the likes of which we haven't seen in generations, many unions aren't interested in going on the offensive. With no union support on the horizon, the most militant among the burgeoning tech workers' movement are on their own. "The onus is on us," said Markus. "We'll build a movement, and the unions will come."
But as the tech sector reaches further into every aspect of our lives, organizing tech companies needn't be an isolated, insular project. At a company like Amazon, organizing could bring currently outsourced service workers under the company's umbrella, as well as the warehouse workers of Amazon's infamous just-in-time fulfillment centers. Because of their position in the US economy, these workers, if organized, could revolutionize the labor movement. An Amazon union could likewise incorporate the workers toiling on Amazon's Mechanical Turk platform, which allows companies to outsource repetitive, often demeaning tasks — labeling photos, transcribing a minute or two of an audio file — to what is often called "artificial intelligence" but is, in reality, a population of invisible workers, including many from particularly marginalized countries, who are paid pennies.3 If the most advantaged of Amazon workers led the way, insisting on collective bargaining agreements that applied to everyone within the company, these denizens of the global Amazon fiefdom could be unified under one big contract.
From the baseline of a unionized tech sector, a picture emerges for the possibility of worker-owned companies, which could receive startup capital from the state (much as the military has underwritten tech's greatest successes). As Fred put it, "changing the way venture capital works, so it isn't four or so major firms deciding all the tech that will be funded," will be necessary to gaining popular, democratic control over the direction of the industry. Eventually, the goal is a model of investors unencumbered by the profit motive, who fund what is socially useful, instead of more apps to extract yet more ads.
Cegłowski suggests a public advocacy model along the lines of those in place at the Centers for Disease Control, or among librarians. An organization of tech workers could be a conduit between the public and the industry, with public concern and democratic pressure flowing into the organization's considerations, and expertise, advocacy, and cautionary information flowing from the workers to the general public. Rather than viewing tech as distinct in all ways from other industries, a self-enclosed innovation loop, Cegłowski's vision emphasizes the industry's entrenchment in society — its reliance on the same shared, social world.
Following this train of thought leads to other, utopian ideas: nationalizing the internet, which is already the beneficiary of hundreds of millions of dollars in public funding; making all software open-sourced and transparent, to allow for public scrutiny into the application of what could be racially coded or otherwise biased algorithms; the list goes on.
---
IN JANUARY OF 2018, workers at Lanetix, a logistics technology company based in San Francisco and Washington DC, filed with the National Labor Relations Board for a union election. Theirs would have been the first union in the US made up entirely of software engineers. About ten days after they filed the petition with the NLRB, Lanetix fired them, announcing plans to outsource its operations to Eastern Europe. Björn Westergard, one of the fired engineers, told me the organizing drive's proximate cause was "the retaliatory firing of a coworker who had consistently been a spokesperson for us on a number of issues, most notably paid time off." Regarding the grievances that drove the organizing effort, Westergard says, "We were tired of managerial caprice in compensation, working conditions, and assignments; this caprice often seemed to favor the more experienced men (myself included). Second, we wanted management to replace two highly qualified staff engineers who had left the company so that we could keep up with the skill demands of the industry."
While the union has filed an unfair labor practices complaint with the NLRB, in the immediate aftermath of the mass layoff, TWC and Tech Action were among the first to respond, releasing a statement in solidarity with the fired engineers. These organizers might still be in the early stages of building power, but the rest of us can only hope they succeed, and quickly. Markus summed up the possibilities: "We're inching toward a dystopia, and it's being created by people who see themselves as liberal. And we need to organize, or else venture capitalists and CEOs are going to destroy our society."
I am a dues-paying member of the DSA.

When only first names are used, individuals' names have been changed.

Due to an editorial error, an earlier version of this piece implied that these workers were largely from "marginalized countries." Most are in fact in the United States. We regret the error.
Portside thanks longtime reader Michael Eisencher for sharing this article with Portside.