Media Bits and Bytes – Tempus Fugit Edition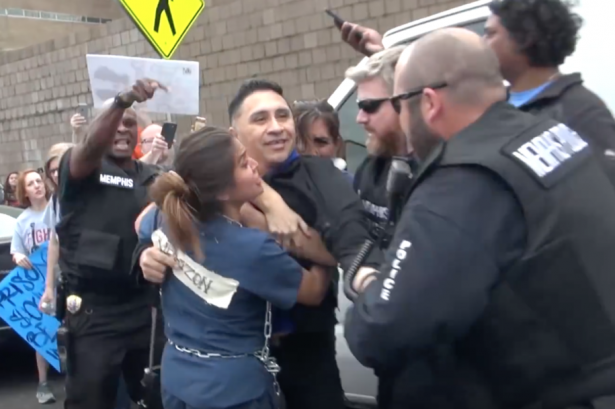 Organized Crime Unit detective points MPD officers to Manuel Duran as supporters cling to him and try to explain, 'He's a reporter!', Moore Media Imaages
U.S. 'Net Neutrality' Rules Will Expire On June 11: FCC – David Shepardson (Reuters)
Press-Freedom, Civil-Rights, Civil-Liberties Groups Call on ICE to Immediately Release Detained Journalist Manuel Duran Ortega (Free Press)
How Facebook Binds—and Shatters—Communities – Antonio García Martínez (Wired)
How Sinn Féin Won the Social Media Guerrilla War – Paddy Hoey (The Irish Times)
Rejected Denver Post Editorial Decries 'Outright Censorship' at Digital First Papers – Corey Hutchins (Columbia Journalism Review)
Qualcomm and Other Pawns of the US-China Tech Spat See Hope After a Weird Trump Tweet – Josh Horwitz (Quartz)
U.S. 'Net Neutrality' Rules Will Expire On June 11: FCC
By David Shepardson
May 10, 2018
Reuters
[Portside update: The Senate vote on ending net neutrality has been scheduled for Wednesday, May 16.]
Press-Freedom, Civil-Rights, Civil-Liberties Groups Call on ICE to Immediately Release Detained Journalist Manuel Duran Ortega
Press release
May 7, 2018
Free Press
Memphis authorities dropped the charges against Duran on April 5, but then turned him over to U.S. Immigration and Customs Enforcement, which has detained Duran in Jena, Louisiana, with plans to deport him to El Salvador, where he has faced death threats for past reporting as the manager of a local TV station.
How Facebook Binds—and Shatters—Communities
By Antonio García Martínez
May 11, 2018
Wired
Ultimately, nobody really cares about privacy, except media elites, under-employed Eurocrats, and zealots who've made it a career. Everyone else would sext you their privates for a fleeting feeling of human connection. And they do.
How Sinn Féin Won the Social Media Guerrilla War
By Paddy Hoey
May 1, 2018
The Irish Times
A deep historical commitment to writing and publication meant republicans recognised the potential of blogs, YouTube and social media far more quickly than opponents.
Rejected Denver Post Editorial Decries 'Outright Censorship' at Digital First Papers
By Corey Hutchins
May 7, 2018
Columbia Journalism Review
An editor at the Kingston Daily-Freeman, a DFM-owned newspaper in New York—told staff in an email that coverage of Digital First Media or Alden Global Capital required "prior approval."
Qualcomm and Other Pawns of the US-China Tech Spat See Hope After a Weird Trump Tweet
By Josh Horwitz
May 14, 2018
Quartz
Beijing and Washington appear to be on their way to making tit-for-tat concessions in the computer-chip industry, highlighting how the nations' strained ties increasingly revolve around technology.