Governors Refuse to Send National Guard to Border, Citing Trump's Child Separation Policy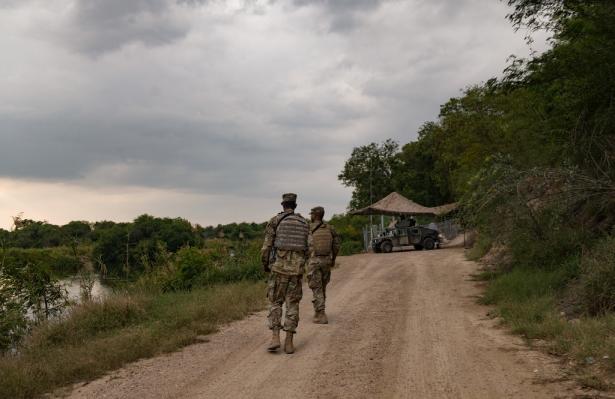 Image Members of the United States National Guard in April near the border with Mexico in South Texas., Lynsey Addario for The New York Times
National Guard troops from eight states will be withheld or recalled from the southern border, the states' governors announced this week, over mounting objections to the Trump administration's policy of separating children from their parents there.
The governors of Maryland, Delaware, Massachusetts, New York, Rhode Island, Connecticut, Virginia and North Carolina declared that their soldiers would not help to secure the United States' border with Mexico, adding their names to widening outrage over the policy.
President Trump called in April for the National Guard to be deployed to the border, saying that thousands of troops were needed to stanch illegal crossings, even though they are at a 46-year low. Few governors outside the Southwest immediately embraced the plan.
"Until this policy of separating children from their families has been rescinded, Maryland will not deploy any National Guard resources to the border," Gov. Larry Hogan of Maryland, a Republican, said on Tuesday. "Earlier this morning, I ordered our four crew members & helicopter to immediately return from where they were stationed in New Mexico."
Governor Hogan and several of the other governors who released statements are up for re-election this year. Their decisions, while all in defiance of Mr. Trump's immigration crackdown at the border, were largely symbolic, as their states were not among those that had been planning to send large numbers of troops in the first place.
Gov. Ralph S. Northam of Virginia said Tuesday that he was recalling four National Guard soldiers and one helicopter from Arizona.
"As long as the Trump administration continues to enforce this inhumane policy, Virginia will not devote any resource to border enforcement actions that could actively or tacitly support it," Governor Northam, a Democrat, said in a statement.
Gov. John Carney of Delaware said he had been asked on Tuesday to send troops to the border and had declined.
"Under normal circumstances, we wouldn't hesitate to answer the call," said Governor Carney, a Democrat. "But given what we know about the policies currently in effect at the border, I can't in good conscience send Delawareans to help with that mission."
Gov. Roy Cooper of North Carolina, a Democrat, said he would recall the three members of his state's National Guard stationed at the border.
"The cruel policy of tearing children away from their parents requires a strong response," he said Tuesday.
Gov. Gina M. Raimondo of Rhode Island said Tuesday that she would not send soldiers to the border if asked.
"The Trump administration's family separation policy is immoral, unjust and un-American," Governor Raimondo, a Democrat, said in a news release. "I will not deploy units from the Rhode Island National Guard to the southern border to support the administration's policy that is ripping families apart."
Gov. Charlie Baker of Massachusetts, who, like Governor Hogan, is a Republican in a left-leaning state, had pledged to deploy two Guard troops and a helicopter. But that plan was scrapped.
"It's cruel and inhumane, and we told the National Guard to hold steady and to not go down to the border, period," Governor Baker said on Monday.