labor
As Prevailing Wage Laws Are Being Threatened, New Research Explains Their Importance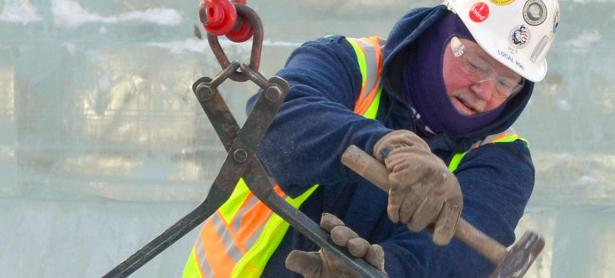 St. Paul Union Advocate
While organized labor continues to grapple with the consequences of the Janus Supreme Court decision, another threat to the livelihood of working people is encroaching on Minnesota.
On June 6, Michigan became the sixth state in the last three years to repeal its Prevailing Wage law(link is external), including Wisconsin and West Virginia. The Michigan House voted 56-53 to repeal, with several Republicans joining Democrats in opposition.
The repeal was originated and pushed by Associated Builders and Contractors  (ABC) through the ballot committee Protecting Michigan Taxpayers. ABC represents mostly non-union contractors.

Opponents of Michigan's repeal(link is external) say that it will erode safety and training standards and hurt the construction industry's ability to attract and retain skilled workers. Proponents of repeal claim it will save the state hundreds of millions of dollars every year. The savings are expected to come directly from the wages of the construction workers who currently earn Michigan's prevailing wages.
Interviewed in the website Crain's Detroit Business(link is external), Michigan State University economist, Charles Ballard, is skeptical of the claim that repealing prevailing wage saves money.
"This will probably lead to lower wages for some in the sector and maybe some higher profits for some construction companies," Ballard said. "But I have reservations whether that lower wage will be passed through to the public because that depends on a whole host of factors, including competitiveness, which is very high right now. We already have a shortage of construction workers in Michigan, and I don't see how lowering worker wages will help."
According to the Michigan Construction by the Numbers(link is external) report last fall there is a need for 9,000 new construction workers annually.
State Rep. Glenn Gruenhagen (R-Glencoe) has been the lead on attempts in Minnesota to repeal prevailing wage law. In an Op-ed(link is external) Gruenhagen explains,
"We need to reform Minnesota's prevailing wage law," he said. "It artificially inflates the cost."
Gruenhagen argues tha(link is external)t "reforming prevailing wage would save millions of tax dollars per year allowing us to complete more necessary projects without raising property or income taxes!" He argues that the savings could go to other construction projects.
However, a report from the Midwest Economic Policy Institute(link is external) (MEPI) disagrees. In the wake of Michigan's controversial decision to repeal its prevailing wage law, new research (link is external)shows that Minnesota's prevailing wage law boosts the economy by almost a billion dollars every year, creates 7,200 jobs, strengthens apprenticeship programs, increases local hiring by 10 percent, and has no significant effect on the overall cost of publicly-funded construction projects.  
Amidst growing concerns about construction labor shortages, the study also finds that Minnesota's prevailing wage law maintains an important safeguard by promoting investment in skilled trade apprenticeship programs. Joint labor-management programs—private and self-funded by just a few cents per hour worked—currently produce 93 percent of the state's construction apprentices and a disproportionate share of women, people of color, and veterans pursuing careers in the construction industry. The report argues that these investments have enabled Minnesota's construction industry to achieve significantly higher workforce productivity than neighboring states that have repealed prevailing wage.
"It's no accident that the key indicator of workforce productivity, or value added per construction worker, is almost 8 percent lower in Indiana, which recently repealed its prevailing wage law(link is external)," Manzo added. "That's because repeal means less front-end investment in skills training, more reliance on low-skilled workers from out of town, and higher employee turnover. This increases waste and inefficiencies on the jobsite, makes projects more prone to delays and safety problems, and ultimately invites labor shortages."
What is a Prevailing Wage?
Prevailing wage laws originated in the 1890s to foster the development of state construction industries and enjoyed bipartisan support for decades.
In 1931, the federal government enacted the Davis-Bacon Act to prevent local wage standards from being undercut on federal construction projects by low bidders that imported cheap labor as a cost-cutting technique.  
Prevailing wage(link is external) functions as a local minimum wage for different types of skilled construction work. It is typically applied to publicly-funded projects like roads, bridges, and schools, and is based on what skilled craft workers in the community are most often paid for comparable work.
Similar state laws are often referred to as "little" Davis-Bacon Acts. Minnesota's law, patterned after the federal and Wisconsin law, was enacted in 1973 after an incident where out-of-state workers who earned much less than local workers were hired for a University of Minnesota farm project. By the 1970s, 41 states had implemented Prevailing Wage laws.
Attempts in Minnesota to Repeal Prevailing Wage
In the last session State Rep. Gruenhagen authored Minnesota HF508(link is external). The legislation would update prevailing wage provisions and raises the cost threshold for state government-funded projects that require prevailing wage. Currently, prevailing wage laws only apply to state-subsidized projects that exceed a certain dollar amount.  For example, under the proposed legislation, the threshold increases from $200,000 to $375,000 for a grant awarded by a state agency for economic development. The threshold increases from $500,000 to $925,000 for those receiving loans for economic development.
A letter to the Editor(link is external) by retired Construction worker Daryl Panning responds to Gruenhagen,
"What Gruenhagen is proposing will not only cut the pay of people who get their hands dirty, it will also leave us wide open to not having jobs at all. Without area standards, people from all over the country that are desperate enough to work for minimum pay will flock to Minnesota to take our jobs. Greedy contractors will exploit these workers, underbid all of our local good-paying contractors, pocket the savings and give the jobs to people who aren't from here... Local construction workers deserve a fair wage for a fair day's work and prevailing wage ensures they get it."
In an October 19, 2016 candidate profile in the Winthrop News(link is external), Gruenhagen argued that according to an unnamed county commissioner, a $2.5 million school district construction project would cost $1.7 million without prevailing wages. However, a new report suggests otherwise.
New Research on Minnesota's Prevailing Wage
The new research on prevailing wage by MEPI  and University of Colorado State Pueblo economist Dr. Kevin Duncan examined more than 600 school construction bids The researchers found those that paid higher wages did not add to the overall cost of the projects because skilled workers were more efficient and made fewer mistakes.
"This study brings important, new evidence that Minnesota's prevailing wage law maintains wages and benefits for Minnesota's construction workers, reducing their need for public safety programs and helping to keep these working families in the middle class, and it does this without a detectable impact on public construction costs," said University of Minnesota labor economist Dr. Aaron Sojourner, who performed a peer review of the research. Sojourner is a former economic adviser to President Trump and President Obama.
"Prevailing wage is a win-win-win for Minnesota taxpayers, the state's economy, and the construction industry," said study co-author and Colorado State University Pueblo economist Kevin Duncan. "While the data consistently shows that overall project costs and bid competition are not affected by the law, its impacts on wages, local hiring, welfare reliance, workforce productivity, and the overall stability of the labor market are especially significant."
"In terms of project costs and local hiring, the new data out of Minnesota mirrors what's been seen in other states," said study co-author and Midwest Economic Policy Institute Policy Director Frank Manzo IV.  "A repeal of Minnesota's prevailing wage law would not save money, but it would export more tax dollars to businesses from out of town."
Ballard compares the Michigan prevailing wage repeal to the 2015 passing of Michigan's Right to Work law,
"(Right to Work) was sold to the public as giving Michigan's economy a shot in the arm," Ballard said. "But less than 10 percent of Michigan's private sector workers are part of a union, and we've seen nothing that shows it's done anything for our economy. Repealing prevailing wage is much the same. Construction is a small sector in our overall economy, and I don't foresee any long-term upside."
What Michigan shows is that attacks against organized labor are expanding into prevailing wage repeals and, therefore, into the building trades. What the research shows is that prevailing wages play an important role in expanding and protecting good jobs.