labor
AGFE Wins Ruling That Voids DOE Imposed 'Contract'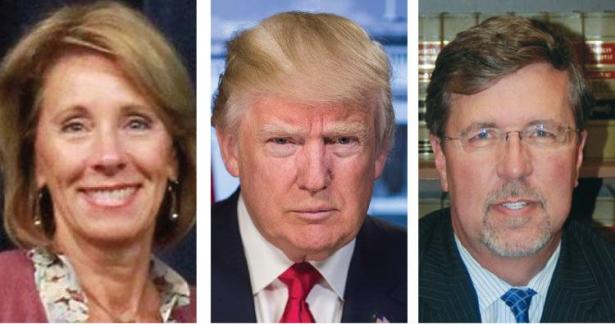 Betsy DeVos: Unilaterally imposed 'deal.' Pres. Trump: Inaction pays off.David Borer: Calls on DOE to negotiate.,
Just a few months after the Trump administration held up open shop Federal unions as a preferable model over other public-employee unions in its oral arguments before the U.S. Supreme Court in the Janus case, it is intent on removing those same Federal unions from the workplace.
The Trump anti-union offensive is targeting multiple Federal agencies affecting hundreds of thousands of employees working in the Department of Education, the Bureau of Prisons, the Social Security Administration, the Department of Housing and Urban Development, the U.S. Department of Agriculture, and the Veteran Affairs Administration.
Vacancies Help Cause
And President Trump's penchant for leaving open key positions responsible for government oversight and accountability appears to be a strategic master stroke, making it easier for him to circumvent decades-old due process that could slow his assault.
In March, U.S. Secretary of Education Betsy DeVos, who in her private philanthropy funded anti-union groups, unilaterally announced a "collective-bargaining agreement" that covered 4,000 Federal employees, one the union said it had no role in negotiating. Ms. DeVos charged the union, the American Federation of Government Employees, had failed to engage in good-faith negotiations.
The new DOE-imposed framework gutted provisions that permitted union volunteers, who take on the role of shop stewards, to be compensated for their time working to resolve workplace issues raised by the rank and file workforce, even in cases where the employees involved are not dues-paying members.
In addition Ms. DeVos "evicted union representatives from the department's offices and barred them from using government equipment," according to the New York Times. "The new rules also require union representatives to get permission from their bosses to carry out their union duties. And they limit disputes that are subject to grievance procedures, while vastly expanding the kinds of disputes that are not. The work rules also eliminate an anti-retaliation guarantee."
Violated Federal Law
The AGFE challenged the DOE move before the Federal Labor Relations Authority, and on July 25 announced that it had prevailed, with a fact-finder ruling DOE had violated Federal labor law by moving unilaterally and imposing a contract that the union had no role in negotiating.
"The FLRA investigator has found merit in the unfair labor practice charge that AFGE filed in March after Education Department management walked away from the bargaining table and imposed its own illegal management edict," union General Counsel David Borer said. "We urge Education officials to return to the table to negotiate a fair and just contract, which all employees deserve."
The FLRA is responsible for resolving labor-management disagreements between unions and government agencies. Under normal circumstances it can issue binding decisions and orders. But, as Government Executive reported July 5, any findings by the FLRA currently lack teeth in terms of enforcement because President Trump, who has now been in office for more than 18 months, has not appointed an FLRA General Counsel who is required to present the FLRA findings to the agency's full board.
Incursion on Worker Reps
Over the Memorial Day holiday he signed three executive orders that required Federal agencies to approve labor contracts only if they cut by two-thirds the amount "of taxpayer-funded" time for which employees handling contract negotiations and grievances could be compensated.
The orders called on agencies to make "procedural changes…to streamline the removal of poor performers as part of 'strengthening the merit system.' In addition the President wanted to charge unions rent for Federal office space and end the practice of reimbursing telecommunications and travel expenses that historically were covered by the Federal Government.
And the orders apparently retroactively opened the door for exactly the kind of unilateral imposition of a contract that Ms. DeVos had ordered in March.
Debra D'Agostino, a Federal employment lawyer, told Government Executive that she believed the combination of the lack of a General Counsel at FLRA, and the Trump executive order that cleared a path for unilateral agency action, was aimed to cut off employees' access to due process just when they would need it most.
"The executive order talks about how, if bargaining is delayed or impeded, the agency shall consider whether to file an unfair labor practice [against the union], which is effectively closed as an option, or to propose a new contract and implement that proposal," she said. "It's almost as if the executive order is designed to give agencies the right to basically not engage in collective bargaining and instead unilaterally implement proposals, because while there appears to be the option to file a ULP, that's not a real option."
Left Vacant by Design?
Ms. D'Agostino said the text of the Trump executive order convinced her keeping the pivotal FLRA General Counsel post vacant was intentional.
"I absolutely believe that," she told Government Executive. "If you look at the government right now, I think about half the vacancies are just created by the fact that the Trump administration wasn't prepared to take the reins [in January 2017], so there were no folks lined up. But I think at this point it's pretty clear that there are several spaces that are being intentionally left vacant for the purpose of carrying out the administration's goals. In this case, they clearly want to do away with Federal employee unions."
Early in July the Trump Administration argued before the U.S. District Court for the District of Columbia that the Federal unions were jumping the gun by bringing their lawsuit challenging the executive orders. It insisted the unions had to pursue rulings from the FLRA, with their final recourse in the U.S. Court of Appeals.
"We're putting all agencies on notice that they cannot use President Trump's illegal and unconstitutional executive orders as a cover to bust unions and gut employees' rights," AFGE National President J. David Cox Sr. said in a statement.
Despite the union protestations, the administration is moving quickly to radically roll back the presence and role of the Federal unions.
Curtailing Access
According to the AFGE, after a July 5 memo was issued by the Office of Personnel Management on how to implement the executive orders, agencies started cutting off union volunteers' access to their Intranet and email systems. They also drastically cut release time for shop stewards to handle workplace complaints against management.
At the Social Security Administration union volunteers were told to evacuate their office space by July 31. "SSA cancelled all negotiated travel and per diem for union officials to travel to meetings with SSA managers, arbitration witnesses," according to an AFGE statement. "Official time was slashed by 88%. Taking away official time means taking away employees' rights to protect themselves against abuses and injustices in the workplace."
Union officials were also denied access to agency equipment like computers, phones or photocopiers. And instead of getting 150 days for an improvement period to avoid termination that period is now just 30 days.
Newt Called for War
After the 2016 presidential election, former House Speaker Newt Gingrich, who served on Mr. Trump's transition team, urged him to wage a "straight out war" aimed at the curbing what he called "the job for life" Federal civil service.
"You have the country moving to the right and being much more anti-Washington than it was," Mr. Gingrich told the Washington Post. "We're going to have to get the country to understand how big the problem is, the human costs of it and why it's absolutely essential to reform."