Flynn, Comey, and Mueller: What Trump Knew and When He Knew It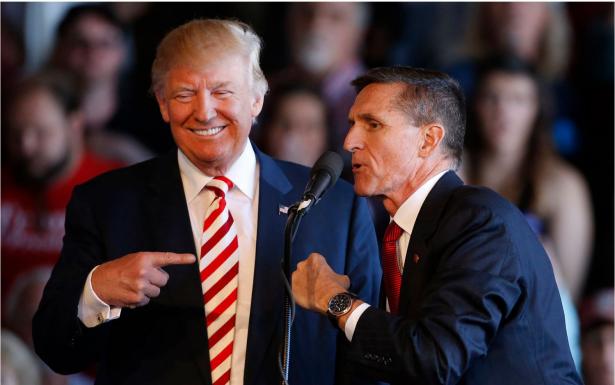 Donald Trump with Lt. Gen. Michael Flynn at a presidential campaign stop in Colorado, October 18, 2016, George Frey/Getty Images
Previously undisclosed evidence in the possession of Special Counsel Robert Mueller—including highly confidential White House records and testimony by some of President Trump's own top aides—provides some of the strongest evidence to date implicating the president of the United States in an obstruction of justice. Several people who have reviewed a portion of this evidence say that, based on what they know, they believe it is now all but inevitable that the special counsel will complete a confidential report presenting evidence that President Trump violated the law. Deputy Attorney General Rod Rosenstein, who oversees the special counsel's work, would then decide on turning over that report to Congress for the House of Representatives to consider whether to instigate impeachment proceedings.
The central incident in the case that the president obstructed justice was provided by former FBI Director James B. Comey, who testified that Trump pressed Comey, in a private Oval Office meeting on February 14, 2017, to shut down an FBI criminal investigation of Trump's former national security adviser, Lt. Gen. Michael Flynn. "I hope you can see your way clear to letting this go, to letting Flynn go," Comey has testified the president told him.
In an effort to convince Mueller that President Trump did not obstruct justice, the president's attorneys have argued that the president could not have broken the law because the president did not know that Flynn was under criminal investigation when he pressured Comey to go easy on Flynn. In a confidential January 29 letter to the special counsel first reported by The New York Times, two of the president's attorneys, John Dowd (who no longer represents Trump) and Jay Sekulow, maintained that the president did not obstruct justice because, even though Flynn had been questioned by the FBI, Trump believed that the FBI investigation was over, and that Flynn had been told that he'd been cleared.
On its face, this is a counter-intuitive argument—for if Trump believed that Flynn had been cleared and was no longer under investigation, there would have been no reason for the president to lean on Comey to end the FBI's investigation—telling Comey that Trump hoped that Comey would be able to "see your way clear to letting this go." Yet Trump's attorneys have pursued this line of argument with the special counsel because perjury and obstruction cases depend largely on whether a prosecutor can demonstrate the intent and motivation of the person they want to charge. It's not enough to prove that the person under investigation attempted to impede an ongoing criminal investigation; the statute requires a prosecutor to prove that the person did so with the corrupt intent to protect either himself or someone else from prosecution. 
If, therefore, Trump understood the legal jeopardy that Flynn faced, that would demonstrate such intent—and make for a much stronger case for obstruction against the president. Conversely, if Trump believed that Flynn was no longer under criminal investigation, or had been cleared, the president could not have had corrupt intent. But previously undisclosed evidence indicates just the opposite—that President Trump was fully informed that Flynn was the target of prosecutors.
I have learned that a confidential White House memorandum, which is in the special counsel's possession, explicitly states that when Trump pressured Comey he had just been told by two of his top aides—his then chief of staff Reince Priebus and his White House counsel Don McGahn—that Flynn was under criminal investigation. This memo, the existence of which I first disclosed in December in Foreign Policy, was, as one source described it to me, "a timeline of events [in the White House] leading up to Flynn's resignation." It was dated February 15, 2017, and was prepared by McGahn two days after Flynn's forced resignation and one day after Trump's meeting with Comey. As I reported, research for the memo was "primarily conducted by John Eisenberg, the deputy counsel to the president and legal adviser to the National Security Council," who, in turn, was "assisted by James Burnham, another White House counsel staff member." 
During my reporting, I was allowed to read the memo in its entirety, as well as other, underlying White House records quoted in the memo, such as notes and memos written by McGahn and other senior administration officials. My reporting for this story is also based on interviews with a dozen former and current White House officials, attorneys who have interacted with Mueller's team of investigators, and witnesses questioned by Mueller's investigators.
continue reading here
Murray Waas is an independent investigative journalist who has reported on the special counsel's investigation of President Trump and related controversies of the Trump administration for Vox, Foreign Policy, and The New York Times. He has worked as investigations editor, most recently, for Vice, as an investigative correspondent for Reuters, and as a staff writer for National Journal. He has also written for The New Yorker, The Atlantic, and The Boston Globe, among other publications. He has been a finalist for the Pulitzer Prize in the category of national reporting, a winner of John F. Kennedy School's Goldsmith Prize for Investigative Reporting (1993), a winner of the Barlett & Steele Business Investigative Reporting Prize (2010), and a fellow with the Alicia Patterson Foundation. (July 2018)
Follow Murray Waas on Twitter: @murraywaas.