Ron Dellums, Former Congressman and Oakland Mayor, Dies at Age 82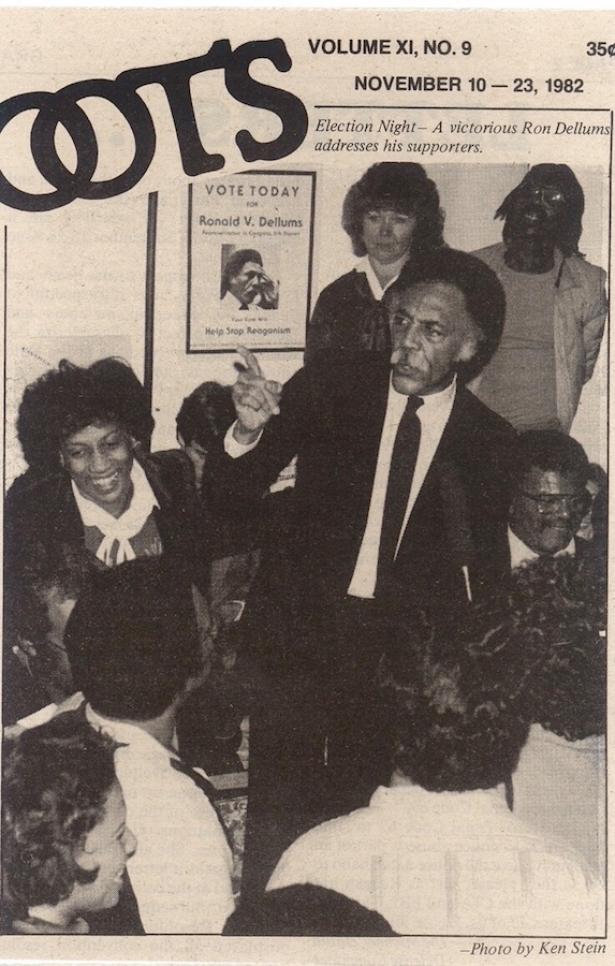 Congressman Ron Dellums celebrates at the Berkeley Citizens Action headquarters on election night in 1982. Left is then-wife Roscoe Dellums, right center is then-Mayor Gus Newport. , Ken Stein
Ron Dellums, a Marine turned antiwar activist and feisty Democratic politician, was never one to walk away from a fight, no matter who started it.
Dellums, who died Monday at age 82, made that clear during his first run for Congress in 1970, when Republican Vice President Spiro Agnew, speaking for President Richard Nixon's White House, pointedly branded the young Berkeley councilman as "an out and out radical" who needed to be "purged from the body politic" for his stance against the war in Vietnam and up-front fight against social ills.
The attack, like many others to come during his decades on the political battlefield, never fazed him.

"If it's radical to oppose the insanity and cruelty of the Vietnam War, if it's radical to oppose racism and sexism and all other forms of oppression, if it's radical to want to alleviate poverty, hunger, disease, homelessness, and other forms of human misery, then I'm proud to be called a radical," he told a scrum of reporters at his campaign headquarters. 
The unbridled passion behind that fiery rebuttal was characteristic of Dellums' long political career, which included 27 years in Congress and a term as Oakland's mayor.  Dellums died at his home in Washington D.C., after a battle with cancer.
Known for his trenchant speeches and unbending liberal views, Dellums started his adult life as a social worker and political organizer in Berkeley, and brought those sensibilities to Washington. He later used his connections on Capitol Hill to benefit Oakland, when he served four years as mayor.
Born Ronald Vernie Dellums on Nov. 24, 1935, he was raised in 1940s-era West Oakland, at that time a predominantly black district that teemed with barbershops, nightclubs, restaurants and stores.
Dellums was a fighter from his early childhood. He learned early not to take guff from anyone, including the well-off, sharply dressed white kids at Westlake Junior High School in the Westlake neighborhood near Lake Merritt, where Dellums was among only 14 black students.
Once during a study-hall period in eighth grade, Dellums came to blows with a boy who called him a "dirty black African." Recounting the incident in his autobiography, "Lying Down with the Lions," Dellums said the boy was trying "to cut me down verbally, but all my neighborhood practice (of trading insults) was getting the best of him."
When the boy hurled a racial slur, Dellums recalled feeling a sharp spasm of rage. He leaped up and pummeled his adversary, stopping only when other kids shouted that a teacher was coming. Later on he bragged about the fight to his mother, who chastened him for regarding the words "black" and "African" as insults.
"I think you should have fought only because he called you dirty, if that made you angry enough," she chided. In the days that followed, Dellums wrote, she began bringing home books and magazines from the library to teach her children about their African heritage.
After graduating from Oakland Technical High School, Dellums joined the Marine Corps, served two years, attended San Francisco State University, where he earned a bachelor's degree in psychology, then went to UC Berkeley and got a master's degree in social work. In 1967, he won election to the Berkeley City Council, where he served three years before challenging incumbent Rep. Jeffery Cohelan in the 1970 Democratic primary.
Cohelan, a former union leader and Berkeley councilman, was a traditionally liberal labor Democrat, but that wasn't enough for an East Bay district moving quickly to the left and becoming noisily antiwar. Dellums easily won the primary and the general election in November, becoming the first African American elected to Congress from Northern California.
"Ron was adamant about serving the community and making sure people received a response from their government," said Rep. Barbara Lee, D-Oakland, who entered politics as a graduate student intern for Dellums. "He would say that the only question we should ask when we made decisions about anything is: 'Is this the right thing to do?' Don't ask about political expedience. That's how he got his staff to think."
Lee and others saw Dellums as a staunch supporter of three social movements that converged in the Bay Area during the 1960s: the free-speech movement, the Black Panther Party movement and the antiwar movement. It was a period of rowdy protests on college campuses and bloody standoffs between demonstrators and police.
"That was a tumultuous era," said Lee Halterman, a longtime congressional staffer who was Dellums' campaign manager in 1970. "What drew me? His idealism. He was a champion for issues that we as student activists were fighting for."
As a congressman, Dellums is best remembered for his uncompromising opposition to the Vietnam War and compelling speeches on the House floor.
"He really came to Congress as an activist," Halterman said. "He would go to the floor and challenge his colleagues, and they would challenge him back. And that's how he learned to work with them rather than just name-calling."
In his autobiography, Dellums recounted many tense confrontations with other elected officials, some of whom saw the fiery, Oakland-raised peacenik as a political outlier — and even as an agitator.
Such perceptions sometimes led to insults. When Dellums went to the House Armed Services Committee in 1973, the committee's chairman, Rep. F. Edward Hebert, left only one seat on the dais for Dellums to share with another antiwar Democrat, Rep. Pat Schroeder of Denver.
Recalling the incident in his autobiography, Dellums said he responded with poise. "Let's not give these guys the luxury of knowing they can get under our skin," he told Schroeder.
Hebert "didn't want this radical 'bomb-thrower from Berkeley' on his committee," Halterman said. "The irony is that 20 years later, Ron became chair, and people were saying, 'If only people ran the committee as fairly as Ron does.'"
Dellums, Halterman recalled, said 'Hey, I remember being locked out, I'm not going to shut others out.'"
Over the years, Dellums earned the respect of his peers. He embraced his radical left-wing status and used it strategically, presenting liberal policy ideas that would shift the debate further left, even when he knew they were too extreme to win a majority vote.
"From Day One, he understood that he was the left-wing, pinko guy from Berkeley, and whatever he said demarcated the left end of the debate," said longtime congressional staffer Dan Lindheim, who later served as Dellums' city administrator in Oakland.
Dellums was also a consummate wheeler-dealer, willing to compromise at key moments. He had an uncanny talent for pulling people over to his side.
"When you think of the great speakers, the top four or five orators of the House of Representatives, Ron was on that list," Halterman said. "People would come to the floor to listen to him. They would leave the back chambers. They would leave the caucus room."
Dellums served 13 consecutive terms in Congress, chairing the House Committee on the District of Columbia — on which he successfully pushed for funding to combat infant mortality and develop affordable housing — and the Armed Services Committee, on which he led the fight to severely curtail production of B-2 bomber planes. In 1986, he sponsored comprehensive economic sanctions to protest the apartheid regime in South Africa.
In 1997, Dellums announced his resignation from Congress, setting up a special election to fill out the remainder of his term. He endorsed Lee, a former member of his staff, who had served time in the state Assembly and was a state senator at the time. When Lee formally announced her candidacy at a party at Oakland's Lake Merritt Boathouse, Dellums was there to support her. She won easily.
For the next eight years, Dellums ran his own lobbying firm, representing such clients as AT&T, AC Transit and the military contractor Rolls-Royce.
In 2006, at age 70, Dellums returned to politics, winning a race to succeed Jerry Brown as mayor of Oakland. He took office in January 2007, just as the city was trying to build more housing and encourage commercial development downtown, amid a bitter economic downturn.
Dellums' term as mayor started off strong but ultimately led to complaints that he wasn't managing the city. Initially, he brought the city's police force up to 837 officers, a record high for the struggling department. He also steered several important projects, including massive port development at the Oakland Army Base, and the automated connector train that shuttles passengers from the Coliseum BART Station to the Oakland airport.
And he used his connections with the administration of President Barack Obama to haul in more federal stimulus money than any other city, said Lindheim, the former city administrator.
But Dellums ran into problems midway through his term. He drew criticism for being frequently absent from City Hall, and his boost to the police force turned out to be unsustainable — in 2010, Oakland laid off 80 officers. Supporters who cheered him on in the beginning began to peel off toward the end, and in August 2010, he sent a written announcement saying he would not seek re-election.
Even so, some members of Dellums' inner circle describe him as a calming force during a turbulent era for Oakland.
Margaretta Lin, who served as deputy city administrator under Dellums, recalled how the mayor stayed composed when riots broke out on Jan. 7, 2009 — days after white BART police officer Johannes Mehserle fatally shot a 22-year-old black passenger, Oscar Grant.
"People were so angry, and so wounded, and because he was 'the Man' they took it out on him," said Lin, who walked with Dellums through the streets of downtown Oakland the night they erupted in violence. "But he would stop and talk to people even as they were screaming at him," she said. "That old social worker came out."
On Dellums' 80th birthday in 2015, Lee delivered a rousing speech in the House, characterizing her former boss as a man who stuck to his principles, even when they were politically unpopular.
"He exemplified the finest in public service and set a new standard for elected officials," Lee said. "For that, we are deeply grateful."
Noel Gallo, an Oakland city councilman, was in grammar school when he first met Dellums, and the encounter served as an inspiration.
"He was definitely one person I looked up to and motivated me to get into the political arena," Gallo said. "Yes, he played a role in national politics, but at the same time he was very active at the neighborhood level. I still remember him walking down Fruitvale and talking with the local businesses."
Oakland Mayor Libby Schaaf called Dellums "a true American hero" on Monday.
"Ron Dellums governed from a place of morality and compassion, and his political activism shed light on injustices within our country and all over the world," she said. "His progressive values set the bedrock for Oakland values, and his life of public service will continue to inspire all of us to fight for a more just and equitable society."
Dellums is survived by his wife, Cynthia, his children Rachel Chapman, R. Brandon Dellums, Erik Todd Dellums, Piper Monique Dellums and stepson Kai Lewis, six grandchildren and two great-grandchildren. He was predeceased by a daughter, Pamela Holmes.
Services in Washington and Oakland are pending.
[Rachel Swan is a San Francisco Chronicle staff writer. Email: rswan@sfchronicle.com]