Gary, IN's Airport Is ICE Servant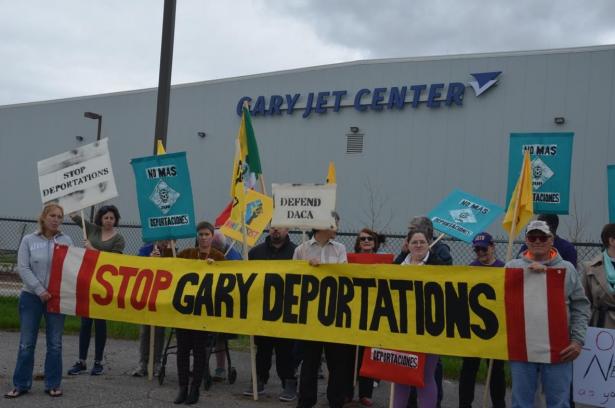 , NWIR
Deportations to the Mexican border from Wisconsin, Illinois, Indiana and Kentucky leave every Friday morning from the Gary Airport in NW Indiana. In just over 3 years, from 2013 to April 2017, 19,501 immigrants arrived in shackles at the Airport from an Illinois prison and were flown to Brownsville, where ICE pushed them across the border. Although vigils had been held for over a decade at the Broadview IL detention facility and now in Kankakee, the World Atlantic flights had previously left from O'Hare.
Since 2010, ICE has issued a series of requests for information seeking proposals to build a new 800-1200 bed immigration prison within a 60-minute drive of ICE's regional headquarters in downtown Chicago. GEO, the second largest private prison corporation in the U.S., has tried multiple times to build such a prison. When word leaked that GEO had bought land in Hobart IN activists responded quickly and effectively. Then Geo went to Gary, not once but even after a swift defeat, a second time. The corporation claimed that they would bring in 200 jobs to Gary where unemployment continues to be extraordinarily high, close to 40%.
The campaign against GEO highlighted their despicable history of union-busting as Wackenhut and, then, of the intolerable and dangerous conditions in its many prison facilities. Opposition included the faith communities—the NWI Federation of Interfaith Organizations led the charge--Black Lives Matter, Concerned Citizens' groups of many communities, with strong support from a few city council representatives.
It was during the struggle to defeat GEO that NWI activists realized that deportations had been moved to the Gary Airport. In January 2017 with Trump's inaugural bans and walls, NWI Resistance emerged as an umbrella group to bring together individuals and organizations to stop the deportations. We have held 8 protests in the last year and a half, built alliances with Chicago-area activists, and helped to fight off a 7th attempt to build an immigrant prison, this time in Elkhart IN. An 8th initiative, by GEO again, to build an 800-bed facility in Roselawn IN faces a gathering storm of protestors.
Although Gary was once the center of labor and civil rights activism, the City has suffered from decades of racism, including white flight—especially after the election of mayor Richard Hatcher, the first Black mayor in the country—and disinvestment. Hopelessness and despair replaced militant social justice activism. Like neo-liberal politicos in other inner cities, Gary's political leaders have favored selling off the resources of the city to powerful interests, in Gary's case to Chicago. The Airport was one of those resources. When then Chicago Mayor Richard Daley was threatened by a downstate governor's effort to take over O'Hare, he signed a pact with Gary's mayor to create an airport consortium including Midway, O'Hare and Gary, thus blocking a takeover.
The Pact literally makes the Gary Airport nothing but a "reliever" for Midway and O'Hare. In practice this has meant no passenger service, just corporate jets and ICE deportations. Gary does the dirty work; the jobs and income stay in Chicago.
So despite successful efforts to make Gary a "welcoming city," protests were met with local, county and state police forces, SWAT teams and sheriffs. After circulating photos of the overkill at City Council, and demanding an end to police "kettling" of protestors, activists forced the City to develop a new strategy. Now when protests are organized in Gary, the deportation buses are diverted back to O'Hare, at a moment's notice.
For NWI Resist that is a victory of sorts. Chicago Jobs with Justice, DetentionWatch, SEIU and DSA had already begun making the trip to the Gary Airport to protest, but now Chicago's sanctuary Mayor Rahm Emmanuel finds himself overseeing an increasing number of deportations. International deportations have always left O'Hare, but now the Gary Airport is building a Custom's Structure so that international flights can happen here. The City says they need customs for cargo; we say they want profits at the expense of people's lives.
The protests have ranged in size from 100-300 people. Speakers have included clergy, DACA students, immigrant organizations, Syrian Muslims, students, city council members and more. Among the organizations supporting these efforts are Black Lives Matter, SEIU, A. Philip Randolph Institute, UAW 551, Temple Israel Social Action Club, Social Justice student groups at Purdue and Indiana University, DetentionWatch, Progressive Democrats of America, the Green Party, DSA, and Jobs with Justice. NWI Resist has been the Organizer.
"We have seen the buses, we have seen the people shackled boarding the planes," stressed Lisa Vallee, a coordinator for NWI Resist. "This injustice is happening in your own backyard," she told 300 people in front of the Federal Building in Hammond on June 30th, the day for national protests against family separation. "It's depravity what's going on with the separation of families," echoed coordinator Ruth Needleman. "A 9-month old alone in a detention center, babies torn from their mothers breast. This is so cruel it compels us to triple, quadruple our efforts to shut down these deportations and to welcome immigrants instead of attacking them." Needleman stressed that no one is a refugee by choice.
For ten years, Sister JoAnn Persch, a Sister of Mercy, has been meeting with the immigrants and their families prior to boarding the buses for deportation. The most serious crimes committed by these immigrants, according to her,  to date include "driving without a license," "shoplifting" and being in the U.S. without documents.
NWI Resist is collecting funds to put up billboards on the highways near the Airport to "Stop Gary Deportations." NWI Resist will be putting up a "Go Fund Me" request and will continue coordinating with Chicago to oppose these deportations.
Family separations is a weekly event in Gary, Indiana.
Contributions in support of the North West Indiana Resist organizing work can be made at:
GoFundMe  https://www.gofundme.com/nwi-resistance?sharetype=teams&member=508904&rcid=r01-153271223291-e842b5f4699441f2&pc=ot_co_campmgmt_w