'Glut of Overpriced Apartments' Has Made Rents Fall for Rich, Soar for Poor in Cities Nationwide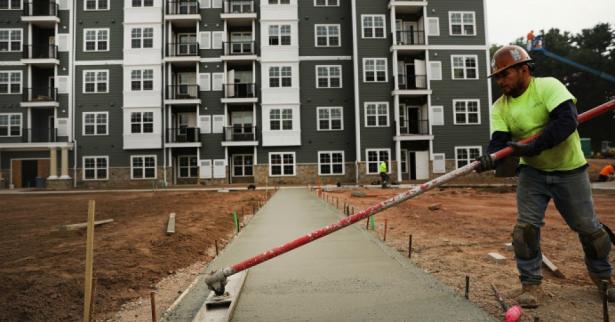 Workers finish a sidewalk at Canal Crossing, a luxury apartment community consisting of 393 rental units, in Hamden, Connecticut., Spencer Platt/Getty Images
As expensive U.S. cities welcome "a boom in luxury housing construction," rents are falling for rich residents while rising for working-class people who seek affordable housing, according to the Washington Post.
"Since last summer, rents have fallen for the highest earners while increasing for the poorest in San Francisco, Atlanta, Nashville, Chicago, Philadelphia, Denver, Pittsburgh, Portland, and Washington, D.C., among other cities," Jeff Stein reports for the Post, citing Zillow data.
Overall, rents for the poor have increased by 18 percent since 2011, but in some cities, it's been far higher. San Fransisco, for example, has seen rents for low-income residents spike by nearly 50 percent, while Portland rents rose by more than 40 percent during that same period.
Diane Yentel, president and chief executive of the advocacy group National Low Income Housing Coalition (NLIHC), outlined the governing theory that has led to this nationwide crisis.
"For-profit developers have predominantly built for the luxury and higher end of the market, leaving a glut of overpriced apartments in some cities," she explained. "Some decision-makers believed this would 'filter down' to the lowest income people, but it clearly will not meet their needs."
In Portland, the city built a few hundred "affordable housing units" between 2010 and 2014, but since that time, city commissioner Nick Fish told Stein that more than 95 percent of private construction has been in "the luxury end of the market."
Although widespread construction of high-end housing has caused rents to fall for wealthy residents in many cities, the data also showed that "in several other metro areas—including Los Angeles, Las Vegas, Houston, and Miami—rents have risen for the poor and the rich alike."
However, while the rich may be better equipped to handle a jump in their housing costs, as Stein notes, "rising rents for the poor threaten to add to the nation's homeless population, and put an additional severe strain on tens of millions of families, often forcing them to forgo other basic needs to avoid losing their housing."
The Trump administration's response to this crisis, as Common Dreams has reported, is a plan put forth by Housing and Urban Development (HUD) Secretary Ben Carson in April that, according to an analysis by the Center for Budget and Policy Priorities, "would mean a 20 percent spike in rent rates for millions of poor Americans in cities across the United States—particularly impacting households of seniors, children, and people with disabilities."
And the lack of affordable housing isn't contained to renters—it's also affecting homebuyers, as NPR reported Monday:
Home construction per household is now at its lowest levels in nearly six decades, according to researchers at the Federal Reserve Bank of Kansas City. This isn't just a problem in San Francisco or New York, where home prices and rents have gone sky-high. It is also a problem in midsized, fast-growing cities farther inland, like Des Moines, Iowa; Durham, N.C.; and Boise, Idaho. In Boise, an analysis by the U.S. Department of Housing and Urban Development showed there is a demand for more than 10 times the number of homes being built right now.

[...]

The real crunch in supply is for so-called starter homes—a home meant to be affordable, smaller in size—perfect for that first-time homeowner. But across the nation, builders are focusing much more of their efforts on high-end construction. In Boise, for example, 65 percent of homes for sale are on the upper end of the market.
This work is licensed under a Creative Commons Attribution-Share Alike 3.0 License