Global Left Midweek - August 8, 2018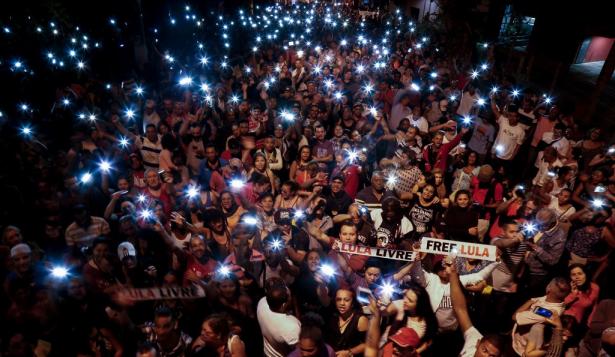 Supporters of the former Brazilian president Luiz Inácio Lula da Silva last month in São Paulo., Miguel Schincariol/Agence France-Presse — Getty Images
__________
Lula or Nothing? The Dilemmas of the Brazilian Left
Felipe Antunes de Oliveira / MR Online (New York)
With two months to the elections, the political landscape may change quickly and in unexpected ways.
__________
UK: 'I Hope Your Shop Burns Down'
Tim Stickings / Daily Mail (London)
A left-wing London bookshop was vandalised by a mob of 'mask-wearing fascists' chanting Donald Trump's name who invaded the store and abused staff.
__________
Jordan's June 2018 Rising
Sara Ababneh / MERIP Middle East Report (Richmond VA)
What had started as protests over a taxation draft law and an increase in gas prices quickly led to a popular rising against the neoliberal path on which the state has embarked.
_________
Venezuela: The Rumble of the Campesinos - Will It Break the Silence?
Julio Escalona / Venezuelanalysis (Caracas)
A National Constituent Assembly member suggests that the Admirable Campesino March should inspire Venezuelans from all walks of life to exercise popular power and rescue the revolution.
__________
Iraq Oil Union Defends Protesters
David Bacon / LobeLog (Washington)
Throughout July, Iraq was rocked by demonstrations, road blockades, tent occupations, and the invasion of oil fields by thousands of people, especially in the country's oil-rich south. Trade unions, especially the oil workers, have played a central role in organizing the demonstrations.
__________
#MeToo in China: Movement Gathers Pace Amid Wave of Accusations
Lily Kuo / The Guardian (London)
Discussion of #MeToo inevitably leads to debates about rights, organising among the public, and protests – all things Chinese authorities quickly clamp down on.