House Intel Democrats' New Mission: Protect Mueller, Use Subpoena Power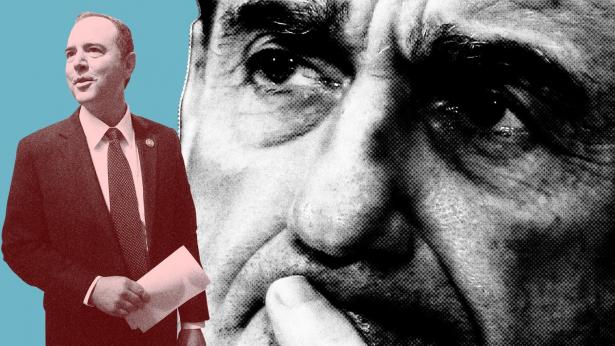 Elizabeth Brockway/The Daily Beast
Devin Nunes broke the House intelligence committee. The Democrats who are about to take it over consider putting it back together to be almost as big a challenge as investigating President Trump's ties to Russia.
The day after the Democrats won a majority in the House of Representatives, three members of the committee outlined a list of priorities for what's become one of the highest-profile perches in Congress. They told The Daily Beast they're ready to subpoena the documents and witnesses relevant to Russia that current House intel committee chairman Rep. Nunes (R-CA) wouldn't, particularly those that may shed light on the intersection of Russian money and Trump allies' wallets.
And, along with the rest of the Democratic caucus, they have another urgent task: protecting special prosecutor Robert Mueller now that Trump has fired Attorney General Jeff Sessions.

"I think there's a potential of a Wednesday Afternoon Massacre, and we're not going to tolerate it," one of the committee's Democrats, Jackie Speier of California, told The Daily Beast, referring to Richard Nixon's cascade of Justice Department firings during Watergate.
"This is a democracy, not an autocracy. The Senate has got to grow a backbone [and] put a check on [Trump's] executive maniacal efforts to get rid of something that he does not want to have going on."
Hours before Trump fired Sessions, another of the panel's Democrats, Mike Quigley of Illinois, told The Daily Beast he was "concerned about what [Trump and his allies will] do in the lame duck" session to obstruct Mueller's inquiry. Protecting Mueller is "among the highest priorities," Quigley said, vowing that if Trump acts to constrain Mueller's Russia inquiry, "we'll be ready… I think the House needs to move forward as soon as it possibly can" with a long-stymied bill to preserve Mueller's independence.
Additionally, those Democrats also sounded eager to get back to a pre-Trump status quo ante, in which the House intelligence panel was comparatively united across party lines in a rancorous Congress and focused on examining the intelligence agencies' approaches to premiere security threats. Critics, often with justification, think the panel adopts the intelligence agencies' prerogatives instead of restricting their substantial powers to spy and kill. While the committee Democrats say they intend to scrutinize the agencies in the era of Trump, a major test for the new Democratic-run panel will be which of the contradictory definitions of "oversight" the intelligence committee will practice.
Russia: Follow The Money
Committee members told The Daily Beast that they may revisit the now-defunct probe into potential coordination between the Russian government and Trump associates during the 2016 presidential campaign. But Rep. Jim Himes, a Connecticut Democrat on the committee, said any such probe will be in a "holding pattern" until Mueller—who's investigating the same matter under the auspices of the Justice Department, at least for now—releases more information to Congress. Himes said members don't want to inadvertently butt heads with Mueller's team.
"It would be pretty foolish of us to come out with a lot of definite plans until we have a better sense of what Mueller has done," Himes said. "We don't want a duplicate effort, and we certainly don't want to get in his way. And oh, by the way, we've got a lot of fundamental strategizing to do in the coming weeks."
Quigley told The Daily Beast that the committee Democrats' approach to Trump-Russia will "look more like regular oversight" than a reestablished formal inquiry. Starting in January, the panel's new majority will examine where the "gaps" are between Mueller's inquiry, the one done by the Senate intelligence committee, and the neutered House one. "It's not starting over, it's assessing where we are, and what gaps exist in the investigation," Quigley said.
Last year, Quigley visited Cyprus to investigate Russian money laundering. Illicit cash potentially passing through Trump's campaign or businesses is likely to be a restored focus of the panel, he indicated. With its record of being fined for its role in laundering money, and its longstanding relationship with Trump, "Deutsche Bank seems like an obvious point of investigation," Quigley said.
Speier anticipated an aggressive resumption of efforts to examine Trump. "The report the intelligence committee did [under Nunes] was illegitimate," she said. "We need to undertake a legitimate investigation of Russian interference to gauge to what extent the Trump campaign was engaged in working, in a conspiratorial fashion, with Russian operatives and to understand more clearly the Russian engagement in Trump properties."
The committee won't "retread that area" that's already covered, Speier said. But she noted that the panel at one point had a bipartisan agreement to subpoena documents that never manifested, and some 30 witnesses Democrats wanted to interview didn't materialize.
Going forward, "I'm not willing to say this is dotting i's and crossing t's," Speier said. "A legitimate investigation is going to require us to dig deeper. I really believe there was something sinister, when all is said and done."
Intelligence Oversight Post-Nunes
Democrats also said they want to reset the committee's relationship with the intelligence agencies.
Nunes accomplished something previously unthinkable. He became a Republican House intelligence chairman—typically, one of the best friends a spy agency has on Capitol Hill —whom intelligence officials considered an unfunny joke. Before Nunes, the committee was instinctively bipartisan and all but supine before the prerogatives of the intelligence agencies it oversees. Republican chairman Mike Rogers and ranking Democrat Dutch Ruppersberger were interchangeable in their lockstep defense of the National Security Agency after Edward Snowden's 2013 surveillance revelations.
But Nunes turned the panel into a cudgel to protect the White House. As former intelligence officials didn't hide their contempt for Trump, Nunes skipped over due diligence of the intelligence agencies for hysterical depictions of a conspiracy against Trump at the FBI and Justice Department. Many American intelligence officials detested Nunes, seeing him as an arm of the Trump administration who traded vital oversight for political theater. Nunes' decision to release a misleading Republican-authored memo decrying surveillance of a former Trump campaign adviser long tied to Russian intelligence left the intelligence services seething. Nunes, in their estimation, jeopardized some of their most closely held secrets in an effort to do media-ready damage control about Russian election interference.
Now that they're about to take over, Democrats say they hope to alleviate some of that acrimony. The GOP committee "leadership began to attack the intelligence community to protect the president. That fracture has to be repaired," Quigley said.
At the same time, members say they worry the Trump administration has permitted the agencies' free rein for their lethal counterterrorism capabilities.
"In my opinion, congressional oversight is even more important than it was under Obama, because some of the carefully crafted constraints on the community—many of which can't be talked about publicly—have been loosened by the Trump administration," said Rep. Jim Himes, a Connecticut Democrat on the committee.
Trump has long been rumored to have scrapped Obama-era rules on drone strikes and counterterrorism raids that required "near certainty" that civilians wouldn't be killed and those marked for execution posed a "continuing and imminent threat" to Americans. (Those rules dubiously constrained the Obama-era CIA and military.) Last year, the White House ignored disclosure requirements on civilian casualties and escalated counterterrorism air strikes, particularly on the undeclared battlefields of Yemen and Somalia.
Another potential venue for oversight, according to a source familiar with Committee Democrats' thinking: Wikileaks––and specifically, how American spies handle it. In April 2017, then-CIA Director Mike Pompeo likened the anti-secrecy organization to a "hostile intelligence service." The source pointed out that American spies regularly surveil hostile foreign intelligence services. And since U.S. persons are affiliated with Wikileaks, any potential surveillance of the organization could run afoul of civil liberties protections.
"We have an obligation to look behind the curtain, because sometimes we're only being told what they want to tell us," Speier said of the intelligence agencies. "It's a combination of providing the resources they need do their job, directing them in a manner that doesn't violate our values or the Constitution, and making sure the intelligence we are getting is worthy of a country as powerful as we are. Sometimes I think our intelligence is not as good as the intelligence in other countries that we rely on." But the unlikely era in which the intelligence agencies are, in Speier's term, "besmirched" by their legislative overseers appears over.
The Committee v. the White House—And Itself
Panel Democrats, relegated to the sidelines of an epochal counterintelligence investigation, are champing at the bit to use their new subpoena powers. Under Nunes, a host of White House officials paraded before the committee for interviews about Russian interference. And many, including Steve Bannon and Hope Hicks, invoked executive privilege to dodge tough questions, even invoking privilege for conversations that happened before Trump's inauguration and with people other than the president.
"Witnesses in front of us asserted executive privilege for things that occurred during the transition, for conversations that had nothing to do with advising the president," Himes said. "And while it's a little esoteric, that was a massive incursion to Congress' prerogatives."
He added: "At the end of the day, the Republicans need to ask themselves: When they next drag in a member of a Democratic administration, do they want that Democratic administration-person asserting the same wild-eyed executive privilege that Steve Bannon asserted?"
It's unclear if the White House's biggest ally on the committee, Nunes, is going to stay on as ranking member. Nunes' spokesperson didn't respond to a Daily Beast inquiry, as the reelected California Republican has all but ceased addressing mainstream journalists. Yet Schiff showed that even a minority without subpoena power can exercise real influence.
But Quigley thinks Nunes' "damage is done," he told The Daily Beast. "He did his damage, he stymied the [Russia] investigation and shut it down. He worked hand in glove with the White House to limit our [investigative] abilities. I don't see how he has those abilities when we're in the majority." Speier agreed: "It's hard to subvert [the committee] when you're in the minority."
A Republican lobbyist who works on intelligence and national security issues told The Daily Beast he thinks Schiff will restore a measure of comity on the committee. "Adam Schiff will do everything he can to bring back the bipartisanship on that committee," the lobbyist said. "As long as Devin Nunes is ranking member, it's going to be hard to do. But I don't believe Adam Schiff is a partisan."
Quigley conceded that "it's going to take time" to restore committee bipartisanship. And its success is by no means assured in the Trump era. But "you can't not try," he said.
For House Democrats, and the hashtag-resistance cheering them on, the intelligence committee is about to become a choice assignment, both for reelected members and the freshman class–a class that includes two former CIA officials, Virginia's Abigail Spanberger and Michigan's Elissa Slotkin. Once the Democrats expand their presence on the panel, a perk of being in the majority, jockeying to get a spot is likely to be intense.
"The last two years showed the rest of the caucus how important it is. The visibility dramatically increased," Quigley said. "I expect a tremendous amount of interest."
But all that is taking a backseat now that the peril to Mueller's inquiry appears imminent.
"I think it's incumbent on us to do everything we can to protect Mueller," Speier said. "This is our democracy at stake here."
Betsy Woodruff is a political reporter for the Daily Beast and formerly of Slate and National Review. You can follow her on Twitter @woodruffbets. Send her tips via email, encrypted email or via Daily Best tips. You can also use our anonymous document submission system, SecureDrop. Click here to find out how.