labor
Powerful NY Unions Could Complicate Push For Single Payer Health Care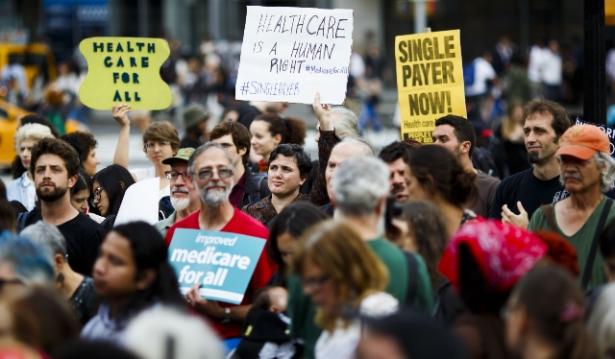 A Union Square rally in support of a single payer healthcare system. ,Justin Lane/EPA/Shutterstock // Gothamist
For proponents of single-payer healthcare in New York, these are heady times. After a decade out of power, Democrats are set to take control of the state senate, and many of the newly elected senators are progressives who campaigned specifically on universal healthcare. 
Last week, healthcare activists achieved a milestone: a city council hearing on a resolution in support of a statewide single-payer healthcare system, which would be the first of its kind in America outside of an aborted attempt in Vermont. Although the hearing and attendant rally were symbolic—the council is expected to pass the resolution, but any actual legislation must be decided at the state level—they demonstrated the broad support that has grown for a piece of legislation that was once regarded as fringe and hopeless.
Still, storm clouds loom. Governor Andrew Cuomo has never committed to supporting the New York Health Act. And the qualms of certain influential labor unions, in addition to a suddenly mobilized healthcare industry, could end up derailing the legislation before it ever hits Cuomo's desk. Labor leaders say that they're hesitant to give up collectively bargained health benefits, even if single payer's architects vow that their healthcare coverage would be just as good under the new law; and they also fear that healthcare for all could reduce the appeal of union membership, since comprehensive health coverage has long been one of the sweetest perks of a union job.

"For the first time, the unions that will be affected by this legislation are looking under the hood," said Eugene Carroll, a long-time union single-payer advocate and activist, who advises the Campaign for New York Health. "Even the unions who have endorsed universal healthcare for years, it's the first time they've had to look at what the actual implications are for the existing structure of the unions, for their collective bargaining activities."
Last month, members of the Municipal Labor Committee, which represents New York City public sector unions, met with the New York Health Act's co-sponsors, Assemblymember Richard Gottfried of Manhattan and State Senator Gustavo Rivera of the Bronx, to express their concerns about the bill, which envisions a plan with no deductibles, co-pays, restrictive provider networks, or out of network charges. As Politico first reported, the unions fear that insurance options for the city's 380,000-strong workforce would be reduced and that the lure of joining unions could be curtailed if members no longer had the advantage of generous health plans.
Currently, most union members enjoy low-cost health insurance, a benefit that they've achieved through collective bargaining. Many unions also pool their money to purchase even more comprehensive benefits. Under a single-payer plan, all of this would be replaced by a universal system in which all state residents would receive basic medical care for free.
Labor leaders speaking off the record say that unions with significant numbers of members who live out of state, such as those involved in the construction and entertainment industries, are especially concerned by what would happen if New Jersey or Connecticut residents who work in New York can't access a single-payer plan that is for residents only—and how union-provided healthcare funds for New Jersey or Connecticut members would stay solvent if all the New Yorkers pulled out. Also, what would happen to certain specialty care that is prized by labor unions who represent workers in physically challenging industries like construction? What about long-term care? 
Gottfried has replied that long-term care will be included when the legislation is reintroduced in 2019, and has indicated that all employers would have to continue to provide current levels of payment toward the cost of health coverage. A fact sheet for union members issued jointly by Gottfried and state Sen. Gustavo Rivera notes: "Everything is covered. Including dental, vision, hearing, and all prescription drugs. And home health care and nursing home care. And no deductibles, copays, or restricted provider networks (so no out-of-network charges)."
Carroll, who counts himself as a strong supporter of the New York Health Act, is hopeful that New York labor unions will unify around the cause of a single-payer system. As in many cases with major policy debates in New York, union support remains divided over single payer: The most powerful healthcare union in the state, 1199 SEIU, is a backer, as is the New York State Nurse Association (NYSNA); two other pivotal statewide unions, New York State United Teachers (NYSUT) and the Civil Service Employees Association (CSEA) have yet to endorse it. 
In particular, without 1199, which has enjoyed a level of influence that is almost unrivaled in state politics and is closely aligned with Cuomo, single-payer in New York would be dead on arrival. While the union has endorsed single payer, it has also encouraged pursuing more measured health care reforms; a union spokesperson, Mark Riley, said in a statement that given the "political reality" that single payer is "not forthcoming in the near term, 1199 SEIU is prepared to support interim reforms on the path to single-payer."
1199's belief that building out a single-payer system in New York may take longer than some advocates hope—or at least beyond the 2019 legislative session—is in part related to the single biggest reason critics, especially on the right, have said the New York Health Act is unworkable: cost. 
A RAND Corporation study over the summer found that a single-payer system would call for $139 billion in new tax revenue by 2022, 156 percent more than the state currently collects. (While health plan and provider administrative costs would be dramatically lowered, according to the RAND analysis, this would save only $15 billion between now and 2031.) New payroll taxes, as well as taxes on nonpayroll income such as interest, dividends, and capital gains, would have to be introduced to collect this revenue. 
Higher taxes don't necessarily scare unions away. Cuomo, though, has usually hewed to his more conservative instincts on taxation, deterring the leading unions in the state from advocating for new taxes on high-income earners, for fear of alienating their ally. 
What is quietly worrying some labor leaders more is the loss of control over healthcare, especially when their members currently have benefits that are already quite generous by American standards.
"A lot of unions run their own health plans. Their employers don't buy insurance," said Bill Hammond, the director of health policy at the right-leaning Empire Center and a critic of the New York Health Act. "Because they run a healthcare fund, they play a bigger part in the lives of their members. They have a certain number of jobs to fill running the benefit fund. It's a point of pride—because you're a union member, you get these really generous health benefits."
These concerns have led to fears that a single-payer system could lessen the incentive to join labor unions that are already reeling in the wake of the Janus v. AFSCME Supreme Court decision. (While countries such as France and Germany with single-payer healthcare systems have unions that are, in many cases, much more powerful and dynamic than those in New York, they also have stronger protections for union organizing, especially after Janus.) Some in the organized labor world who declined to speak on the record to Gothamist expressed consternation that, without increased protections for employees in New York to be recognized as full-time employees, a statewide single-payer system could inadvertently incentivize more contractual, "gig economy" labor. 
Gottfried, Carroll, and other proponents of the New York Health Act contend that removing healthcare as a bargaining chip would allow unions to focus on other issues like wage increases for members, especially in industries where better healthcare benefits are secured at the price of accepting lower wages. 
Gottfried, a longtime supporter of organized labor, told Gothamist he is in the process of putting union leaders' fears to rest. 
"We've been asking a lot of good people in different unions if there is any health service or product they get through their health plans that the New York Health Act doesn't cover," he said. "I have not heard a single example of anything they now have that would not be covered by the New York Health Act. All of that would be more secure in that it would be statute, not something that can be bargained every year."
Two other logistical hurdles remain for single payer in New York. One is that the state would need a federal waiver if it wants to redirect all federal, state, and Obamacare funds used for Medicaid, Medicare, and marketplace tax credits to a single-payer system. As long as Donald Trump—or any Republican, for that matter—occupies the White House, such a waiver is highly unlikely. That means the earliest that a waiver could be forthcoming would be the 2021 legislative session. 
In response to this, Gottfried and other proponents of the legislation argue that New York could leave the federal programs in place, while creating "wraparound" coverage to provide healthcare to anyone not eligible for Medicare.
The second challenge is what to do with those people who work in New York and live elsewhere. In theory, a private sector employer could be compelled, under the Affordable Care Act, to offer coverage for nonunionized employees who commute from New Jersey, even with a statewide single-payer system, though details of how this would work remain unclear. But this could still leave union members who live across state lines with diminished—and more expensive—options, as having fewer members in a plan makes it harder to negotiate good rates.
"The big issue I've heard from affiliates has always been this concern—New York State provides this benefit, what about the workforce that doesn't live in the State of New York?" said one high-ranking labor union member. "I'm an entertainment union, let's say. I have 10,000 members and 5,000 of those are people in a touring company outside of New York. Five thousand people are covered by the New York Health Act. Now my benefits fund is insolvent. At the end of the day, that's where the logic falls apart." 
Supporters of the New York Health Act are optimistic they can address this concern and make the legislation workable for organized labor. Katie Robbins, the campaign director for the Campaign for New York Health, the chief advocacy arm for the single-payer bill, argued unions stand to benefit as much as anyone else. 
"The rising cost of healthcare is a burden for unions, their employers, and the workers," she said. "Not to diminish the good work labor unions have done to do win healthcare benefits for their members, but we are proposing a system of healthcare that is guaranteed—it locks in comprehensive benefits so if you have a job, don't have a job, no matter what your health status is or income status, you are guaranteed high quality healthcare. That's really critical."
[Ross Barkan has covered New York City Hall, state politics, congressional campaigns, and the 2016 president race. He has been a columnist for the Guardian and the Village Voice, and his work has appeared in the New York Times, Daily News, Columbia Journalism Review, Gothamist, and the New Yorker, among others. This fall, his debut novel, Demolition Night, was published. He spent much of 2018 running for office himself as a State Senate candidate in Brooklyn, New York. Before all that, he earned his B.A. at SUNY Stony Brook, where he studied to be a high school English teacher, and his M.A. in English literature at NYU.]