Dreamer-Led Times Square Billboard Emblazoned With Migrant Stories, Including Deaths Under Custody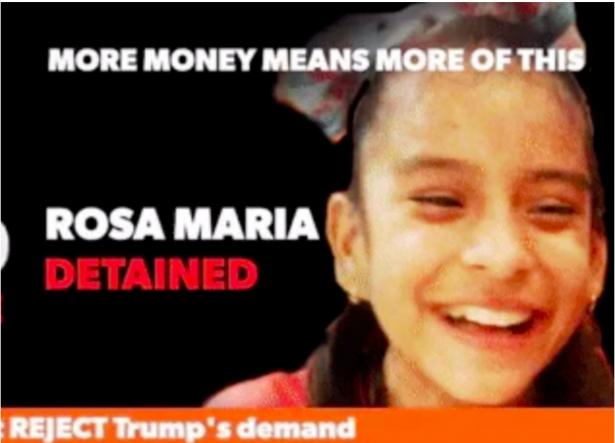 10-year-old Rosamaria Hernandez, detained by Border Patrol last year, United We Dream video screenshot
The names of Roxsana Hernández, Claudia Patricia Gómez González, and Jakelin Ameí Rosmery Caal Maquin are emblazoned across a Times Square billboard in New York City as a reminder that hate must be defunded. All three lost their lives under the watch of unleashed federal immigration agencies just this year alone.
Roxsana, a 33-year-old transgender asylum seeker originally from Honduras, died in May while under Immigration and Customs Enforcement (ICE) custody. Claudia, a 20-year-old indigenous woman from Guatemala, was shot and killed by a still-unnamed Customs and Border Protection (CBP) officer that same month. This month, Jakelin died while under CBP custody. She was only 7 years old.

But rather than conducting oversight and investigating these tragic deaths, Donald Trump wants billions in taxpayer dollars to fund his stupid and racist border wall that most Americans don't actually care for. If he can't get a wall, Plan B is a $1 billion piggy bank to fund his deportation agenda as he sees fit, which will no doubt lead to more Roxsanas, more Claudias, and more Jakelins. Enough, enough, enough.
"We created this ad with the intention of showing people that Trump's demands aren't only about a wall, they're about people's lives," United We Dream's Sanaa Abrar told NBC News. The immigrant youth group is behind the billboard, which features a count of the $5 billion that Trump is demanding. "Giving the deportation agencies of ICE and CBP more money will mean more people detained, more families separated and more deaths."
Also featured in the billboard is Rosamaria Hernandez, the 10-year-old who was stalked and detained by CBP in Texas last year, following emergency gallbladder surgery. Rosamaria, who has cerebral palsy, was repeatedly blocked by officials from accessing post-operative care. It finally took a lawsuit from the American Civil Liberties Union (ACLU)—and zero help from Texas U.S. senators John Cornyn and Ted Cruz—to free her.
Following the death of 7-year-old Jakelin at the border and Trump's demand of $5 billion for his wall & additional enforcement, @UnitedWeDream launched a new ad in NYC's Times Square calling on elected officials to reject Trump's demands. #DefundHate

TEXT NoMoreMoney to 877877 pic.twitter.com/F0D21m5G5m

— United We Dream (@UNITEDWEDREAM) December 19, 2018
Immigrant youth themselves are fighting for the very survival of families as their own futures in the U.S. remain in limbo. The courts have kept the Deferred Action for Childhood Arrivals (DACA) program alive, but the Trump administration is hoping the Supreme Court will change that next year. House Speaker-designate Nancy Pelosi has pledged to address legislation putting DACA recipients on a path to citizenship when the new Congress begins in January.
Gabe Ortiz is a staff writer at Daily Kos focusing on immigration, LGBT, Latino issues.