Billionaires vs. LA Schools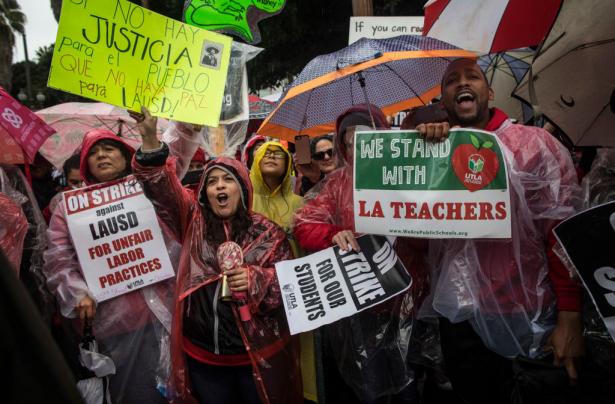 People rally in the streets of downtown in the pouring rain during a United Teachers Los Angeles strike on January 14, 2019 in Los Angeles, California. ,Barbara Davidson / Getty Images
Unlike many labor actions, the Los Angeles teachers' strike is not really about wages or benefits. At its core, this is a struggle to defend public schools against the privatizing drive of a small-but-powerful group of billionaires.
The plan of these business leaders is simple: break-up the school district into thirty-two competing "portfolio" networks, in order to replace public schools with privately run charters. As firm believers in the dogmas of market fundamentalism, these influential downsizers truly believe that it's possible to improve education by running it like a private business. Not coincidentally, privatization would also open up huge avenues for profit-making — and deal a potentially fatal blow to one of the most well-organized and militant unions in the country, the United Teachers of Los Angeles (UTLA). As union leader Arlene Inouye explains, "This is a struggle to save public education; the existence of public education in our city is on the line."
It's always important to "know thy enemy." But this is especially true for the educators' movement in Los Angeles, which is directly challenging an unholy alliance of the some of richest individuals in the United States. Here's a short primer on the corporate "who's who" aiming to destroy public schools in LA — and across the nation.

The Walton Family
In a watershed moment for the drive to take over Los Angeles public education, pro-charter billionaires spent an unprecedented $9.7 million to buy the 2017 Los Angeles school board elections. A key funder of this campaign to elect charter school acolytes was none other than the Walton Family, best known as the founders of Walmart.
Having made their fortune through union-busting and infamously low wages, the Arkansas-based Waltons — now the richest family in the world — have spent much of the last two decades bankrolling the privatization of public education. Nominally, this philanthropy is dedicated to improving life prospects for low-income families. Yet as journalist Harold Meyerson notes, "a more direct way to help them would be to give workers at Walmart . . . a raise and to give them more hours."
For the Waltons, their $2.2 million contribution to the 2017 school board election was just a drop in the bucket. Over recent years, the Walton Family Foundation has given $84 million to Los Angeles charter schools and it has spent $1.3 billion on "school reform" efforts nationwide. And in a further effort to capture the hearts and minds of Angelinos, a Walton-funded media outlet, The 74, took over the well-respected LA Schools Report in 2016.
These initiatives have already had a major impact on Los Angeles. About 18 percent of students now attend charter schools, a rate far higher than in the rest of the country.
Doris Fischer
With a net worth of over $2.7 billion, Doris Fisher — co-founder of The Gap — is the second-highest political donor in California. Fisher, like her late husband Donald, has primarily donated to Republicans, but she is also close to former governor Jerry Brown and has donated to a wide range of pro-charter Democrats. In the pivotal 2017 capture of the LA School board, Fisher gave a whopping $4.1 million to the California Charter School Association's efforts.
The Fishers' pro-privatization advocacy has also taken more direct forms. Using over $70 million of their personal wealth, Don and Doris Fisher founded the KIPP Foundation in 2000; it soon became the biggest charter network in the United States. With fifteen schools in Los Angeles alone, KIPP LA educates close to six thousand students.
Though the educational achievements of charters like KIPP are no better than their district public school equivalents, teachers at KIPP schools are notoriously overworked, leading to extremely high turnover rates. As LA parent advocate Cynthia Liu explained to Capital and Main,
If you look at the industries where these people [like Fisher] made their wealth, you can see why they have this idea that you have to squeeze labor to make your profits. If you have children in India making your clothing, your profit margin is very large. Similarly, if you use automation and low-cost education 'shock troops' to minimize the role of teachers . . . you minimize your education labor costs.
Charter school leaders are unabashedly proud of their efforts to impose corporate methods upon the public sector. In the words of KIPP Foundation CEO Richard Barth, "[Don Fisher] used what he learned in growing Gap Inc. to show us what we could do in public education."
Reed Hastings
Bay Area resident and former Peace Core volunteer Hastings made his massive fortune through developing software tools and subsequently founding Netflix. Unlike Fisher and the Waltons, he's a liberal and a dedicated backer of the Democratic Party.
In 2000, Democratic Governor Gray Davis appointed Hastings to the State Board of Education; the following year he became board president. This rise to the top of the state's education apparatus was the prize given to Hastings for his groundbreaking efforts to get California to lift its cap on charter schools in 1998.
Along with other privatizing zealots, Hastings has long been opposed to democratic oversight over education. In his opinion, the "most important thing" about the structure of charters is that they "have stable governance — they don't have an elected school board." For Hastings, the solution for public schools is not to fully fund them — rather, they need to "adopt the same principles of competition and accountability as exist in the private and nonprofit sectors."
Eager to make this dream a reality in Los Angeles, Hastings gave a record-breaking amount — roughly $7 million — to the California Charter Schools Association in the leadup to the 2017 LA school board election. Subsequently, Hastings became a founding investor of City Fund, an institute tasked with promoting the "portfolio model" of school privatization across the United States. Citing the examples of New Orleans, Washington DC, and Denver, City Fund's pitch concludes that "[o]ur goal is to make the model normal. After enough adoption we believe the model will transition from being a radical idea to a standard policy intervention."
Eli Broad
As with almost everybody else on this billionaires list, LA's Eli Broad has no professional experience in education. Yet this hasn't stopped him from using his immense personal fortune to foist his vision upon the city's schools. With a net worth of over $7.4 billion, Broad is the fourth richest individual in the United States. In 2017, he gave nearly $2 million dollars to elect a pro-charter majority to the school board. This was just the latest manifestation of Broad's longstanding drive to dismantle public education in Los Angeles and nationwide.
After striking it big in the home building and insurance industries, he founded the Broad Academy in 2002 to train a new generation of privatizing school leaders. By 2012, the center was boasting that it had "filled more superintendent positions than any other national training program" and that "Broad graduates are in the number one or number two seats in the three largest districts in the country (New York City, Los Angeles, and Chicago)."
Broad stepped up his hometown privatizing efforts in 2015 by producing a plan to ensure that charters would capture at least 50 percent of the so-called "market share" of LA schools. The proposal was explicit about the national stakes of the campaign: "Los Angeles is uniquely positioned to create the largest, highest-performing charter sector in the nation. Such an exemplar would serve as a model for all large cities to follow."
A major public scandal erupted after the forty-four-page plan was leaked to the press — then-school board president Steve Zimmer denounced it as "an outline for a hostile takeover." The specific initiative was scrapped, but only temporarily. Within two years, Broad had begun a renewed push for a "hostile takeover." This time it took the form of helping buy the 2017 school board elections — and subsequently imposing one of his close friends as new district superintendent: Austin Beutner.
Austin Beutner
For LA's teachers, students, and parents, Austin Beutner is currently enemy number one. Beutner is not only the handpicked representative of the democracy-subverting billionaires discussed above — he's one of these billionaires himself.
Beutner has zero credentials to lead the second-largest school district in the country. He began his career as a downsizing investment banker in the early 1990s. The Clinton administration chose him to head their project of helping privatize state enterprises in Russia and, as the New York Times reported, "teaching the American way of doing business."
Beutner soon after co-founded the investment firm Evercore Partners together with other Clinton confidants. Today, Evercore is the second-largest such firm in the world, behind only Goldman Sachs.
Like Hastings and Broad, Beutner is a major funder of the Democratic Party. Beutner's considerable financial contributions to the Democrats helped convince Los Angeles Mayor Antonio Villaraigosa to appoint him as first deputy mayor in 2010. (Last week, Beutner returned the favor by tapping Villaraigosa to be his PR man against LA teachers.) As the Wall Street Journal explained, Deputy Mayor Beutner was "charged with making Los Angeles more business friendly."
In 2013, Beutner joined with with Eli Broad in an attempt to buy the Los Angeles Times. Though the bid was ultimately unsuccessful, their partnership bore fruit in early 2018 when the new school board chose Beutner as superintendent. Upon taking office, he immediately used Broad funding to hire a cadre of downsizers led by two consulting firms, Ernst & Young and Kitamba; the latter company has already played a central role in privatizing schools in Newark and Washington D.C. If they get their way, Los Angeles will become the model for privatization efforts across the United States.
The Stakes
Beutner and his billionaire buddies have transformed Los Angeles into ground zero in nationwide struggle over public education. UTLA president Alex Caputo-Pearl is clear about the stakes:
In the same way that Betsy DeVos and Scott Pruitt attacked the very institutions they were appointed to lead, Austin Beutner was brought in to attack our public schools. They want to end public education as we know it. They're ambitious so we must be ambitious. It's not enough to win a salary increase when we may not have a school district in a few years.
At its heart, the struggle in Los Angeles is not just about the fate of public education. This is a strike for democracy — against the plans of a tiny clique of billionaires to unilaterally impose their vision for the world upon the working-class majority.
Like the electoral insurgencies of Bernie Sanders and Alexandria Ocasio-Cortez, LA teachers have posed the central question of our time: Who should determine governmental policy — the working class or the rich? Los Angeles strikers are leading the charge for a society that works on behalf of the many, not the few. They deserve all our support.
==
Eric Blanc writes on labor movements past and present. Formerly a high school teacher in the Bay Area, he is a doctoral student in the sociology department at New York University.