Assange's Indictment Is Trump's next Step in His War on Press Freedom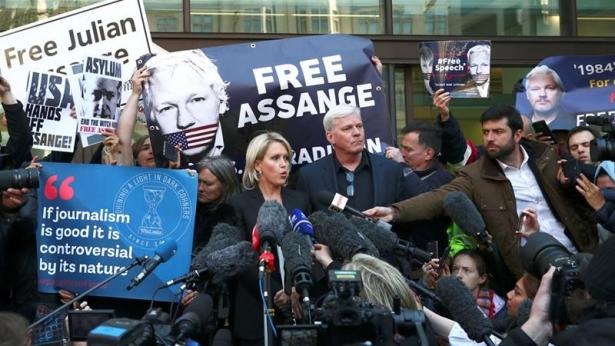 Kristinn Hrafnsson, editor-in-chief of WikiLeaks, and barrister Jennifer Robinson talk to the media outside the Westminster Magistrates Court after Assange was arrested , Hannah McKay/Reuters
Assange's Indictment Is Trump's next Step in His War on Press Freedom
Trevor Timm
https://www.theguardian.com/commentisfree/2019/apr/13/julian-assange-indictment-wikileaks-trump-administration-war-on-press-freedom
April 13, 2019
The WikiLeaks founder Julian Assange is so disliked in journalism and political circles that many reporters and liberal politicians were publicly cheering on Thursday when the Trump administration released an indictment of Assange, which was related to his interactions with the whistleblower Chelsea Manning in the months leading up to the publication of Pentagon and state department cables in 2010.
The larger context surrounding this case is almost as important as the Assange indictment itself. Donald Trump has been furious with leakers and the news organizations that publish them ever since he took office. He complains about it constantly in his Twitter tirades. He has repeatedly directed the justice department to stop leaks, and he even asked former FBI director James Comey if he can put journalists in jail.

The justice department has responded by launching a record number of leak cases and have weighed changing the rules to make it easier to subpoena journalists.
But officials at the justice department aren't so stupid as to overtly act on the president's most controversial musings and immediately attempt to prosecute New York Times or Washington Post reporters. Give them more credit than that. If they were to do so, the public backlash would be so overwhelming that, even if their case did not fall apart before trial, a judge would almost certainly put an end to it.
There are other, more methodical ways for the justice department to ultimately get what Trump wants, and the case against Assange is their perfect vehicle.
What's the most effective way to curtail the rights of all people? First go after the unpopular; the person who may be despised in society and will have very few defenders. Assange fits this profile to a T. Once there is law on the books that says "this aspect of journalism is illegal", it becomes much easier for the justice department to bring other cases against more mainstream government critics down the road, and much harder for judges to immediately dismiss them.
Instead of thinking, "I hate Julian Assange, so I'm glad he's going to be punished," ask yourself this: do you trust Trump's justice department to protect press freedom?
The Trump administration has attempted to disguise its motives in the Assange case by avoiding overtly criminalizing the act of publishing itself. Instead, they have accused Assange of one count of "conspiracy" to violate a computer crime law when he allegedly offered whistleblower Chelsea Manning help in cracking a password in 2010. (The indictment does not allege they ever did crack the password, nor do they allege it helped Assange get any documents from Manning.)
It's true that most journalists aren't going to attempt to help a source crack a password, and no one is claiming that is some sort of first amendment protected right. But when anyone reads the entire indictment – rather than just the hyperbolic "conspiracy to hack" headline the Department of Justice wants you to see – it's clear that they are using the conspiracy charge as a pretext to target Assange and potentially criminalize important and common journalistic practices in newsgathering at the same time.
The indictment refers to using an encrypted chat program to communicate with Manning for months. It describes how Assange wanted to protect Manning's anonymity and did so by redacting information such as usernames from the documents Manning sent him. It also talks about how Assange requested that Manning send him additional documents and material that were newsworthy.
These are all standard practices for countless journalists around the country and around the world. In fact, using encryption and protecting the anonymity of sources are virtually requirements in an age where leak investigations are common. Reporters would not be doing their job if they refused to ask sources for information and instead waited for it to miraculously drop in their lap.
CNN has already reported that the justice department expects to bring more charges against Assange. Coupled with the fact that there was an ominous reference to the Espionage Act in the current indictment, this all suggests prosecutors might still be thinking about charging him for a crime involving the act of publishing too – a Rubicon that would be an absolute disaster for reporters everywhere.
For those who have been following the WikiLeaks closely over the years, none of the information in the Assange indictment released yesterday is new. In fact, the Obama administration had this exact same information at their disposal since at least 2011, when it first considered indicting Assange. Despite Barack Obama's extremely disappointing record on press freedom, his justice department ultimately ended up making the right call when they decided that it was too dangerous to prosecute WikiLeaks without putting news organizations such as the New York Times and the Guardian at risk.
Virtually all the major press freedom and civil liberties organizations denounced the prosecution yesterday, and expressed extreme concern that even though the indictment was ostensibly about "hacking" that it implicated serious press freedom concerns nonetheless.
At a time when press freedom has never been more at the forefront of the public consciousness, when it is the subject of Super Bowl commercials and celebrity award shows, please do not sit back and say: "Yeah, I trust the Trump administration to protect my rights in this case." It is a recipe for disaster.
---
Trevor Timm is executive director of the Freedom of the Press Foundation
Since you're here… The guardian has a small favour to ask. More people are reading and supporting our independent, investigative reporting than ever before. And unlike many news organisations, we have chosen an approach that allows us to keep our journalism accessible to all, regardless of where they live or what they can afford.
The Guardian is editorially independent, meaning we set our own agenda. Our journalism is free from commercial bias and not influenced by billionaire owners, politicians or shareholders. No one edits our editor. No one steers our opinion. This is important as it enables us to give a voice to those less heard, challenge the powerful and hold them to account. It's what makes us different to so many others in the media, at a time when factual, honest reporting is critical.
Every contribution we receive from readers like you, big or small, goes directly into funding our journalism. This support enables us to keep working as we do – but we must maintain and build on it for every year to come. Support The Guardian from as little as $1 – and it only takes a minute. Thank you.
---
What the 'Pursuit of Assange' Means for Press Freedom
Ylenia Gostoli 
https://www.aljazeera.com/indepth/features/pursuit-assange-means-press-freedom-190413133901719.html
April 13, 2019
London, United Kingdom - Journalists, lawyers, activists and academics have warned that the arrest of Julian Assange could have grave consequences for press freedom if it results in the media's ability to expose government wrongdoings being limited.
The 47-year-old founder of the whistleblowing website WikiLeaks, an Australian citizen, was arrested by British police on Thursday at the Ecuadorian embassy in London, after the South American country revoked his asylum status.
Assange had been locked up inside the embassy since 2012, when he sought refuge there while facing allegations of sexual assault in Sweden. He feared not receiving a fair trial and claimed that the charges were linked to his publishing activities with WikiLeaks.
Assange appeared before a judge on Thursday and was found guilty of breaching bail conditions in 2012. Police said Assange was then "further arrested on behalf of theUnited States authorities" under an extradition warrant.
The US has attempted to portray the case as a security issue.
Assange's extradition hearing will take place in London on May 2.
"This sets a dangerous precedent for all media organisations and journalists in Europe and elsewhere around the world," said his lawyer, Jennifer Robinson, vowing to fight the extradition. "This precedent means that any journalist can be extradited for prosecution in the United States for having published truthful information about the United States."
In 2010, WikiLeaks released a number of classified documents on the Iraq and Afghanistan wars, exposing US war crimes.
The site worked with media outlets - including Al Jazeera - to disseminate the information.
The trove included a well-known video showing two Apache US military helicopters target a group of people in Iraq in 2007, resulting in the killing of more than 23 people including two Reuters journalists.
Former US intelligence analyst Chelsea Manning was found guilty of espionage for the leaks. She spent seven years in prison and was released in 2017 after her 35-year sentence was commuted by President Barack Obama.
But during the US presidential campaign in 2016, when WikiLeaks published hundreds of internal emails that damaged the Democratic candidate Hillary Clinton, Assange was accused of being a stooge of a Russian government's attempt to interfere in the elections. 
Assange's critics credit him with helping Donald Trump clinch power.
But the indictment, dated March 6, 2018, and unsealed on Thursday, has nothing to do with those allegations. 
An investigation by the US Department of Justice never found enough evidence to show that Assange knowingly worked with Russian intelligence to prop up the Trump campaign.
Instead, it accuses Assange of helping Manning crack a password to log into the defence department's computer database with a username other than her own. 
It does not explicitly charge Assange for publication, but accuses him of "conspiring" with Manning to obtain the classified documents.
"It was part of the conspiracy that Assange encouraged Manning to provide information and records from departments and agencies of the United States," the indictment reads.
While the indictment skirts the issue of press freedom by charging Assange with computer fraud, rather than publishing crimes, journalists and press freedom advocates have expressed concern about the allegations of "collusion". 
They argue that it is part and parcel of a journalist's job to encourage sources to provide more information if it is deemed to be in public interest.
"The potential implications for press freedom of this allegation of conspiracy between publisher and source are deeply troubling," said Robert Mahoney, deputy director of the New York-based Committee to Protect Journalists (CPJ).
"With this prosecution of Julian Assange, the US government could set out broad legal arguments about journalists soliciting information or interacting with sources that could have chilling consequences for investigative reporting and the publication of information of public interest," Mahoney added.
Freedom of the Press Foundation executive director Trevor Timm pointed out that "requesting more documents from a source, using an encrypted chat messenger, or trying to keep a source's identity anonymous are not crimes; they are vital to the journalistic process".
"We can no longer allow Assange and his colleagues the latitude to use free speech values against us," US Secretary of State and former CIA director Mike Pompeo said at the time. "To give them the space to crush us with misappropriated secrets is a perversion of what our great Constitution stands for. It ends now."The Obama administration's attempts to prosecute Assange floundered out of concern that doing so would impinge First Amendment rights. But the Trump cohort has been more outspoken, particularly after WikiLeaks began publishing secret CIA surveillance and cyber warfare tools in the series of documents known as Vault 7 in 2017.
The UK's National Union of Journalists (NUJ) condemned the UK government's cooperation with the US in the extradition case.
"The UK should not be acting on behalf of the Trump administration in this case," said the NUJ's assistant general secretary Seamus Dooley, adding that "the manner in which Assange is treated will be of great significance to the practice of journalism".
WikiLeaks has come under fire in the past for publishing unedited information that includes the sensitive personal details of civilians or activists.
"When I dealt with WikiLeaks output, we very carefully went through everything that we were offered and checked that everything was in the public interest," Meirion Jones, an editor at the London-based Bureau of Investigative Journalism, told Al Jazeera. 
At the time of the Iraq and Afghanistan leaks, Jones was working for the BBC.
"We used [WikiLeaks] as a source of information. We did not think of them as a publisher, although the definition of publisher is much more complicated nowadays," Meirion added. "The pursuit of Assange by the American government sends a very clear message to anyone who is looking at leaking documents that they will also be pursued."
Assange remains a polarising figure.
His supporters defend him as a persecuted journalist as detractors point to a political agenda behind his latest activities.
Meanwhile, journalists around the world continue to be killed, imprisoned and intimidated, often at the hands of governments. 
The killing of Saudi journalist Jamal Khashoggi at the country's Turkish embassy is among the recent high-profile cases. In Europe, investigative journalist Jan Kuciak and his fiancee Martina Kusnirova were murdered in Slovakia last year, sparking protests against state corruption. Maltese journalist Daphne Caruana Galizia's was murdered in 2017 while investigating government corruption.
"Politically, the way the Americans are trying to get Assange and therefore to go after other whistleblowers is something we need to be conscious of," Scott Lucas, an international politics professor at the University of Birmingham, told Al Jazeera.
"Assange is perhaps the worst poster boy for press freedom given his activities. But we still have to recognise [the] issue of press freedom, even if it is Julian Assange in this case."
---
Ylenia Gostoli is a London-based reporter who previously freelanced from Rome and the occupied Palestinian Territories.
Al Jazeera is an independent news organization funded in part by the Qatari government.
In 2006 Al Jazeera Satellite Network was changed to a public utility, private corporation by a public memorandum and articles of association in accordance with the provisions of (Qatar) Law No. 21 of 2006, and was re-named "Al Jazeera Media Network". Thus, it is private corporation established for the public benefit.  The Board of Directors of Al Jazeera Media Network issues directives, decisions and related regulations.
Al Jazeera English is part of a growing network comprising more than 10 channels and divisions. Launched in 1996, Al Jazeera Arabic was the first independent news channel in the Arab world dedicated to providing comprehensive news and live debate. The network challenged established narratives and gave a global audience an alternative voice one that put the people back at the centre of the news agenda and quickly made it one of the world's most influential news networks.
Each subsidiary in the Al Jazeera Media Network follows the same principles and values that inspire it to be challenging and bold, and to provide a voice for the voiceless in some of the most unreported places on the planet. It's a responsibility shared by every employee at the Al Jazeera Media Network. From our headquarters to our broadcast centres. In more than 70 bureaus around the world, we strive to deliver content that captivates, informs, inspires and entertains