labor
Newest Automation Plan Hits A Nerve with LA Port Communities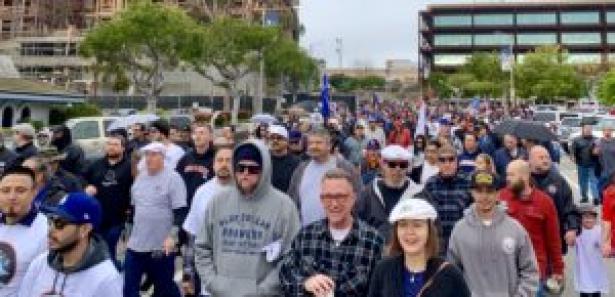 Thousands of concerned community leaders and ILWU members marched down San Pedro streets to voice concerns about automation proposal.,
Being one of the nation's largest and most efficient ports has long been a source of pride, good jobs, and prosperity for working-class communities surrounding the mega-port complex of Los Angeles and Long Beach.
Despite hard work that set cargo-handling records for the last three years in a row, corporations continue proposing automation projects to replace dockworkers with robots.
Automation at APM/Maersk

The latest controversy involves a plan by the world largest shipping company – Maersk – to automate their gigantic APM Terminal 400 at the Port of Los Angeles. The fear is that hundreds of jobs will permanently disappear and hurt surrounding communities where families, businesses, service providers and charities depend on good-paying port jobs.
Massive community response
The automation plan at Terminal 400 would be the third, though much larger scale, during the past five years to trade jobs for robots. The prospect of more automation pushed thousands of concerned community members to take action on March 21. The day began with an early-morning rally in San Pedro, followed by a march through the streets that led to a massive public hearing with LA's Port Commission. The Port's large headquarters couldn't handle the huge crowd, so arrangements were made ahead to meet in the nearby Cruise Terminal baggage tent, where most of the 1750 chairs were filled during nearly four hours of testimony and debate.
Port Commission hearing
Automation was on the agenda because Local 13 President Mark Mendoza appealed what Port staff described as the routine approval of an environmental permit at a January 24 Commission meeting. Approving that permit would have cleared the way for automation work to proceed at Terminal 400. The basis for the union's appeal, and requests for approval by APM/Maersk officials, their attorney, and the PMA employer group, quickly developed into a broader discussion about the impact of automation on the community.
Strong union support
Local 13 Vice President Gary Herrera set the stage by focusing debate on how job losses would impact people and businesses from surrounding communities. He said that the ILWU/PMA contract issues involving automation should be addressed between the union and employers – not Port Commissioners – as the union's focus is community-based. Initial testimony from union leaders included strong statements by Local 91 President Danny Miranda, Local 63 President Joe Gasperov, Pensioner President Greg Mitre, along with Local 13 members Mark Jurisich and Ray Familathe. A contingent of Teamsters were on hand to lend their support, as were representatives from the California Nurses' Association (CNA) and several staffers from the community-labor support group, the Los Angeles Alliance for a New Economy (LAANE).
Political leaders weigh-in
Elected officials added their unanimous support for good jobs, including Councilmember Joe Buscaino who said he may bring the issue before LA's City Council. County Supervisor Janice Hahn criticized the company for cloaking their automation plan with claims of environmental concern because they plan to use electric vehicles. "We don't have to decide between good jobs and clean air," she said, "we can have both."
Long Beach Community College Board member Vivian Malauulu's testimony was followed by statements of support read from two Congressmembers and more than a dozen state legislators, including Assembly Speaker Anthony Rendon.
Small business owners testified that automation and the loss of good jobs will hurt local businesses and the customers they serve. John Bagakis of Big Nick's Pizza told Commissioners about the donations and support he now provides to families and workers in need, something he said would be hard to continue if he loses business from dockworkers. Sandra Marchioli of Godmother's Saloon made a similar point.
Mayor could play a role
Perhaps the most important statement read at the meeting came from LA Mayor Eric Garcetti, who asked Port Commissioners to consider delaying any action until mid-April. He also offered to mediate discussions in the meantime and encouraged both sides to look for compromises. Commissioners seemed receptive to the Mayor's offer.
Commissioners weigh-in
Response and comments from Port Commissioners ranged from cool diplomacy to expressions of support and solidarity for the plight facing workers and the community. Commissioner Diane Middleton, recently appointed by Mayor Garcetti to fill the seat held by former ILWU President David Arian until his untimely passing in early January, posed some of the sharpest and most effective questions.
She was joined by Commissioner Anthony Pirozzi, Jr., who asked if automation might encourage a "race to the bottom" and said a "transition plan" might be needed to help workers. He also asked a question that was on the minds of many: "why can't we clean the air by having people drive electric vehicles on the docks?"
Surprising study finding
One of the most important facts to emerge at the hearing came from an unexpected source: a 2018 report by McKinsey & Company – a premier global management consulting firm. Their report titled, "The Future of Automated Ports," concluded that companies shouldn't expect to recover automation costs that were unlikely to pay for themselves. The report indicated that companies may lose money in the short run. Even more important were the opinions of port executives who were interviewed by the study's authors, concluding that fully automated ports are generally not as productive as ones operated by humans.
This could be disappointing news for the Ports of LA and Long Beach who invested heavily and provided generous subsidies for two previous terminal automation projects – based on claims that productivity and through-put would exceed human operations. This means present investments may not be justifiable from a market standpoint, in addition to humanitarian concerns.
Concluding arguments
The final appeal for Commissioners to reject the company's permit application and automation effort was presented by Local 13 Vice President Gary Herrera – who approached the podium surrounded by ILWU officers, including International President Willie Adams, Vice President Bobby Olvera, Jr., Secretary-Treasurer Ed Ferris, Coast Committeemen Frank Ponce De Leon and Cam Williams, ILWU Canada President Rob Ashton, Local 13 President Mark Mendoza, Local 63 President Joe Gasperov, Local 94 President Danny Miranda and Local 13 LRC Rep Mike Dimon.
"The issue of automation is bigger than the ILWU-PMA contract," said Herrera, "it's about the community, the economy and ultimately the future of the middle class." He continued with a line that hit a chord with most in the room: "Robots do not pay taxes, robots do not shop in our communities, robots do not pay rent, they don't buy homes, they don't lease office space, they don't deposit money, robots do not vote."
Voting for more time
The meeting concluded with Commissioners embracing Mayor Garcetti's offer to mediate and search for different approaches. What those might be wasn't clear as The Dispatcher went to press in late March, but future issues will update this important story.