Will Regulators Ban a Potentially "Catastrophic" Refinery Chemical?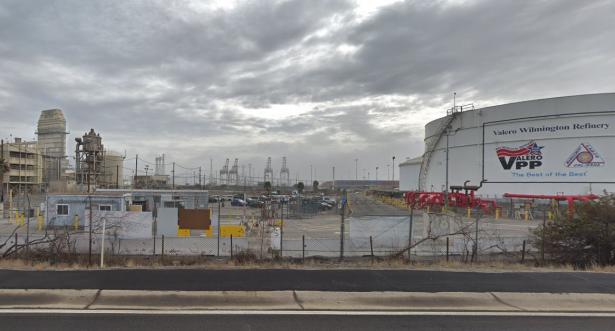 Valero's Wilmington refinery.,Google Images
Hydrofluoric acid has been used in the oil refining industry for many decades to manufacture high-octane gasoline. If accidentally released into the air, hydrofluoric acid can form a highly toxic vapor cloud at ground level with the potential to harm or kill those standing in its way. It can travel for miles. Possible health impacts from acute exposure include severe blistering of the skin, organ damage, heart failure and suffocation. Because of these risks, many oil companies have turned to alternative chemical catalysts like sulfuric acid that significantly reduce the airborne risk to the nearby community.
---
---
But two facilities in Southern California, the Valero refinery in Wilmington and the PBF-owned refinery in Torrance, resisted taking this action and switched to modified hydrofluoric acid (MHF) instead. They are the only two oil refineries in the state using MHF today, and they both can store huge quantities of the chemical on-site: approximately 25,000 gallons in Torrance and 55,000 in Wilmington. MHF is a chemical mixture that the refinery industry argues reduces the risk of a dense, dangerous vapor forming in the event of a leak. But other experts say the science doesn't back up this claim. A release can cause "the same health impacts" as unmodified hydrofluoric acid, said the South Coast Air Quality Management District's (AQMD) deputy executive officer, Philip Fine, at a public meeting earlier this year.
Which is why many politicians, government agencies, and residents who live in the densely populated neighborhoods in L.A.'s South Bay say that it's time to see the chemical banned altogether. Many note that communities bordering these refineries are already among the most environmentally burdened and poorest in the state—a predicament the California attorney general's office has called "particularly unfair."
"There's no reason for me to believe that the information I see for modifying hydrofluoric acid is correct," says Ronald Koopman, a retired senior scientist from Lawrence Livermore National Laboratory. Koopman was one of a group of experts who, in the 1980s, studied the dangers of hydrofluoric acid. He says "thorough scientific tests" haven't been conducted into MHF under the conditions it's currently used at the Wilmington and Torrance refineries, and he regards it as "too hazardous" to risk, especially when refineries have the "considerably" safer option of using sulfuric acid.
Others, including oil industry representatives, warn that the cost of switching to an alternative could lead to gasoline price hikes and job losses in the area through plant closures. The Torrance Refinery Company (TORC), a subsidiary of PBF, lists 850 regular employees and contractors. This leaves the AQMD facing a crucial decision—whether to permit the continued use of MHF with certain safety standards in place or to ban it completely. If the latter, the agency must decide how quickly to phase it out. This decision has been brewing for decades.
Back in 1991, the AQMD adopted a rule putting the South Bay on a path toward potentially banning hydrofluoric acid. A lawsuit saw the rule thrown out on a technicality, however, and the refineries subsequently replaced hydrofluoric acid with a version modified with an additive. At the right quantity, the refineries argued, the additive would help prevent the hydrofluoric acid from forming a dangerous vapor cloud. Over the years, the refineries have slashed the amount of additive used.
A lot rides on the AQMD's decision. By their own calculations, tens of thousands of residents in Wilmington and Torrance are potentially at risk in the event of a large-scale MHF release at either plant. The L.A. County Department of Public Health contends that an evacuation zone could stretch as far as 10 miles, potentially impacting millions.
  *   *   *
The possibility of a dangerous accidental release was made frighteningly clear in Torrance back in February 2015. An explosion shot a 40-ton piece of equipment into the air, and it landed five feet from two hydrofluoric acid storage tanks. Two workers were injured, though not seriously. However, the accident could have been "much more catastrophic," warned Vanessa Sutherland, head of the Chemical Safety Board, the federal agency that was charged with investigating the accident.
The explosion triggered a flurry of activity at the local and state regulatory level—including a number of state bills targeting refinery safety standards—which have set the stage for the AQMD's impending decision. The timeline remains sketchy. The agency is currently in talks with industry and community groups. District director of communications Nahal Mogharabi  said that the agency will present findings at the next AQMD refinery committee meeting, to be scheduled in the coming months. The final decision, however, rests on the shoulders of the AQMD's governing board.
Valero did not respond to multiple requests for comment, nor did the United Steelworkers, a union representing workers at both refineries. TORC responded with a 10-page statement that outlines the same arguments that many oil refinery representatives and workers have made publicly in recent years.
"Despite the unsubstantiated claims activists are circulating on this issue, MHF is safe for use," the company explained in the statement, listing a number of "safety mitigation" measures it has already made, or intends to make, including steel or water barriers to block or knock down a release. The company's statement primarily focuses on the potential costs of switching to sulfuric acid, which the AQMD estimates at $300 million. TORC vigorously disputes this number, arguing it could be as high as $900 million. In the event an MHF ban prompts both refineries to close down, it says, the broad impacts would cost consumers "an additional $7 [billion] to $8 billion annually."
While sulfuric acid poses its own problems, Valero has selected to build new alkylation units which use that chemical, rather than MHF, at its refineries in Louisiana and Texas.
*   *   *
For concerned community members, the answer is simple: an outright MHF ban — end of discussion. For refineries to continue using MHF, they must prove that the safety measures they have implemented and proposed will meet a certain performance standard. But some are concerned just how stringent those safety standards will be. The AQMD's own board members have publicly cast doubts on the efficacy of the modifications, highlighting 10 MHF leaks at both refineries since 2017 as an example of the continuing risks. Nevertheless, a number of experts and community members point to the oil industry's powerful political influence, and they fear the AQMD will agree to standards that won't adequately protect the public.
Koopman underscored the complexity of the problem facing engineers, especially when other potential disasters, like earthquakes and terrorist attacks, are factored in. "I think there are too many ways for things to go wrong to make this project easy," he says.
Then there's the issue of disaster preparedness. The Los Angeles County Department of Public Health recently warned that in the event of a large-scale release, emergency responders, emergency rooms and burn centers would all be overwhelmed and underprepared, and that local clinics aren't adequately stocked with calcium gluconate to treat burn victims. L.A. County Supervisor Janice Hahn, who also sits on the AQMD board, wrote in a statement to Capital & Main that "any significant release of MHF would be devastating and deadly no matter how prepared local authorities are."
Local activists also point out that many of the neighborhoods living in the shadow of the two refineries already bear a disproportionate weight from industry's heavy environmental footprint.
Some communities surrounding the Wilmington refinery, for example, are among the worst in the state when it comes to toxic releases and hazardous waste. They are also among California's poorest. As Julia May, a senior scientist with the non-profit Communities for a Better Environment, points out, in the event of a catastrophic MHF release, "the communities closest to the refineries who would be most impacted and who would have the highest risk of death are communities of color."
Sally Hayati is director of Ban Toxic MHF and was part of an AQMD working group on the new rule. A scientist and engineer, Hayati has over the years become a vocal MHF opponent. She said that prior to a recent community meeting, AQMD staff failed, until prompted, to include in the meeting agenda an option whereby MHF is phased out without the refineries first having to meet a safety performance standard. Hayati sees the omission as an indication of how the board will eventually vote.
"The process at this point is little more than window dressing for the refinery industry," she said. "They're making a decision to keep a very deadly and dangerous chemical that could kill tens of thousands of people in order to keep two independent refiners happy."
---
Copyright Capital & Main. Reprinted with permission.
Dan Ross is an L.A,-based freelance journalist who has appeared in the Guardian, FairWarning, Newsweek, Salon, Alternet and Truthout, among other outlets.