Every Jew in America Should Actively Protest Trump's Concentration Camps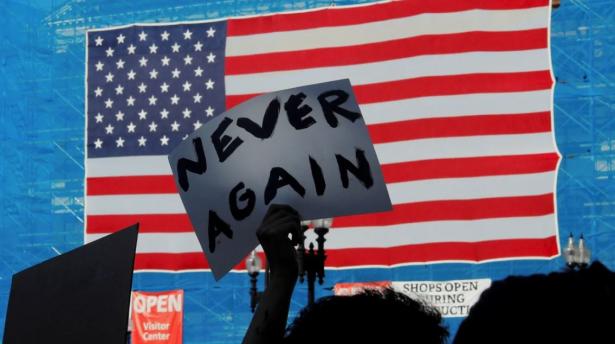 Demonstrators march during the Never Again Is Now protest against ICE Detention camps in Boston, Massachusetts, July 2, 2019.,Brian Snyder/ Reuters // Haaretz
Like most American Jews I know, I was raised with a thorough education about the Holocaust. I can't remember a time when I didn't know about it.
My family never minced words about the end result, nor about the political climate and policies that helped it get there - the process of gradual normalization of discrimination, exclusion, expulsion and extermination. 
As a teenager, I had workbooks in Hebrew school that covered the Kindertransport, I read excerpts from diaries describing the work camps that predated the death camps, and I visited Auschwitz and Birkenau when I was 16.

And through all this and more, I, like any other Jewish person, absorbed the mantra: Never Again.  
In America today, we're now at a point where more and more reports of horrific border conditions are coming to light. And that is driving many of us American Jews to action. 
 
Families are being torn apart. ICE is terrorizing our neighbors and communities. Children are imprisoned in concentration camps at the border, and denied toothpaste, soap, proper food, medical attention, and any shred of dignity that they deserve.
Reports of physical and sexual violence inflicted on people in government custody are widespread. Older kids being forced to take care of toddlers, and adults being forced to drink toilet water. Dozens of people, including at least seven children, have died. 
 And these are only the stories that we know. 
These problems aren't just at the U.S.-Mexico border. They're everywhere - in our own backyards. When I joined 200 people taking direct action at the Elizabeth Detention Center on June 30th, I only had to travel about 10 miles from New York City to get there. 
200 of us marched about a mile to the detention center in New Jersey. When we got there, some of us blocked access to the facility. 36 of us were arrested, including me.  
We made a conscious choice to get arrested that Sunday, to draw attention to the injustice we are fighting. That  choice came with a lot of privilege; privilege that is not afforded to others at the police station we were held at, and certainly not to the thousands who are being detained and rounded up right now across our country.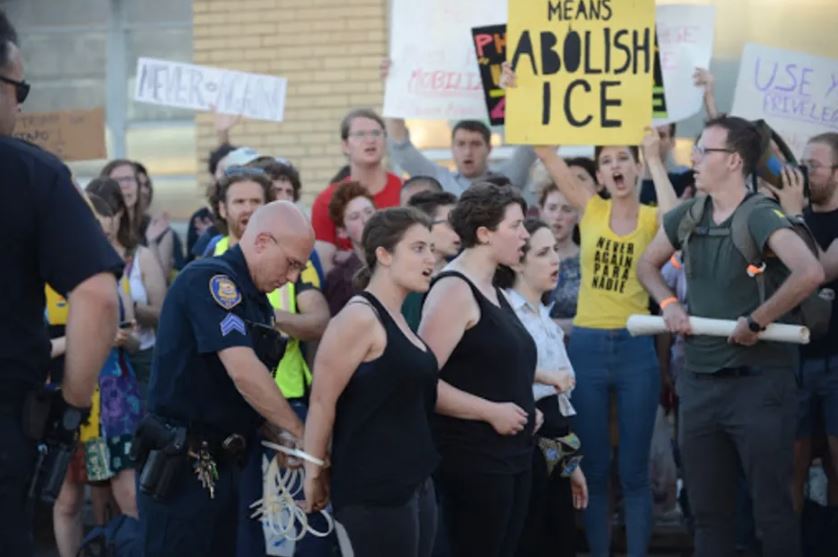 Countless friends have reached out to me to tell me that taking action was brave. Brave? I believe that it was absolutely necessary. 
I'm a white U.S. citizen, and I knew I'd be fine. Unlike the folks we were standing with and for, I am not targeted and criminalized by the state. On the day of our action, my biggest concern around getting arrested had more to do with logistics than a fear of the impact on my life. Any minimal discomfort pales in comparison to the experiences of those who are far more marginalized.
Those who showed up for Never Again Action in New Jersey, and later, in Boston, Rhode Island, Los Angeles, Philadelphia, and San Francisco felt the same way. Some, like me, had a substantial history of organizing and activism; others felt compelled to show up and participated in their very first demonstration. 
That so many of us U.S. Jews feel the need to do something, right now - something more than just marching - makes me somewhat hopeful, but also underscores how dire this situation is, and how much we need to keep going.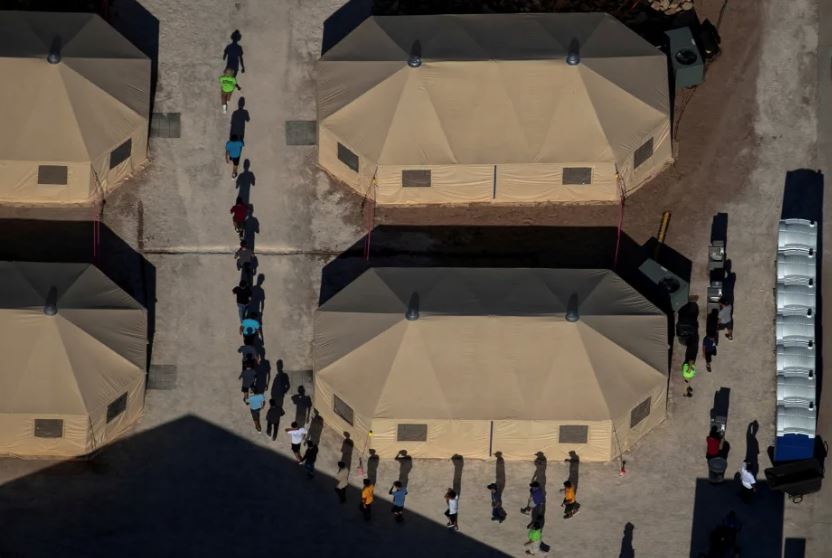 It's been infuriating watching politicians and institutions debatewhether or not to call the concentration camps at the border by that term - a term that is their correct definition, or by some euphemistic flowery words that skirt the issue at hand.
These are the facts. People are being separated from their families, neglected, physically and sexuality assaulted, confined in cages, in extremely unsanitary conditions, and dying. By any definition, that is a violation of the most basic human rights. Any fixation on the wording of the facilities functions to detract from those urgent truths.
While I understand that we, as Jews, are obviously not a monolith, and come from a wide variety of backgrounds, demographics, and life experiences, I have no patience for anyone who is more offended by the language used to describe the camps than the massive human rights violations taking place inside them, and the sheer fact that they exist at all.
What is the point of saying "Never Again" if we don't push to abolish our present-day American concentration camps? What is the point of saying "Never Again" if we don't push to abolish the institution that runs them? 
And as more and more reports expose conditions unfit for any living thing, let alone human beings, how much further do we have to get to so more U.S. Jews will accept the terminology and start pushing back against these inhumane policies? We can't let this situate deteriorate any further, or continue any longer. That is the point of "Never Again."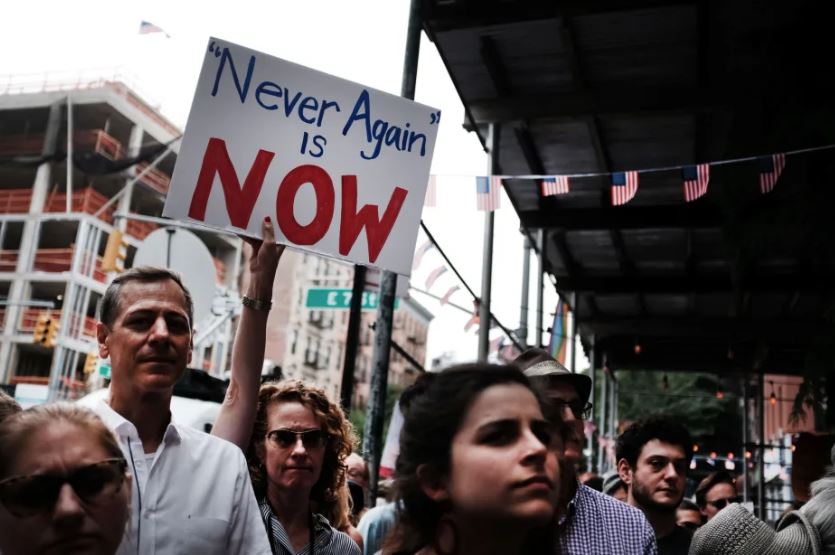 Since the arrests I have seen more people from my community realize this, and spring into action. So many Jews from all walks of life have taken it upon themselves to join the call to demand an end to this suffering. 
It's easy to see why. Whether or not we're personally descended from Holocaust survivors, we carry ancestral trauma of some kind in our core, and we have been trained to see the warning signs all of our lives.
We must reclaim our power as the children of the Holocaust from those who are weaponizing our trauma - those who set up camps against  other communities, or those who take "ownership" of our history so we are dissuaded from making the analogy we see with our own eyes. 
And so we say: Never Again.  
These systemic injustices against immigrants aren't new, even though they've gotten to a more horrific level. Under the Obama administration, three million immigrants were deported, and countless families were separated.
Opposing the vile conditions of the camps is the bare minimum of what we as U.S. Jews should be doing right now. 
It isn't enough to simply hate the camps and demand they end in their current form. We need to push to close these camps in their entirety. We need to treat the asylum-seekers at the border, along with all immigrants across the U.S., with the basic level of dignity, protection, and respect that they deserve.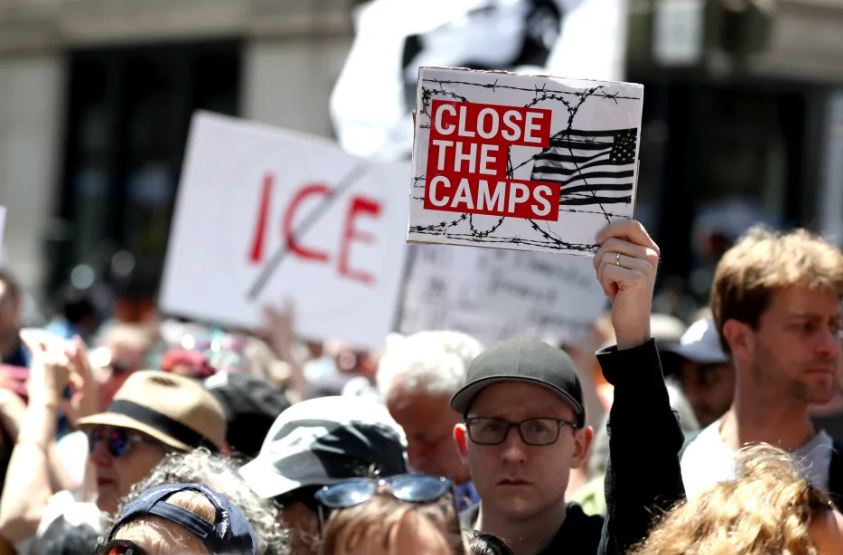 It's erroneous to think that our elected officials, including Democrats, will save the day. Time and time again, the immigrant community has seen nothing but empty words and hollow promises as conditions worsen exponentially. Congress has done nothing to halt ICE's reign of terror; instead, they vote to give abusive institutions more funding. 
Calling your representative may be a start, but definitely isn't the end of what needs to be done. It is the time for activism. 
For starters, we need to continue to stop as many ICE detention centers around the U.S. continuing with business as usual. 
We need to target institutions that continue to do business with ICE. But we also need to go beyond just closing the camps - and abolishing ICE itself.
We need to continue to advocate for all immigrants, regardless of their status. We need to support immigrant-led initiatives, such as pushing for undocumented people to get drivers' licenses - a way to prevent folks from ending up in custody. We need to hold all of our politicians accountable, including (and especially) the ones we vote for. 
Some might argue that these statements are too radical, or too unrealistic, but in moments like these, we have to go big. We can't settle for the bare minimum, and keep lowering our standards of what's acceptable for the immigrant community - from detention conditions to legislation.
If, as Jews, we say "Never Again," we have to truly mean it - for anyone.
 
[Hallie Berkson-Gold is a queer Jewish organizer based in New York, with a background in caregiving, community support, and neurodiversity advocacy. She is an activist with Never Again Action. Twitter: @BerksonGold]
Read more: Donald Trump is still setting up concentration camps on American soil 
 Jewish Activists Who Slammed ICE Detention Facilities as 'Concentration Camps' Arrested for Protesting