Critical Resistance Summer Campaign Updates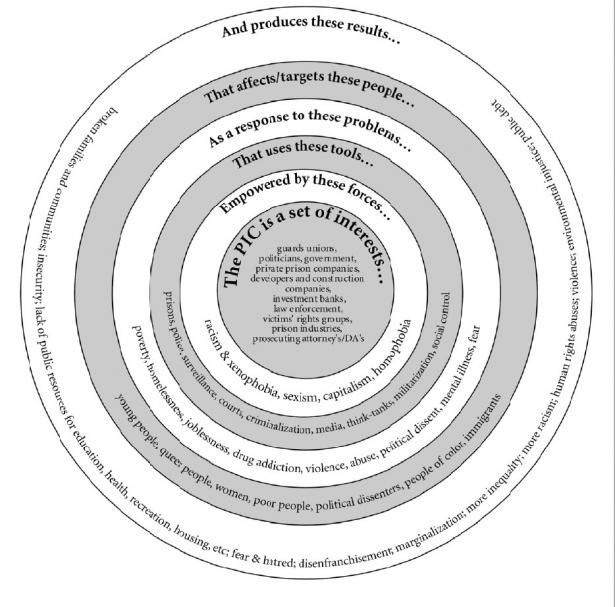 , Critical Resistance
New York City

 
 
CR NYC continues to fight against New York City Mayor DeBlasio's plan to build four borough based jails in Manhattan, Queens, the Bronx, and Brooklyn.
Due to the organizing, mobilization, support for imprisoned people, and research of the No New Jails coalition, all four of the impacted Community Boards have made advisory recommendations to their Borough Presidents to refuse this new jails plan.
This recommendation speaks loudly of a shifting public opinion against caging and jails as necessary infrastructure. Within the next thirty days, each borough president will take this into consideration as they make their own advisory recommendation to the City Planning Commission. 
While each of the proposals have been moving individually through their borough's procedure, after each of these phases, the jail construction approval process will ultimately come to a single City Council vote. No New Jails voice has been critical in building momentum against this plan by continuing to assert that the City must close Rikers immediately without building any new jails. Earlier this month, imprisoned organizers also released an important statement in solidarity with No New Jails, uplifting abolitionist efforts against DeBlasio's jail construction plan. And we've also been learning from the successful Community In Unity coalition campaign against a jail in the Bronx a decade ago (which CR NYC was a lead member of)!

Join CRNYC and NNJ in demanding that borough presidents oppose jail construction, not only for their borough but for all of New York City!
Oakland
 
CR Oakland has organized with No New SF Jail coalition since 2012 in community efforts to stop jail expansion, work towards decriminalization, and build up community-based and life sustaining resources in San Francisco (SF).
In 2019, we are still hard at work together to continue halting jail construction and imprisonment in SF's jail system with the campaign to shut down the seismically unsafe jail at 850 Bryant and to put decarceration plans into action.
Despite policy changes and programmatic expansions to try to reduce the jail population, the population size in the jail— as well as in community supervision and on electronic monitoring— is increasing. More cops have taken to the streets and there has been a concerted effort to remove and criminalize houseless people. San Francisco Mayor Breed has requested 160 new police positions in her budget! As a result of this policing, a staggering 40% of people in the jail system are houseless people.
Even though city officials agree that 850 Bryant needs to close, they are stalling in order to put forward their wonky jail replacement ideas that include sending imprisoned people to Santa Rita Jail in Alameda County, refurbishing and reopening the closed County Jail 6 in San Bruno, or building a new jail.
Each of these proposals is unacceptable and we can't wait any longer to get imprisoned people out of the building and close 850 Bryant.
We are emboldened by recent efforts to legislate the closure of Juvenile Hall and know the same is possible for 850 Bryant, a seismically catastrophic building.
CR Oakland has put forward budget and policy recommendations
and is also working to increase outreach to people in the SF jail system to engage them in advocacy and leadership around the closure of the jail. We ask
San Francisco and Bay Area organizations to join this fight
over the next couple months. 
With the Stop Urban Shield coalition, CR Oakland won a hard fought victory this spring in ultimately ending the militarized SWAT training and weapons exposition! In the meantime, CR Oakland members have continued to investigate emergency preparedness without policing through surveying community members for our second Oakland Power Project. After winning the struggle to end Urban Shield, CR Oakland has decided to consolidate all chapter campaign efforts into the campaign to close 850 Bryant. This additional CR membership energy will focus on outreach and amplify what we know: policing and imprisonment are inextricably tied together. CR will continue to monitor policing in Oakland, respond to movement partner requests, and sustain Oakland Power Projects as we fight jail expansion in San Francisco.
Our Inside-Outside Reading Group (the prisoner + CR volunteer member study group started in 2018) is also supporting the Close 850 Bryant campaign! Through our mail correspondence method, we are communicating with people inside the SF jail system about what's needed from their perspectives when the City closes the jail. It's all hands on deck for CR Oakland this summer! Together with our partners we will close 850 Bryant!
Los Angeles
 
After having won a monumental victory this spring with the Justice LA coalition in defeating the women's jail plan, our Los Angeles chapter (CRLA) continues to fight the construction of a jail by another name, the "Mental Health Treatment Center" (MHTC). We know that the construction of a strong, healthy, and robust Los Angeles (LA) County must come through community-based care and investments in local neighborhoods rather than jail construction. As a part of the Alternatives to Incarceration initiative in JusticeLA (JLA), we have developed and presented proposals that demonstrate this knowledge and make it clear to decision-makers.
 
CRLA and JLA scrutinizing the county's ill-made plans and strategizing resistance at every step. 
We have received the original plans for the mental health jail and a copy of the $1.7 billion contract for construction of the new "MHTC."
After assessing those documents, we continue to assert that LA County will be moving forward with a design very similar to the mental health jail already planned—i.e. a jail is a jail is a jail, not a "treatment center." As we learned this week, the CEO and others in the County would like for the "MHTC" construction to include a 2,400 person jail and 900 person locked hospital on a centralized site with heavy involvement from law enforcement and requiring forced treatment and control. But that's not all! There are even discussions of putting the proposed women's jail and the toxic Mira Loma site back on the table for opening in 2024!  
Portland
The Gang Enforcement Team (GET) works to harass and profile Portland residents of color and a 2018 audit found that GET traffic stops disproportionately target Black people. The areas targeted by the GET are the areas of highest concentrations of Black, Latinx, and working class Portlanders - North, Northeast, and East Portland, where there is also heavy gentrification. We refuse to let the GET or other gang policing be used to repress, control, isolate, gentrify, and displace our communities.
 
Although the City Commissioners ultimately did not vote to end this racist anti-gang policing program this spring, Care Not Cops' demands helped elevate the issue to city-wide prominence. As a result, decision-maker Joann Hardesty has taken up the charge to end the GET. CR PDX and CNC will continue to push to dismantle the Gang Enforcement Team (or whatever city officials rename it next) and to ensure that Portland's communities will instead receive care and life-sustaining resources.
Care Not Cops is planning an event on July 13th that will feature community education to fight anti-gang policing, presentations from partner organizations, alternatives to 911, community-building, and performances.
Dismantle the prison industrial complex with abolition.