Puerto Rico's Privatizers Are Finally Getting What They Deserve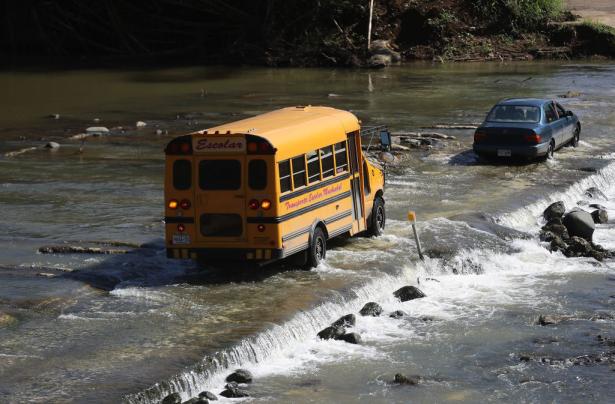 A school bus crosses a makeshift automobile bridge, after the original bridge was washed away during Hurricane Maria flooding, on December 20, 2017 in Morovis, Puerto Rico. , Mario Tama / Getty
One of the prime contributors to the suffering of Puerto Rico following Hurricanes Irma and María may be headed to prison. Julia Keleher, the Republican former secretary of education of Puerto Rico who infamously closed 442 schools on the island, was arrested on charges of fraud in Washington D.C. on July 10. Keleher's arrest is one of the latest in a series of corruption-related scandals, resignations, and cabinet dismissals which have pushed the conservative governor of Puerto Rico Ricardo Roselló's government into a state of crisis in recent months.
Keleher, who is not Puerto Rican, is accused of using her position as secretary of education to give her associates preferential treatment in the awarding of bloated government contracts. One of the companies that she is accused of favoring was the "only company not qualified for the contract, and was the worst applicant" according to the indictment.
Keleher resigned in disgrace from her position as secretary of education in April of this year in part because of pressure from the federal investigation. But it was also because of the spotlight placed on her by the #Juliagohome movement of public education advocates who have stood up against her privatization schemes for Puerto Rico's school system at every step of the way.
While Governor Rosselló justified Keleher's outrageously high $250,000 annual salary as necessary to attract a leader of "global quality" to Puerto Rico, education activists pointed out that her lack of background in education made her unqualified to run their public education system.
In her first few months in office, Keleher made it clear that she wasn't interested in public education at all. She was hired, after all, to break up the public system, impose cost-cutting neoliberal austerity measures such as charter schools and school vouchers, decimate the teachers' unions, and privatize pensions. Her experience in business meant she was perfectly qualified to make working-class people pay Puerto Rico's illegal debt to Wall Street.
Hurricanes Irma and María, which devastated Puerto Rico in November of 2017, provided a perfect storm of events to justify gutting the school system in Puerto Rico. The reaction of ordinary people after the hurricanes was to immediately help one another by turning schools into community centers to get food and other essential supplies to displaced and impacted people. But the reaction of Keleher and the Roselló government was to shut down the school-based community centers under the guise of safety concerns.
Determined to see their shuttered schools reopen, educators, students, and family members sat in, protested, and organized. They led pickets at their schools and at the Department of Education headquarters in San Juan, demanding that their schools be reopened. At one demonstration at Julia Keleher's office less than two months after María, she had twenty-one teachers and educational leaders arrested.
Less than three weeks after the hurricanes ravaged Puerto Rico, while most people still had no electricity and many were still struggling to find food and water, Keleher renegotiated a controversial $16.7 million contract with a California-based company to run a "Tus Valores Cuentan" or "Character Matters" campaign in Puerto Rican schools. The company claimed to teach children citizenship, responsibility, fairness, caring, trustworthiness, and respect. Critics of the condescending program pointed out that this was done without any consultation with educators and that the funds could have been used to hire 800 educators, school-based psychologists, and social workers to address the actual social and emotional needs of students in crisis. Several months later the contract had to be cancelled under pressure from public outrage over the waste of funds.
Keleher's record as secretary of education is marked with acts of cruelty that have affected hundreds of school communities. Take the Luis Muñoz Rivera (LMR) Elementary School in Dorado. At the end of the 2018 school year, Keleher's office informed the school leaders, educators, and families of LMR that their school would close permanently. The decision was announced without any justification despite the fact that the school had no structural damage, was at full enrollment, and catered to many children with special needs. All summer the mothers and grandmothers of the community led an encampment at the gates of the school, which they named the "Keleher Summer School." The families and educators spent their summer vacation bird-dogging Keleher at every public appearance to try to get answers to why their school was being closed.
Carmen Negrón, a leader of the encampment and mother of a child who went to LMR, responded to Keleher's arrest this month with tempered optimism. "We are happy because we have finally started to see some justice. I say 'started' because in order to repair the emotional damage Keleher did to our community she needs to go to jail, return the money she stole with interest, and give us our school back. The children are still very traumatized by the loss of their school. We are also proud because we can see the light of justice at the end of the tunnel. Our fight has begun to pay off after one year of difficult struggle."
The Federación de Maestros de Puerto Rico teachers' union (FMPR) was fighting against the closure of schools like Luis Muñoz Rivera and hundreds of other schools like it before Keleher came to Puerto Rico, and the struggle continues now that she is gone.
FMPR president Mercedes Martínez Padilla called Keleher's arrest a "vindication for educators, public education and the children of Puerto Rico … It is time to continue the struggle to reverse these disastrous, so-called educational reform policies that harm instead of help our children. We have to stand up for what is right and rebuild what this government administration has destroyed. Education is our hope for the future and for a better Puerto Rico."