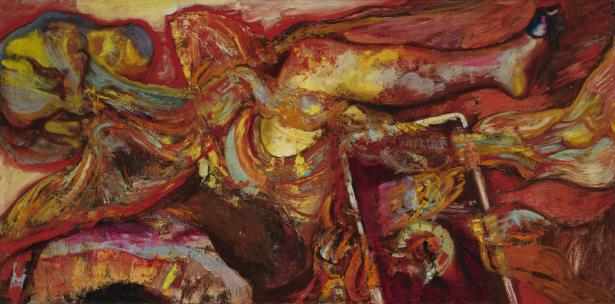 Female Leg, 1951, Hyman Bloom, oil on canvas.,Timothy Phillips. © Stella Bloom Trust. Courtesy, Museum of Fine Arts, Boston.
We live in the golden age of memorials.
I once would have written that line intending that it be read with a celebratory inflection. Now I mean it with a dose of irony, even a little sadness.
We have memorials that touch on an expanding range of topics, memorials of ever-greater creativity. Memorials put up, and memorials ripped down.

Shouldn't we be nervous by our burgeoning memorial culture? Is it mere coincidence that memorials are proliferating in an era of intense inequality, growing violence, and heightened nationalism worldwide? We are mining our darkest history and celebrating our greatest individuals and achievements. But are we being inspired to change a fractured world? I hesitate to even suggest this: Do we avoid taking action in the world on behalf of our values, or against destructive elements, because we have increasing numbers of memorials in which to deposit these concerns? The words of Austrian writer Robert Musil should hang over our heads: "There is nothing in this world as invisible as a monument."
My thinking about our fervent public debate about memorials concerning African-American history was unstuck by a recent visit to Boston's Museum of Fine Arts (MFA). Chance encounters with unexpected works of art can promote a dialogue in one's mind. Look up, over the internal walls you have created between your thoughts, and you find that wisdom lies just over there.
The Bride, 1941, Hyman Bloom, oil on canvas.
The Museum of Modern Art, New York. © Stella Bloom Trust. Courtesy, Museum of Fine Arts, Boston.
Boston artist Hyman Bloom's spectacular, explosive paintings of opened bodies—bodies subject to autopsy, bodies with the insides hanging out, bodies lying in a morgue—draw you in, even as you think you should be repelled and look away. They are not beautiful in any traditional sense, and they are not repulsive in a way you might imagine.
The Greek philosopher Heraclitus said that "we both step and do not step in the same river." On a different day, the meaning I would glean from these paintings might take me in any number of directions, but on that day at the MFA, Bloom's paintings immediately brought to mind the writings of Ta-Nehisi Coates. In Letter to My Son, Coates insists that we recognize the violence done to black people over the course of American history; indeed, that this violence is a central story of American history and the heritage of the country: "But all our phrasing—race relations, racial chasm, racial justice, racial profiling, white privilege, even white supremacy—serves to obscure that racism is a visceral experience, that it dislodges brains, blocks airways, rips muscle, extracts organs, cracks bones, breaks teeth. You must never look away from this. You must always remember that the sociology, the history, the economics, the graphs, the charts, the regressions all land, with great violence, upon the body."
Can we have a memorial that recognizes the violence? Do we have memorials that gesture in this direction? We seem pulled in different directions. At the University of Virginia, Höweler+Yoon have crafted a place of repose to mark the school's history of slavery. It is inviting, comforting, and necessary. But its aim, at least according to one reviewer and in a way inherent to the design, is to help us "heal." Let's ask ourselves: "Do we deserve to heal yet?"
UVA Memorial, Charlottesville, VA, Höweler + Yoon Architecture and Sunkyu Koh.
Rendering courtesy of Höweler + Yoon Architecture
UVA Memorial, Charlottesville, VA, Höweler + Yoon Architecture and Sunkyu Koh.
Rendering courtesy of Höweler + Yoon Architecture
From healing to celebration—that's the feeling of the winning entry for the Martin Luther King, Jr. and Coretta Scott King memorial on the Boston Common. At The Embrace, a cave-like structure created out of interwoven hands, we are encouraged to hug (at least according to the images the designers submitted for the competition) and find "what we share, not what sets us apart." This is a memorial designed for the selfie, our own version of Anish Kapoor's Cloud Gate in Chicago. But will those hugs and selfies help us bend "the arc of the moral universe" toward justice, as King declared (echoing Boston abolitionist Theodore Parker, whose 1853 sermon was the source of MLK's more eloquent phrasing)? Should these hugs perhaps wait until we have achieved a measure of what King called for, not just political justice but economic justice?
The sentiment is very different at the monument to lynching, officially known as the National Memorial to Peace and Justice, in Montgomery, Alabama. The names and dates of every known lynching victim are inscribed in stone. Other markers lie, awaiting retrieval from towns across the country that are finally ready to confront their own histories of violence. Incomplete until all the stones have gone to their appropriate resting places, this monument challenges. It does not "heal" except through action.
Similarly, a soft embrace is not what artist Steve Locke hoped to achieve at Faneuil Hall, where he was asked to design a memorial to the slave trade, whose profits helped fund this historical landmark. Is it just chance that an artwork composed of a life-sized bronze slave auctioneer's block, picturing a map of the slave trade and the infamous image of kidnapped and enslaved Africans arranged like sardines in a ship destined for the Americas, would fail to come to fruition in the sacred site of commerce and patriotic mythmaking? That much of the critique of the design came from the local chapter of the National Association for the Advancement of Colored People only complicates the matter further.
The Embrace, Hank Willis Thomas and MASS Design Group, proposed memorial
Rendering courtesy of King Boston
The Embrace, Hank Willis Thomas and MASS Design Group, proposed memorial
Rendering courtesy of King Boston
Locke left for a job in New York and withdrew his work from consideration. But the questions posed by his work and the King memorial remain: What are we trying to achieve—the warm embrace, the place of solace, a place where we regain contact with our values, to be inspired for the work ahead or a place of provocation, unsettling disturbance, of discomfort designed to make us wake up?
Back in the museum, I wander through a series of some of the most well-known photographs of the mid-20th century, the Greenberg collection recently acquired by the MFA. Of the several hundred photographs, many jump off the wall from decades ago to speak to today's quandaries.
There's Margaret Bourke-White's photograph of African-American men, in shackles, sleeping on the ground, victims of the modern Jim Crow. And there is Dorothea Lange's photograph of a plantation owner with his field "hands" behind him—black men sitting on a porch waiting for their next order. And then another Bourke-White masterpiece—an image of African-Americans lining up to seek relief after the Ohio River flood of 1937. Above them, on a billboard, are the smiling faces of a white family out for a drive, proving the "truth" that "there's no way like the American Way." The billboard is a myth; the photograph of the billboard with impoverished black families in front of it is a large measure of American history.
1937 Ohio river flood victims, by Margaret Bourke-White
Nearby, however, is one of the most powerful images from the Civil Rights era—a photograph by James Karales of the march from Selma, Alabama, to Montgomery in 1965. It is taken from a low angle, looking up at the line of marchers striding over the top of the hill, determined to finally make it over the Edmund Pettus Bridge to the steps of the Alabama State Capitol.
As closing time approached, I wandered hallways trying to return to the Huntington Avenue entrance. In one hallway I pass a Giacometti sculpture of a woman. As so often with Giacometti, the figure stands alone, molded and buffeted by the world's forces. I think of his other statues, standing on impossibly long and spindly legs. But I also think of Walking Man, a similarly frail figure striding forward. I think of the earliest Greek statues, stolid and unmoving, and then the ones that, as art historian Vincent Scully would say, take a step forward and change the world. Isn't everywhere we live, as Michael Walzer has written, in some sense a place of "pharaonic oppression"? And isn't there always a "better place, a world more attractive, a promised land"? And isn't it true that there is "no way to get from here to there except by joining together and marching"?
But to do that requires making the world more in the likeness of the world we want to live in. The world requires repair.
This past summer, several African-American leaders marched (and drove and flew) to the Capitol in Washington, DC, to testify at a hearing on a form of "repair" that is not about the psychological healing so many of our memorials aim for. This was a hearing on reparations—compensation for the state-mandated and enforced acts of violence and displacement, segregation and discrimination, and the necessary amends that a society should make. Reparations have been, until recently, a third rail in our discussions because the size of the crime, translated into dollars, was, by a white establishment, too hard to bear. Perhaps the time has come.
Let's take down those Confederate monuments in the public spaces of our cities that no longer deserve to celebrate a treasonous regime dedicated to white supremacy. And let's build memorials that remind us of our history and create spaces for dialogue.
But all of them will prove meaningless if they do not direct us toward the memorial that matters most of all—a more just society.
Author
Max Page, professor of architecture at the University of Massachusetts Amherst, is vice president of the Massachusetts Teachers Association.