labor
The Metrobus Driver Strike Is Nearing Month Two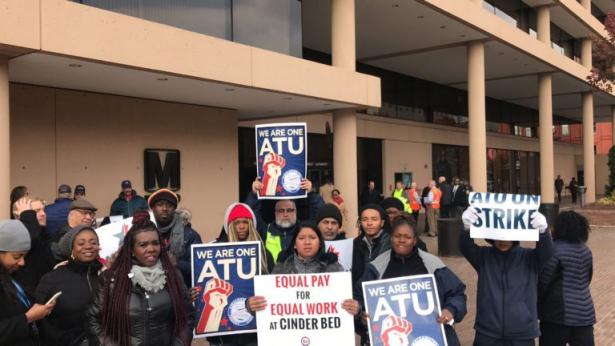 Metrobus drivers protest outside the WMATA headquarters on November 20, 2019.,Elliot C. Williams / DCist
A few minutes before 11:30 a.m. on Wednesday, at the Metro headquarters near Judiciary Square, the building's fire alarm went off.
When Metro staffers filed out of the building, they encountered a brass quartet from the American Federation of Musicians, a handful of Georgetown University Young Democratic Socialists of America members, and nearly 50 bus operators and utility workers on strike against WMATA contractor Transdev. The Metrobus drivers say they are paid less per hour and receive worse benefits than public sector workers who do the same jobs.
The timing of the fire alarm was more than serendipitous, the strikers say. It was perfect.

"They need to see it because the same workers that are walking in through these doors—the day will come when they get a letter that says, 'We no longer need your service because we're going to privatize,'" says Latrice Smith, a bus operator on routes 29W, 29C, and routes at the Springfield Mall. "You don't go on strike until you absolutely have to, and we couldn't go another moment."
The strike began at WMATA's Cinder Bed Road bus garage in Lorton, Virginia. The garage serves about 5 percent of MetroBus routes. Metro awarded Transdev the contract to manage the Virginia bus garage in August 2018, claiming that the move would "contain cost growth." The union objected to Metro's decision to privatize part of the bus system, and said that the cut costs would come out of workers' pockets.
Now, a total of 120 union members of the ATU Local 689 have been on strike since October 24 in protest of their work conditions under Transdev.
Smith says she drives multiple routes without being allowed a bathroom break or any form of relief. Situations like these create an unsafe driving environment, putting passengers in danger, she says. "Sometimes you get caught in traffic—how can you go to the bathroom then?" Smith says. "Why isn't there a designated area for people to go and take care of their personal needs? We should be able to do that without having to go and report it."
According to the union, the Transdev contractors' hourly rate is far lower than Metro employees'. The contract workers do not have raises or retirement plans, though they do have a $6,000 insurance deductible.
Over the course of nearly a month, the strike has intensified: ATU released a music video, and other groups, including a flight attendant union and local union musicians, have joined the picket line. After demonstrating in Virginia at the start of the strike, the members started bringing their picket line daily to WMATA's headquarters on November 6 to get more attention from within the District, organizers say.
While talks between the two parties broke down in early November, organizers say Transdev and the transit union were back at the bargaining table on Wednesday morning at the Embassy Suites in Springfield.
Transdev has not responded to a request for comment. On November 3, the company sent an emailed statement that read, "Transdev regrets the hardship and inconvenience caused by the work stoppage and remains fully committed to coming to an agreement as quickly as possible. Transdev continues to bargain in good faith and welcomes employees to return to work at any time while working toward a contract."
Metro has said that the conflict is between Transdev and its workers, and that the transit agency would not intervene. The strike is impacting about 8,500 commuters each day.
Three members of Congress representing Northern Virginia sent a fiery letter to WMATA General Manager Paul Wiedefeld on Wednesday, in which they "urge WMATA to review whether these privatizations are necessary and whether they are, ultimately, financially beneficial to WMATA—accounting for service issues, potential loss of customers due to inefficiency, and other costs associated."
In the letter, Reps. Don Beyer, Gerry Connolly, and Jennifer Wexton, all Democrats, say they're disappointed that Metro "has refused to involve itself in the negotiations or create transportation alternatives for riders on the impacted routes."
ATU organizer Todd Brogan agrees that WMATA General Manager Paul Wiedefeld is at the center of the issue, because of the agency's decision to outsource the operations at Cinder Bed Road bus facility. Metro has a board meeting at the headquarters on Thursday morning, and the strikers plan to be there in full force, per Brogan.
This is the first ATU Local 689 strike in over 40 years, and it has left commuters in Virginia stranded, shutting down 15 bus routes and limiting three. And the work stoppage may soon grow—unionized Fairfax Connector drivers have authorized a strike and could join the ranks, the Washington Post reports.
Latrice Smith, the bus operator in Springfield, says she apologizes to passengers who have to deal with the ramifications of the labor stoppage.
She adds that the strikers are suffering, too. Her coworker has a newborn and has been without benefits for weeks, she says. Transdev cut off their health care benefits at the beginning of November, on day 11 of the protest, per Smith.
But she can't stop striking, she says: "As long as it takes them to do what they need to do and stop being greedy just to fatten their pockets, we're not going anywhere."
This story has been updated with a letter from local members of Congress in Northern Virginia.