labor
Why 15,000 Indiana Teachers Just Walked Off the Job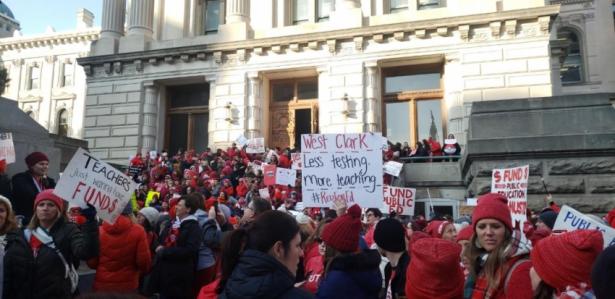 Tuesday's statewide walkout of teachers in Indiana could lead to an illegal strike.,(Photo via Facebook / Central Indiana DSA)
After making waves in West Virginia, Oklahoma, Arizona, Kentucky, North Carolina and beyond, the Red for Ed movement has now spread to Indiana. Fed up with disinvestment in public schools and disrespect for their profession, teachers from across the Hoosier State are converging in Indianapolis today to hold lawmakers accountable and demand change.
More than 15,000 teachers and supporters are expected to rally at the Republican-controlled statehouse for today's Red for Ed Day of Action, organized by the Indiana State Teachers Association and AFT Indiana. While the protest is not officially a strike, nearly half of the state's school districts have been forced to cancel classes because so many educators have taken the day off to participate.
The rally coincides with the state legislature's "Organization Day," where lawmakers discuss their priorities for the next legislative session which begins in January.

Teachers are demanding raises to their salaries, which average around $50,000—well below the national average of $60,000—but can be as low as $30,000 for new hires. After years of state budget surpluses, Indiana now has $2.3 billion in reserves. At the same time, Indiana teachers have seen the smallest salary increases in the nation, receiving an overall increase of only $6,900 between 2002 and 2017.
Rather than simply tapping into the state's massive reserves to pay for teacher raises, Republican lawmakers say that any salary increases would have to be paired with cuts to other school expenses such as administration and transportation.
Earlier this year, Republican Gov. Eric Holcomb agreed to a one-time allocation of $150 million to pay down schools' pension liability, freeing up $70 million per year in the school districts' budgets. While Holcomb framed the move as a roundabout way to provide teachers raises, schools were not required to use the savings for salary increases—and apparently haven't done so.
The low salaries compared to neighboring states has resulted in a statewide teacher shortage.  "Class sizes have ballooned because we don't have the staff—we can't fill the positions that are open and we can't find the money to hire staff," explained Daniel Brugioni, president of the Lake Ridge Federation of Teachers. "When you're looking at almost 100% of districts in the state can't fill their openings, you realize something has to be done."
A second demand of the teachers revolves around Indiana's new standardized test, the Indiana Learning Evaluation Assessment Readiness Network (ILEARN). The exam is computer adaptive, meaning the difficulty of questions changes based on students' responses. It was just rolled out this year, and fewer than half of the state's students passed it. The result has not only angered parents, but also raised concerns for teachers—whose compensation is tied to their students' ILEARN scores. 
Teachers are calling on lawmakers to pass a "hold-harmless" provision to prevent this year's ILEARN scores from being used by the state to punish them, their students and their schools. At the same time, teachers are also questioning the state's emphasis on standardized testing.
"Are the students we're educating better off than they were 10 to 15 years ago? We've had an incredible amount of testing," said Tonya Pfaff, a schoolteacher in Vigo County as well as a Democratic state legislator. "Students are full of anxiety, they don't like school, they are learning how to do multiple choice tests… but life is not multiple choice. It's about working on projects, collaborating and problem-solving."
Educators are also demanding legislators repeal a new law that went into effect this summer, which requires they complete a 15-hour "externship" with a local business in order to renew their state teaching license. The required "externship" was billed by Republican lawmakers as a way to advance teachers' professional development and help them connect students to job opportunities.
The new requirement outraged many teachers, who already attend conferences and workshops, as well as pursue continuing education, as part of their professional development. Fort Wayne Education Association president Julie Hyndman called it a "complete insult" this May. "It's another opportunity to demoralize public school teachers that the Indiana legislatures have continued to do, this year and most years prior," she said.
The Indiana day of action comes less than one week after teachers in Little Rock, Arkansas went on a one-day strike in defense of their collective bargaining rights, and one month after 25,000 educators with the Chicago Teachers Union held an 11-day strike for improved school services and smaller class sizes. In recent weeks, teachers have also gone on strike in Dedham, Massachusetts and Berkeley, California, among other places, proving that the Red for Ed movement is continuing to gain momentum.
While Indiana laws prohibit teachers from going on strike, similar laws have not deterred educators in other states from holding work stoppages. "This is a warning shot," explained Kenneth Dau-Schmidt, a labor and employment law professor at Indiana University. "If [state lawmakers] want to keep heading on the track that they are heading on, we very well could have an illegal teachers strike, and they will be in the same position as other states."
---

In These Times has been selected to participate in NewsMatch—the largest grassroots fundraising campaign for nonprofit news organizations.
For a limited time, when you make a tax-deductible donation to support our reporting, it will be matched dollar-for-dollar by the NewsMatch fund, doubling your impact.
Jeff Schuhrke is a Working In These Times contributor based in Chicago. He has a Master's in Labor Studies from UMass Amherst and is currently pursuing a Ph.D. in labor history at the University of Illinois at Chicago. He was a summer 2013 editorial intern at In These Times. Follow him on Twitter: @JeffSchuhrke.