General Strike in France Challenges Macron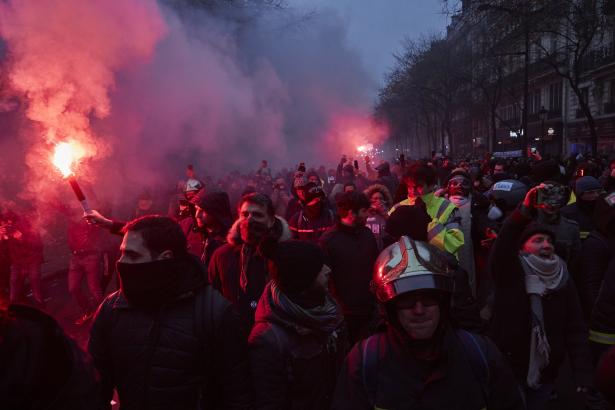 Protesters marched near the Place de la République as part of a national strike in Paris on Thursday, Kiran Ridley/Getty Images
PARIS — The streets of French cities were filled with anti-government demonstrators, tear gas and police officers on Thursday as Emmanuel Macron again faced what has become an emblem of his presidency: social unrest. This time it was a general strike over his plans to overhaul the country's pension system.
Much of the country came to a halt as transport workers went on a strike that could last into next week. By some estimates nearly half a million took part nationwide in the demonstrations. Trains, subways and buses were canceled, many schools were closed, and thousands were forced to stay home from work across the country.
In Paris, smoke billowed from the Place de la République and the wide Boulevard de Magenta was packed shoulder-to-shoulder with unionists furious with Mr. Macron. In Rennes, protesters smashed store windows; in Nantes, the riot police pushed the crowds back with tear gas; in Lyon, scuffles broke out between the police and demonstrators.

But behind the anger was the much-contested figure of the president himself, a former investment banker who was elected two and half years ago promising to shake up a secure but sclerotic French system deemed too unfriendly to business, growth and job creation.
His latest ambition — to merge France's complex of 42 different generous pension schemes into one state-managed system — scares fellow citizens. And his sometimes imperious personal style continues to grate on many.
On Thursday, it was Mr. Macron who united their popular anger once again, exactly as he did a year ago when members of the protest movement known as the Yellow Vests guillotined him in effigy on the country's roundabouts.
The protesters in Paris collected barricades along a street.Credit...Bulent Kilic/Agence France-Presse — Getty ImagesAnalysts pointed out that
"The government has inflamed unease with this reform. It is the other France that is revolting today," said the economist Daniel Cohen of France's top-ranked École Normale Supérieure. "Last year it was the cutoff France, and this year it's the unions, the teachers."
And that junction — two anxious parts of the nation coming together in anger — spells big trouble for Mr. Macron's government. Indeed, some of the former Yellow Vests demonstrated with the unionists Thursday, though they had held them at arms length all through their own protests last year.
Mr. Macron might be wishing he could have stayed at the NATO gathering in London that ended Wednesday.
President Emmanuel Macron of France leaving 10 Downing Street in London after talks with Prime Minister Boris Johnson of Britain on Tuesday.Credit...Lisi Niesner/Reuters
There, he was in the posture that appears to suit him well, at least in his own eyes: leader of Europe, and the only continental leader who can stand up to President Trump.
His curt dismissal of Mr. Trump — "Let's be serious" — has already become an iconic moment in the marginalization of the American president as a considered interlocutor on the world stage.
In the past Mr. Macron's advisers frequently attempted to play up the supposed similarities between the two men — both outsiders, both non-politicians who defied the odds — to show that they could find common ground.
On Thursday, they had something else in common. Both Mr. Macron and Mr. Trump returned home to serious messes.
His fellow European leaders have ceded first place to Mr. Macron nearly by default, even if he irritates them by pushing unilateral initiatives he appears convinced are absolutely right.
The problem for Mr. Macron is that this approach irritates his countrymen as well. That friction has developed as a serious obstacle to his will to change France, promised in the campaign manifesto he entitled Revolution two years ago. He is now less popular in his homeland than Mr. Trump in his.
At the Élysée Palace on Thursday, seat of the French presidency, a senior official said Mr. Macron was "calm and determined" in the face of the strike. That was not the mood on the street.
Riot police blocked an entrance to a building near the Place de la République.Credit...Kiran Ridley/Getty Images
Today, much of the anger directed at the French president in the crowds coursing through the streets was nearly personal.
Benoît Martin, a leading union official with the leftist CGT, which is leading the charge on the strike, framed it as all about Mr. Macron himself. "It expresses a sort of resistance to Macron's power," Mr. Martin said.
True, Mr. Macron's plans by themselves spark fear in a nervous France demanding more security, not less. The current pension system is one of the world's most protective, for all its flaws. Many French are asking why a plan of uncertain contours and outcomes should be substituted for it.
But Mr. Macron argues that the current byzantine system is both unaffordable and unfair. It could be headed for a deficit of about $19 billion, and its disparities allow workers in some sectors to retire years ahead of others.
While Mr. Macron is not proposing to spend less on pensions or to make people retire later, he aims to simplify the system, raising fears that he will reshuffle its winners and losers.
The pension plan is not the first of Mr. Macron's reforms to face resistance. His changes to the status of the country's railway workers and revamping of France's voluminous labor code met similarly fierce protests on the street.
Some of those changes made it easier to hire and fire workers and have helped nudge down a stubborn unemployment rate that once hovered around 10 percent to about 8.4 percent this year. Yet for many French the perceived benefits don't outweigh the feeling of insecurity they have introduced.
Beyond that there is striking disaffection with the way Mr. Macron goes about presenting himself and his ideas.He talks to the French, often at great length and in stupendous detail. But it doesn't reassure them.
Marc Veslin, 56, and Ludovic Varlet, 52, hospital workers demonstrating near the Place de la République, said they did not trust Mr. Macron. He hadn't explained his pension reform plan at all.
"We have nothing, no information," Mr. Veslin said. Mr. Varlet said he was particularly angry with Mr. Macron. "It's him and everything he represents," he said, adding: "Finance is governing."
Mr. Varlet chimed in: "It was the best system in the world. And they are about to destroy it."
Protesters in Marseille rallied in the Old Port.Credit...Daniel Cole/Associated Press
Philippe Lauberthe, a railway worker who joined the demonstration called Mr. Macron "the president of curt little phrases," referring to Mr. Macron's early penchant, since repressed, for uttering words seen as dismissive by his countrymen.
"Macron isn't taking into account the expectations of the French," said a teacher who would only give her name as Christine. "He is completely out to lunch." She added, speaking of his government: "They don't communicate enough with people."
The sentiment was widely expressed on the streets on Thursday. "This government is rotten,'' said Sophie Prevost, a magazine editor, lighting a cigarette as she left the Châtelet train station. ''They think only of numbers, not of people."
Mr. Cohen, the economist, has argued that Mr. Macron's large spate of financial concessions to the Yellow Vests last year — nearly $19 billion in tax breaks and income supplements — was not sufficient to deal with the more profound underlying problem in France.
The concessions added about $900 in purchasing power to working and middle-class households. But that was not enough. Thursday's demonstrations may have offered additional proof.
"The social tissue of the working classes is very frayed," said Mr. Cohen. "There's an economic and anthropological insecurity."
The government, he added, "has a blanket that's too short." Pulling it up — in tax cuts last year to satisfy the Yellow Vests — only added to the chill of those dependent on public spending, like the people demonstrating Thursday.
Mr. Macron appeared out of step: on the European stage, he is a liberal democrat in a world of mounting populism, and at home he is "profoundly out of step, in respect to populations that are demanding more protection," said Mr. Cohen.
An empty railway at the Lyon Perrache train station. Trains remained at a standstill while the unions held a nationwide strike over the government's pension reform.Credit...Laurent Cipriani/Associated Press
As with the Yellow Vest protests last year, much will depend on the battle for public opinion. The government was forced to listen, and keep a check on police repression, for as long as there was popular support for that movement. When that support dwindled toward 50 percent, the government shut its ears and unleashed the police.
Polls released Thursday, before the beginning of the strike, showed popular support for it at close to 70 percent.
"What will play for Emmanuel Macron and Edouard Philippe," his prime minister, "is public opinion," said Mr. Garrigues, the political historian. "They're playing on the degeneration of the movement in public opinion," as with the Yellow Vests, he said.
But playing against that is the solitary nature of power as conceived by Mr. Macron himself.
"The nature of his movement is that it is constructed around one man,'' Mr. Garrigues said. ''So there's very little room to maneuver."
Reporting was contributed by Aurelien Breeden and Liz Alderman in Paris, and by Elian Peltier in London.
A version of this article appears in print on Dec. 6, 2019, Section A, Page 1 of the New York edition with the headline: A Day of Revolution in France, Targeting Macron. Order Reprints | Today's Paper | Subscribe