Key Takeaways in Newly Released Documents Detailing Failures of War in Afghanistan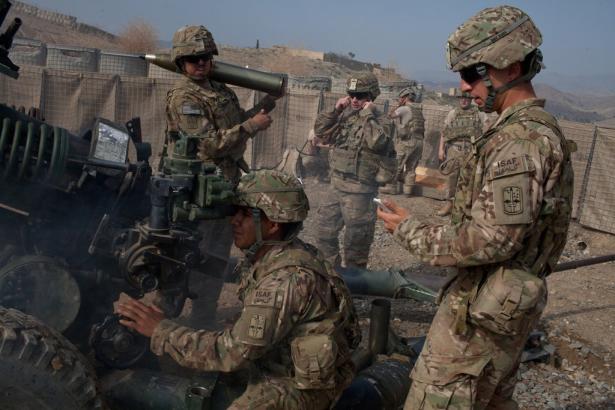 American soldiers in Afghanistan in 2011., Tyler Hicks/The New York Times
WASHINGTON — The war in Afghanistan has cost American taxpayers more than $1 trillion, but has produced at best a faltering democracy and — most tragically — has resulted in the deaths of nearly 115,000 civilians, military forces, humanitarian aid workers and journalists.
Still the United States persists in the fight.
New documents reveal extraordinarily detailed warnings of failure from officials at the highest levels of the United States government about the 18-year war.
Obtained by The Washington Post, the documents are part of an investigation by the Special Inspector General for Afghanistan Reconstruction that sought to identify lessons learned in the war so that they might not be repeated in future American conflicts.
Some of the broad strokes of the findings were well known. But they are sure now to fuel a simmering debate over when, and how, to end the United States' war in Afghanistan. American and Taliban negotiators are trying anew to broker a peace agreement that would see the withdrawal of the 13,000 forces currently in Afghanistan, as President Trump has pledged.
The inspector general's office eventually handed over more than 2,000 pages of notes and transcripts, as well as audio recordings of interviews with some of the most senior American officials involved in the Afghan strategy. The investigation was conducted between 2014 and 2018.
Here are eight key findings:
A Strategy in Chaos
What began with a 2001 military invasion to push the Taliban from power and rout Al Qaeda after the Sept. 11 attacks grew into a broader mission that has lurched from goal to goal.
Over the years, the priority shifted from fighting extremist militants to helping stabilize the government in Kabul and back again.
At times, some American officials wanted the focus on installing democracy in the tribal culture; others wanted women's rights to be firmly ensconced before the United States stepped back. And some officials saw the American role in Afghanistan as an opportunity to reshape a larger strategy for regional security.
"What are we trying to do here? We didn't have the foggiest notion of what we were undertaking," Douglas Lute, an Army lieutenant general who advised both Presidents George W. Bush and Barack Obama on the war effort, told investigators in 2015, according to the documents.
No Understanding of the Enemy
A blurred understanding of the Taliban's relationship with Al Qaeda led to questions about who — or which — was Enemy No. 1.
The United States confronted a dizzying array of potential adversaries in Afghanistan and, according to the documents, could not decide who among them were foes.
Assistance was needed from leaders in neighboring Pakistan, but American officials didn't trust them. Money was thrown at Afghan warlords who, in any other circumstance, would be considered adversaries. And an array of foreign militants — including the Islamic State — rushed to the battlefield to prove themselves.
The confusion was evident early on: "I have no visibility into who the bad guys are," Donald H. Rumsfeld, then the defense secretary, wrote in a memo Sept. 8, 2003.
Shifting From Fighting to Fostering Stability
For years, the strategy for when American forces should leave largely became a chicken-and-egg debate.
A military withdrawal before Afghan troops were able to defend their own country could result in the United States' return years later, after losing all the gains that have been made since 2001. (Witness the Islamic State's rampage in Iraq after American troops left in 2011.)
"We are never going to get the U.S. military out of Afghanistan unless we take care to see that there is something going on that will provide the stability that will be necessary for us to leave," Mr. Rumsfeld told aides in 2002.
But military officers also reported widespread failures in training Afghan security forces — a necessary step, officials believed, in helping stabilize the country.
Many Afghan troops were seen as inept or lazy or. In some cases, they were nonexistent; their commanders had padded the ranks with so-called ghost soldiers and kept the extra pay they received from American trainers. Other Afghan troops were believed to be drug addicts, thieves and even Taliban sympathizers.
Trillions of Dollars Spent, and Counting
Some estimates put the spending total in Afghanistan by the United States since 2001 at approximately $2 trillion. The bloated bottom line was in part caused by what one official at the United States Agency for International Development described as "lost objectivity."
"We were given money, told to spend it, and we did — without reason," the unidentified official told investigators in a 2016 interview. An unidentified contractor reported being told to give out $3 million each day for projects in a single Afghan district.
Corruption Is Endemic
With that much money flowing into Afghanistan, it was perhaps inevitable that some of it would line local leaders' pockets.
The documents describe American officials ignoring widespread skimming by the Afghan government that, ultimately, undermined the war strategy. One retired Army colonel who advised three American generals said that the problem persisted not just among judges and security officials, but became a "kleptocracy" throughout the government of former President Hamid Karzai.
"The kleptocracy got stronger over time, to the point that the priority of the Afghan government became not good governance, but sustaining this kleptocracy," the retired American colonel, who was later identified as Christopher Kolenda, told investigators in 2016.
A Nation-Building Effort Devised to Fail
The American vision for Afghanistan's future was largely rooted in fostering democracy, modeled after the United States. Not only was that unrealistic in a culture based on tribalism and Islamic law — not to mention a history of a monarchy followed by communist rule — it was all but impossible to do within the time American officials had hoped.
Afghan National Army members prepared for a patrol at an outpost in Poentjak, Afghanistan, in 2007.Credit...Tyler Hicks/The New York Times
"The time frame for creating a strong central government is 100 years, which we didn't have," an unidentified former State Department official told investigators in 2015.
American officials also sought to end Afghanistan's opium trade — a major source of income for poor farmers — and, at points, tried to cultivate pomegranate crops as a replacement for poppies.
But the documents show that no single agency was in charge of the Afghan drug strategy, so officials at the State Department, Pentagon, Drug Enforcement Administration and others constantly clashed. Afghanistan remains a leader in global opium production, according to the United Nations, despite billions of dollars spent by the United States to stop it.
Bin Laden Is 'Probably Laughing in His Watery Grave'
The United States invaded Afghanistan as a direct result of the Sept. 11 terrorist attacks, seeking to capture or kill Al Qaeda's leader, Osama bin Laden. It took nearly 10 years for American intelligence officials to track down Bin Laden in a compound in Abbottabad, Pakistan.
Eight years later, United States troops remain in Afghanistan — leaving many Americans to wonder why.
"After the killing of Osama bin Laden, I said that Osama was probably laughing in his watery grave considering how much we have spent on Afghanistan," an unidentified official told investigators in 2015. The official was later identified by The Post as Jeffrey Eggers, a retired Navy SEAL who oversaw Afghanistan and Pakistan issues on the White House National Security Council during the Bush and Obama administrations.
'The American People Have Constantly Been Lied To'
Officials in Washington sought for years to assure the world that the American-led war in Afghanistan was succeeding — despite rough patches along the way.
John F. Sopko, who runs the inspector general's office, told The Post that the documents reveal that is not true.
"The American people have constantly been lied to," Mr. Sopko said.
In June 2006, a retired Army general, Barry R. McCaffrey, who had just returned from a fact-finding mission to Afghanistan, warned that the situation was so tenuous that the entire effort could "collapse again into mayhem" without American support.
But that's not how the United States government portrayed the campaign. Time and again, military officials, diplomats, cabinet secretaries and presidents have voiced optimism about the war in Afghanistan and urged the public to continue supporting it.
In fact, the "truth was rarely welcome," an unnamed retired Army colonel told investigators in 2016. He was later identified as Bob Crowley, an American military adviser in Kabul.
Lara Jakes is a diplomatic correspondent based in the Washington bureau of The New York Times. Over the past two decades, Ms. Jakes has reported and edited from more than 40 countries and covered war and sectarian fighting in Iraq, Afghanistan, Israel, the West Bank and Northern Ireland. @jakesNYT